The Dallas Sportatorium / The Million Dollar Sportatorium / The Global Dome
1953 - 2003
I put up a 'Did You Know...' post about a week ago asking, "Did you know that The World Famous Sportatorium in Dallas was a dump?" I asked because the pictures certainly opened my eyes. Since seeing those initial shots of the exterior I've become almost obsessed with the history surrounding this historic ground of our beloved sport.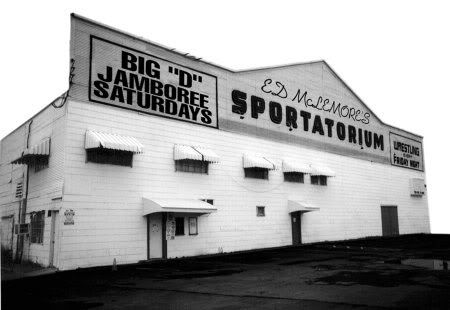 It's often referred to as a glorified cattle barn, but THIS is the "House the Von Erichs Built"! THINK about all of the LEGENDS that walked through those doors! Steve Austin made is debut here. Jeff Jarrett made a name for himself here. Percy Pringle (Paul Bearer) had an office here! Guys like Bruiser Brody, The Freebirds, Tony Atlas, King Kong Bundy, Ric Flair, Jake Roberts, Killer Kahn, Rick Rude, Harley Race... the list goes on and on. When the lights came on and the stands filled to capacity and the stars were shining, life was good. I remember coming home from school every day and watching WCCW on ESPN at 4:00 and never had any idea they were broadcasting out of anything but a huge arena!
A few snippets from Percy Pringle's Sportatorium Story
"Even a five year-old child can sit on the front row of The Sportatorium and feel it. When the bell rings at 8:00 pm on Friday nights, that huge, silver, metallic building on the corner of Industrial Blvd. and Cadiz Street comes alive!



When you visit The World Famous wrestling arena, you can't help but to think about the days gone by. "If only one of the pews in the front row could talk!" I've heard that one a thousand times."



"Local television Channel-4 was on hand to broadcast live one of the most exciting events in Dallas pro wrestling history. I searched in vain for the card that night, but was unsuccessful. At one time Channel-4 used to broadcast live from the south side of the building, and Channel-8 televised live from the north side, AT THE SAME TIME!"



"Bill Hines swore to me that as far as he knew, he built the first cage ever to be used in a wrestling match, in 1962. "It was made out of two by fours with chicken wire around the sides, and barbed wire on top. It was for a match between NWA World Champion, "Nature Boy" Buddy Rogers and Duke Keomuka. Fritz Von Erich and Duke sold the Sportatorium out for a solid year, during that same time."



"Allow me to steal a line that Bret Hart used when talking about Madsion Square Gardens. "It may not be a church, but it is certainly holy ground."
Shortly before it was demolished the guys filming the documentary "Heroes of World Class Championship Wrestling" were given a tour by Kevin Von Erich. While heart wrenching, it also gives a great idea as to how simple this facility really was. I encourage you all to check it out:
All those years ago, as a kid, I had no idea I was watching history. I just knew I liked what I saw. What I wouldn't give today to buy a ticket and have a seat in the historic octagon with some of the most passionate fans our sport has ever seen. What I wouldn't give to sweat it out on a hot summer evening and watch The Von Erich's fight The Freebirds or Paul Bearer before he was famous or Mike Davis find a Moon Rock! RIP Sportatorium, I wish I had known thee.