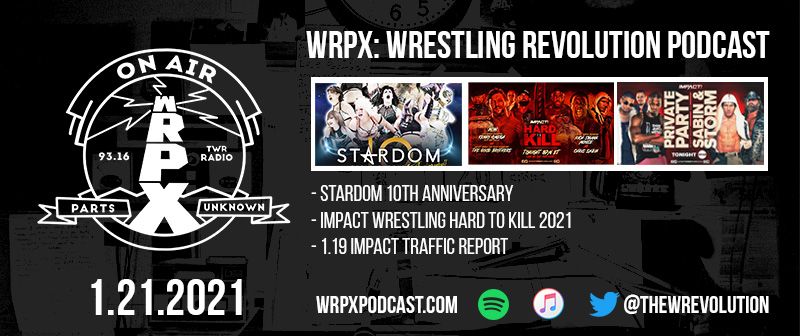 STARDOM 10th Anniversary, Hard To Kill, and 1.19 Impact.
As promised, second episode of the week, going over STARDOM's 10th Anniversary, Impact's Hard To Kill PPV, and the 1.19 Impact Traffic Report.

Duration: 01:17:46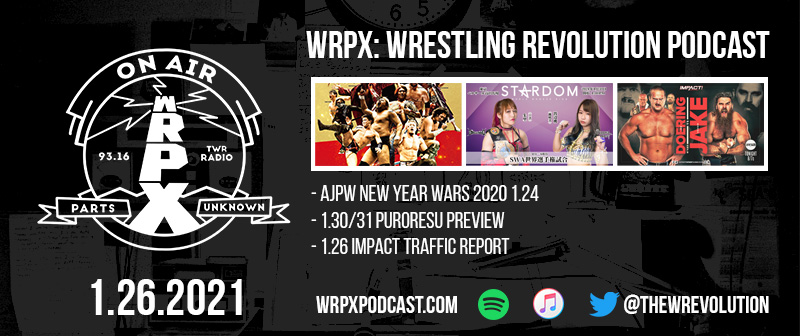 AJPW New Year Wars 2021, Big Japanese Weekend Preview, and 1.26 Impact.
We're heading intoa big weekend for Japanese wrestling, but before we talk about it, how about some All Japan Pro Wrestling talk. Also the 1.26 Impact Traffic Report.

Duration: 01:22:37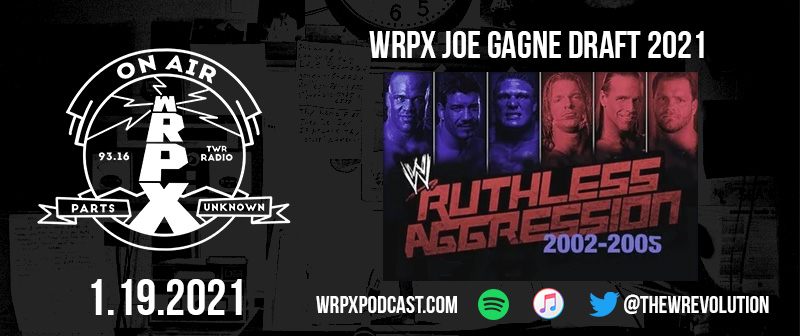 WRPX Joe Gagne Draft 2021!
A galore of friends join WRPX for the first ever Joe Gagne Draft, looking back at WWE's Ruthless Aggression Era.

Duration: 01:11:32
TJPW Tokyo Joshi Pro 1.4, Impact's Genesis Special, Hard To Kill Preview, and the 1.12 Impact.
Impact started 2021 with a banger show, gonna try to follow up with another banger show in Hard To Kill, but before all that, we talk Tokyo Joshi Pro Wrestling.

Duration: 01:23:49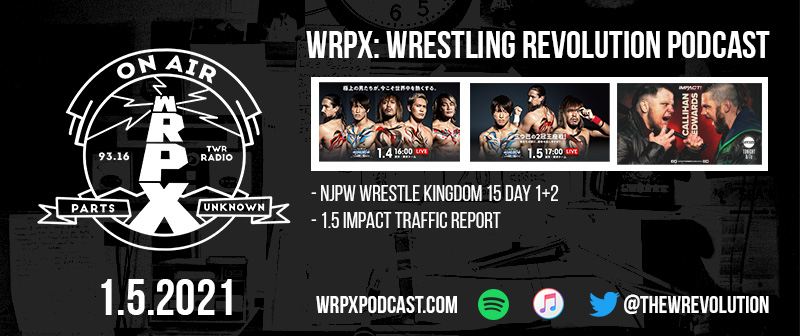 New Japan's Wrestling Kingdom 15 Jan 4th and 5th, plus 1.5 Impact.
2021 is officially on now that Wrestle Kingdom has taken place, and so we go over both nights, the ups and downs, and the tears we shed. Also, the 1.5 Impact Traffic Report.

Duration: 01:31:38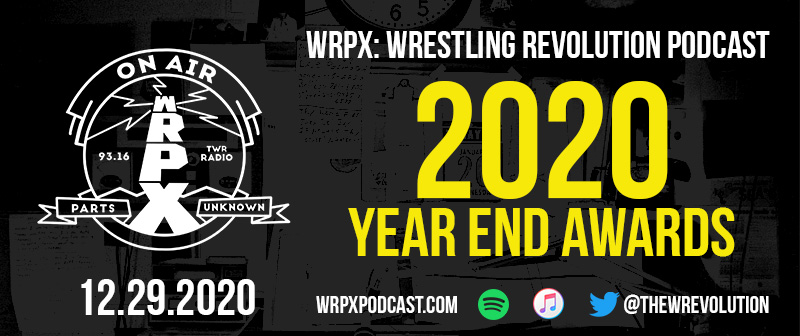 WRPX's Best of 2020 Awards Show
Big Red Machine and NWK2000 from The Wrestling Revolution join us for this special Best of 2020 Awards special show.

Duration: 02:05:38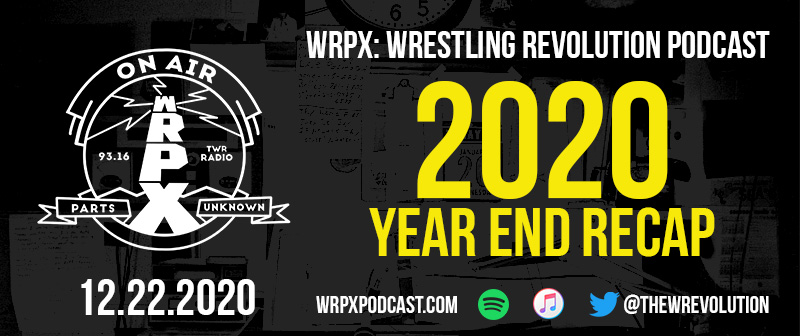 WRPX's 2020 Year End Recap of Wrestling
12 Months of wrestling and chaos and shutdowns and lockdowns and we try to recap most of it. Let's see how promotions did this year.

Duration: 01:07:31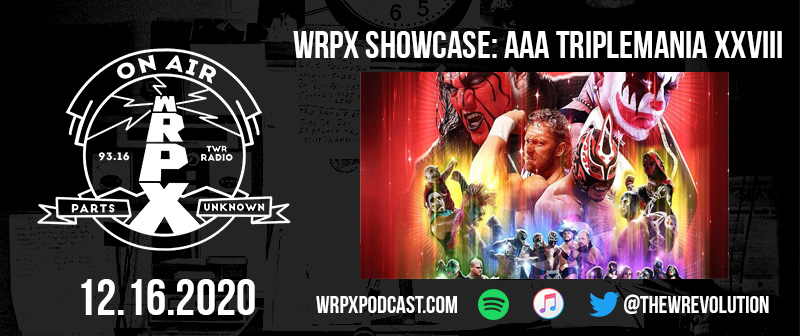 WRPX Showcase: AAA Triplemania XXVIII
A special episode covering AAA's Triplemania XXVIII, their biggest show of the year, and a show full of guts and chaos and my first ever negative rating.

Duration: 00:59:44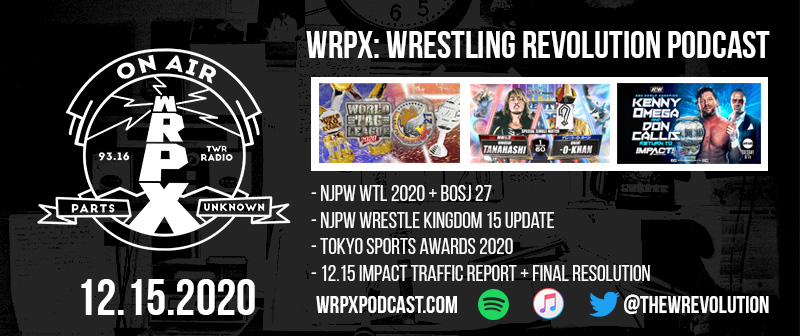 NJPW's 3 Tournaments, Wrestle Kingdom 15 Update, Tokyo Sports, and Impact 12.15
Packed weekend means packed show. We talk about all the NJPW Tournaments, WK15 updates, and we talk about this whole Impact situation in this week's Impact Traffic Report.

Duration: 01:27:20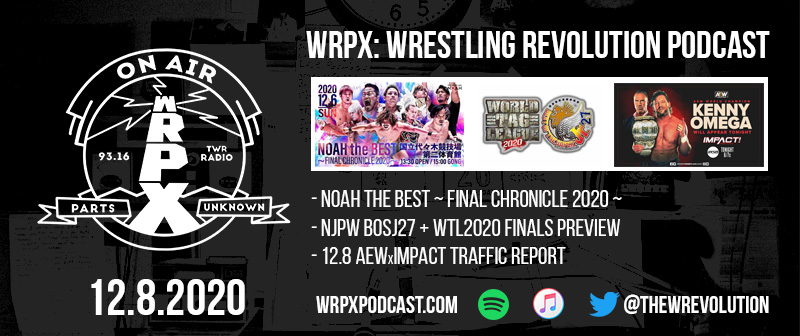 NOAH The Best Final Chronicle 2020, NJPW BOSJ27 + WTL2020 Finals Preview, and #AEWxIMPACT 12.8
Go Shiozaki did it again and got himself another MOTYC, we preview the end of New Japan's fall tournaments, and we talk AEWxIMPACT in this week's Impact Traffic Report.

Duration: 01:27:34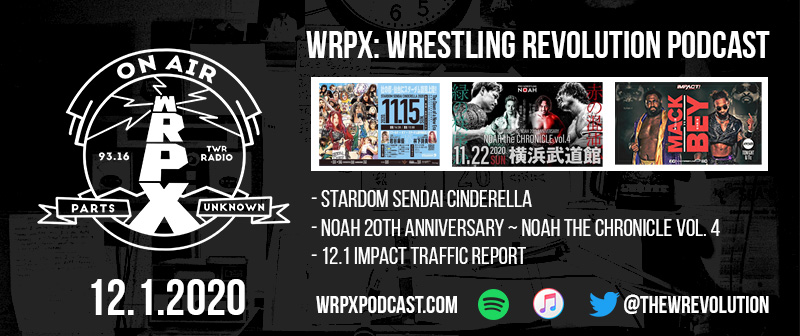 STARDOM Sendai Cinderella, NOAH The Chronicle Vol. 4, and 12.1 Impact
STARDOM and Pro Wrestling NOAH held huge events during November and we talk about them, including a late MOTYC. Also, the 12.1 edition of Impact Wrestling.

Duration: 01:17:13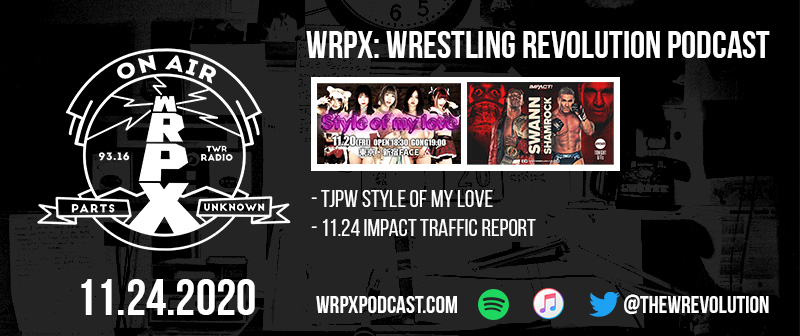 TJPW Style Of My Love + 11.17 Impact
A total rollercoaster of emotions experienced with Tokyo Joshi Pro's Style of my Love and we talk about them all. Also, the 11.24 edition of Impact Wrestling.

Duration: 01:08:11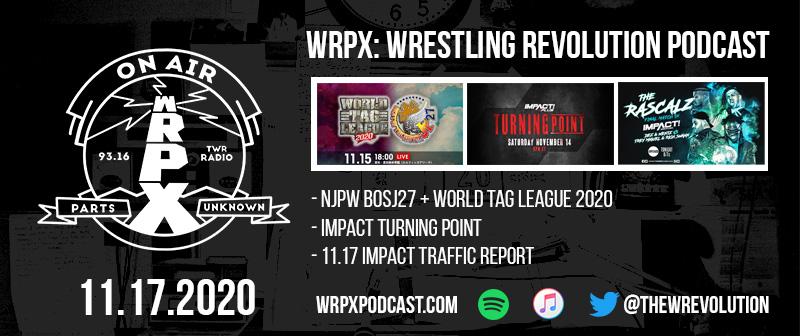 NJPW BOSJ 27 + World Tag League 2020 Begins! Impact Wrestling Turning Point + 11.17 Impact
New Japan kicked off two tournaments at the same time, and so we go over to see what they have to offer for the next month. Also, Impact made us know that their Impact+ Specials are must see with big developments.

Duration: 01:19:43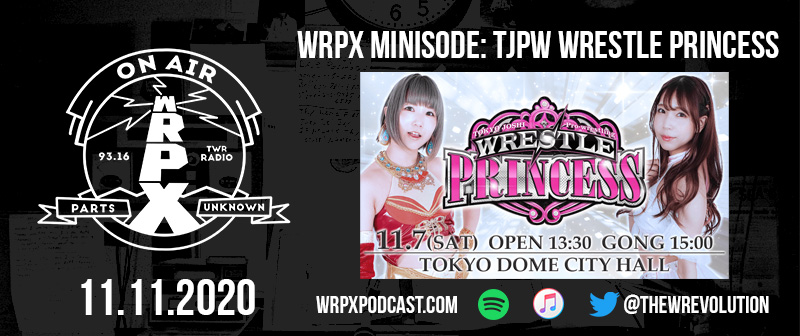 WRPX Minisode: TJPW Wrestle Princess
A special mini episode covering Tokyo Joshi Pro's Wrestle Princess, with the fantastic main event between Yuka Sakazaki and Mizuki. A show worthy of it's own episode.

Duration: 00:49:33
NJPW Power Struggle, AEW Full Gear, and 11.10 Impact Wrestling
The best G-Damn day of professional wrestling of the year took place and we're gonna talk about it!, plus your 11.10 Impact Traffic Report.

Duration: 01:21:48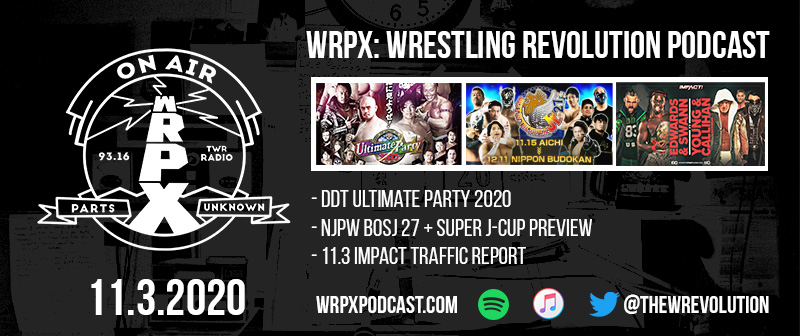 DDT Ultimate Party 2020, NJPW BOSJ+Super J-Cup Preview, and 11.3 Impact Wrestling
Wholesome stories and happy endings with DDT Ultimate Party 2020, A look at the BOSJ and Super J-Cup Participants, and your 11.3 Impact Traffic Report.

Duration: 01:32:15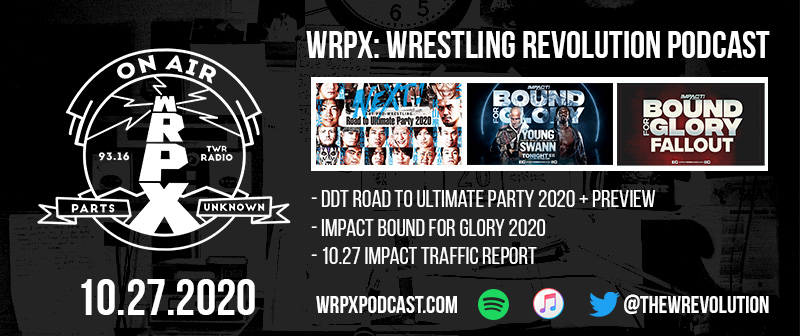 DDT Road to Ultimate Party 2020 + Preview, Impact Wrestling Bound For Glory, and 10.27 Impact Wrestling
The final stop before DDT's Ultimate Party, and we're here for it! We review DDT Road to UP2020, Bound For Glory, and your 10.27 Impact Traffic Report.

Duration: 01:20:10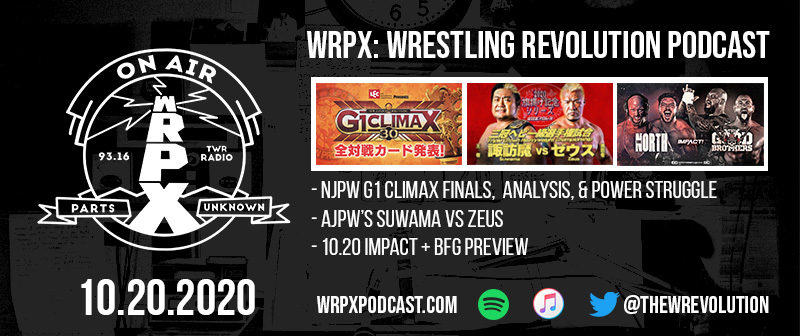 NJPW G1 Climax 30 Finals + Power Struggle Preview, AJPW, Bound For Glory Preview + 10.20 Impact Wrestling
The G1 Climax is over, but there is no rest, we analyze the compatitors and preview Power Struggle, along with some AJPW, Bound For Glory, and your Impact Traffic Report.

Duration: 01:23:47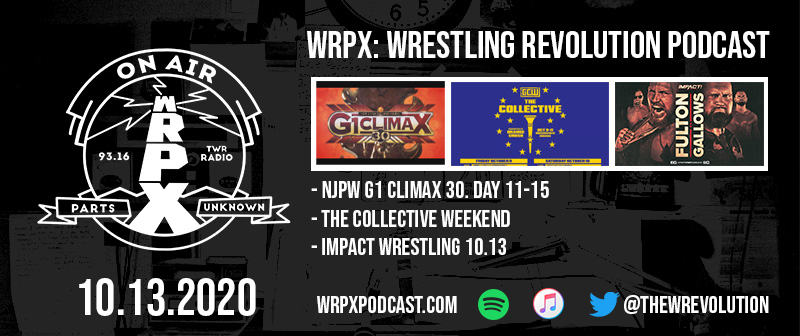 NJPW G1 Climax 30 Day 11-15, The Collective, and 10.13 Impact Wrestling
Was that the greast G1 Climax card of all time? We cover days 11-15 of the G1, The Collective weekend, and 10.13 Impact Traffic Report.

Duration: 01:19:15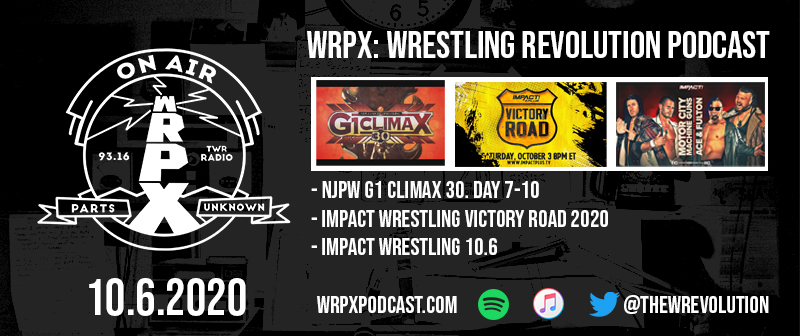 NJPW G1 Climax 30 Day 7-10, Victory Road, and 10.06 Impact Wrestling
The legend of YOSHI-HASHI continues in the G1 Climax 30, we go over days 7 - 10; plus we go over Impact's Victory Road and 10.06 episode.

Duration: 01:19:02
NJPW G1 Climax 30, DDT, and 9.29 Impact Wrestling
YOSHI-HASHI did what!? SANADA what what!? What is going on!!? We go over days 3-6 of the G1 Climax 30, DDT's Who's Gonna Top? 2020, and the 2.29 edition of Impact Wrestling.

Duration: 01:23:35