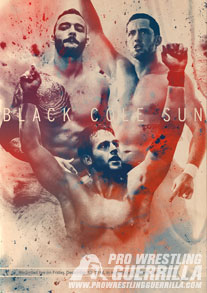 By GARZA
From December 12, 2014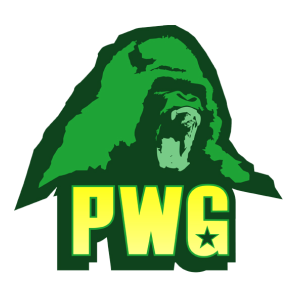 African American Wolves (AR Fox, ACH, and Rich Swann) vs Bobby Fish, Johnny Gargano, and Chuck Taylor - 7/10
The Best Friends and Moderate Acquaintances is the official name of the Fish/Gargano/Taylor team. Everyone got big pops except for Gargano who got some Johnny Sucks chants. This is what happens when you date the biggest girl crush in the building. Talking about the building, John Morrison and the 4 horsewomen are in the crowd and seem to be really enjoying the match. As any PWG opener, the match was tons of action, fun, and shenanigans. We saw the debut of Ho Ho ACH and we've now confirmed that Chuck Taylor hates xmas.

Cedric Alexander vs Adam Cole - 7.5/10
Adam Cole with a bandaged shoulder. Really good match up with Cole working mostly Cedric's legs, Cedric working Cole's head. Cocky heel Cole was for the most part under control of the match aside from scattered offense flurries from Cedric. This matched featured a lot of spitting. After match, Cole addresses his shoulder injury.

Chris Hero vs Trevo Lee - 7.5/10
Trevo Lee's new nickname seems to be the "Carolina Caveman". This match was pretty much minutes and minutes of Chris Hero kicking/punching/kneeing/elbowing/other-parts-ing Lee. Once Lee started getting some offense on his side, the match picked up a lot, there was an awesome sequence including kicks, Cravates, and a standing Meteora. Trevor botched the finish, but the pin still worked During the whole match, Chuck Taylor completely buried Lee on commentary, not in a wrestling sense, but he kept making fun of his tights, education, etc.

PWG Tag Team Titles match
World's Cutest Tag Team vs The Addiction - 6.5/10
Gonna say it, I miss blonde Candice. Match pretty much started with Kaz schooling the Hollywood Submission Machine himself, then the blow pop came to play and everything got really disgusting. Joey was taken to the back after a hit from Frankie, and the match became the usual destroy Candice La Rae match, but with the Addiction doing it, i'm not gonna complain and will simply enjoy this. Joey's comeback was bad, but the match did pick up a bit after that. Not a bad match, but not that good either.

Uhaa Nation vs Tomasso Ciampa vs Biff Busick vs Bryan Cage - 8/10
Ciampa and Busick quickly got rid of Nation and Cage and started going at each other, then Ciampa made things weird when he started to hug people. I was gonna try to write during the match, but the matche never slowed down, but I can just say that Cage and Nation are freaks of natire, Ciampa and Busick are just so hard hitting and full of power regardless of the smaller size in the match. Nation should be world champion EVERYWHERE, this man is amazing. If Vince McMahon were to watch this match, Cage vs Nation would main event WM next year. Amazing finish!

The Young Bucks vs Chris Sabin and Matt Sydal - 8/10
I now want to start a petition to get the team of Sydal/Sabin to go to Japan and take on Time Splitters. I never realized that I wanted to see the Bucks vs Sydal so much. Sabin was the babyface in peril for most of the match, Sydal a great hot tag. Match pace picked up a lot at this point. Bucks were spot on like always, Sydal and Sabin actually did some cool tag team spots with a cool looking Powerbomb/Meteora combination and a awesome modification to the MCMG's Skull and Bones, but with Sydal's SSP.

PWG World Title Match
Kyle O'Reilly (C) vs Ricochet - 9.25/10
Just beautiful wrestling regardless of that part of the ring they were in. Kyle worked Ricochet's arms like he normally does, RIcochet for the most part just kept a complete offense approach, heavy on the ribs considering Ricochet's style of wrestling. Aside from the match where he won the title, and O'Reilly vs Strong from Untitled II close behind, this was easily O'Reilly's best match in his reign as the PWG World Champion. Amazing match.

Aftermatch: Kyle O'Reilly is about to address some rumors before Roddy attacks him and gives him an ultimatum, if he doesn't get a title match right now, he'll kick his ass. Kyle recovers and challenges Roddy to a GUERRILLA WARFARE RIGHT NOW!!!

I just got some goosebumps!

GUERRILLA WARFARE for the PWG World Title
Kyle O'Reilly (c) vs Roderick Strong - 9/10
These guys just kicked the shit out of each other. Without trying to spoil anything, these guys just took it to the limit, chaos all over the ring.

OVERALL THOUGHTS:
I can't think of a better way to say goodbye to Kyle O'Reilly from PWG and to finally crown Roderick Strong as a well deserved champion. Gonna say that Adam Cole's goodbye match wasn't as good, but I guess we can't complain. Elgin obviously wasn't in the show. This was a pretty good show with some great matches towards the end, surely a must watch for PWG fans.