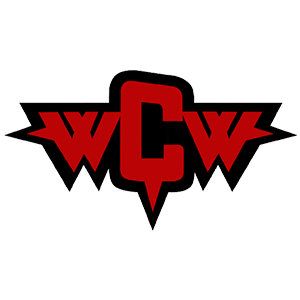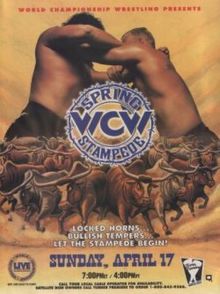 By Big Red Machine
From April 17, 1994
Discussion
WCW Spring Stampede 1994 (4/17/1994)- Chicago, IL

JOHNNY B. BADD vs. DIAMOND DALLAS PAGE (w/the Diamond Doll)- 5/10

WCW TV TITLE MATCH: Lord Steven Regal(c) (w/Sir William) vs. "Flyin'" Brian Pillman- 6/10

FALLS COUNT ANYWHERE MATCH: The Nasty Boys vs. Cactus Jack & Maxx Payne- 7.25/10
A crazy, ECW-style brawl before ECW even became famous for them. Cactus took an absolutely sick-looking bump off of the ramp to the floor and sold it like he was dead.


WCW UNITED STATES TITLE MATCH: "Stunning" Steve Austin(c) (w/Col. Robert Parker) vs. The Great Muta- 6.75/10
A great match with a very hot crowd which was only getting hotter… and then the match was completely ruined by that stupid "over the top rope DQ" rule.

WCW INTERNATIONAL WORLD HEAVYWEIGHT TITLE MATCH: Rick Rude(c) vs. Sting- 6.5/10
Before the match, Harley Race came out and said that Vader wants a title shot against the winner of this match. Sting winds up winning the belt when Harley Race tries to hit Sting with a chair, but Sting avoids it and he accidentally hits Rude instead.

BUNKHOUSE MATCH: Dustin Rhodes vs. Bunkhouse Buck (w/Col. Robert Parker)- 6/10
Bloody brawl

JESSE VENTURA INTERVIEWS RICK RUDE- FANTASTIC segment!
Ruyde shouts angrily about how he didn't ask for help because he didn't need help and how much hard work he has put in over the course of his career, pretty much turning babyface. He then sees Harley and Vader walk into the locker room and starts to yell at them. He and Vader are about to get into a fight, and a bunch of wrestlers come out to break it up (some barely even dressed, to show how spontaneous and real it all was). Perfect!

THE BOSS vs. VADER (w/Harley Race)- 6/10
Vader does the same back body drop over the ropes that Austin did to Muta to get DQed, but Vader didn't get DQed at all.
We got a good stiff brawl with some impressive-looking power spots. Then, after losing the match clean, the babyface assaults the heel's manager and attacks the heel from behind with weapon. WHAT IS THIS BACKWARDS-ASS SH*T?! Didn't you just turn Rude babyface to feud with heel Vader and Race?
Nick Bockwinkel (the commissioner of WCW) talks The Boss down. Then, in a backstage segment, he takes away The Boss' billyclub, handcuffs, and tells him that he can no longer be called "The Boss."

WCW WORLD HEAVYWEIGHT TITLE MATCH: Ric Flair(c) vs. Ricky "The Dragon" Steamboat- 8.5/10
One not-so-clever fan has chosen to show his or her support for Ricky with one of the dumbest signs I have ever seen at a wrestling show: "The Steamboat will roll over Nature."
There is failing, and then there is that.
Anyway, the match was awesome, but these guys have obviously done a lot better in the past. We got a stupid Dusty Finish at the end, too, because apparently not having Flair win clean is the best way to build him up for Hogan.

Anyway, the poor booking at the end aside, a great show from WCW.
LATEST REVIEWS