WCW Clash of the Champions VIII: Fall Brawl '89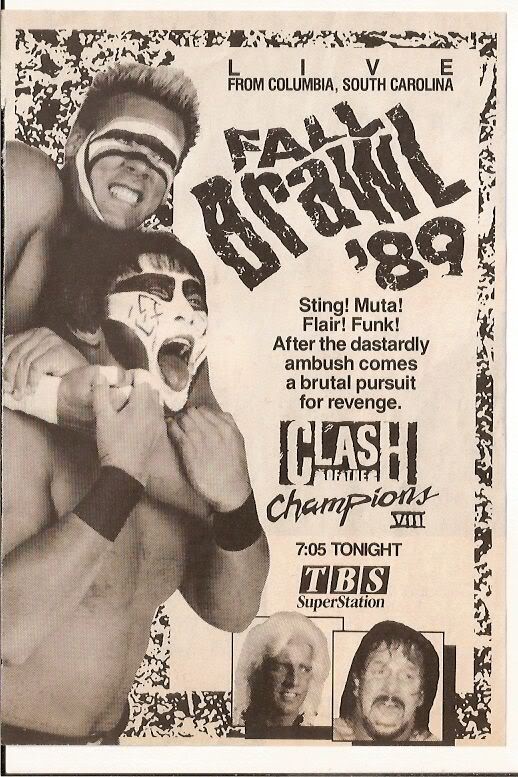 By Big Red Machine
From September 12, 1989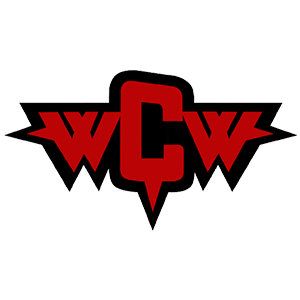 WCW Clash of the Champions VIII: Fall Brawl '89 (9/12/1989)- Columbia, SC

THE SAMOAN SWAT TEAM (w/Paul E. Dangerously) vs. THE ROAD WARRIORS (w/Paul Ellering)- 5.25/10
Pretty standard tag team stuff with a babyface in peril and a hot tag. There was also a spot where one of the Samoans back down from one of the Road Warriors, which didn't seem in character. After the match, the Samoans are unhappy with Paul E. Dangerously.

Z-MAN vs. THE CUBAN ASSASSIN- Very good extended squash.
This match (aided by Cornette's commentary) almost made you forget it was a squash, even though Z-Man dominated the whole match. Good debut for Z-Man. His offense was exciting and the crowd was definitely into it.

THE WORLD ACCORDING TO THEODORE R. LONG- good segment. It got a lot of info out about upcoming matches and events, and it did it quickly and in an entertaining fashion.

THE GOVERNOR OF SOUTH CAROLINA PROCLAIMS TODAY TO BE RIC FLAIR DAY- sure. Why not?

RANGER ROSS vs. SID VICIOUS (w/"Dangerous" Dan Spivey & Theodore R. Long)- awesome squash.
Sid started the match by jumping Ross from behind and dumping him over the top rope, but there was no DQ. Other than that, though, this was an awesome squash match.

MISSY HYATT AND ROBIN GREEN GO SHOPPING- horrific. Not only was this entirely pointless, but it was at about the level of quality that you would expect from a ninth grader's school project

FREEBIRDS PROMO- pretty good.

NWA WORLD TAG TEAM TITLE MATCH: The Freebirds (Michael Hayes & )(c) vs. The Steiner Brothers (w/Missy Hyatt & Robin Green)- 6.25/10
A great match that really made you think the Steiners could beat the Freebirds. The finish came when one of the Steiner's valets tripped Scott up, but we don't know which one. Rick thinks Missy did it but Scott thinks Robin Green did.

NORMAN THE LUNATIC (w/Theodore R. Long) vs. BRIAN PILLMAN (w/a bunch of local cheerleaders)- 3.5/10
So Pillman is able to suplex and body slam the gigantic Normal all over the place, but then wins with a crucifix roll-up?

MIKE ROTUNDA vs. "DR. DEATH" STEVE WILLIAMS- 6.5/10
Great wrestling but a flat finish. I think some other type of flash pin would have worked better. After the match Rotunda attacks Williams.

LEX LUGER PROMO- good

NWA UNITED STATES TITLE MATCH: Lex Luger(c) vs. Tommy "Wildfire" Rich- 6.5/10
Good match with a very hot crowd, but the finish was weak. It would have been a lot better if Luger had actually been putting some pressure on Rich's shoulders.

TERRY FUNK PROMO- great

RIC FLAIR & STING PROMOS- both guys were great

RIC FLAIR & STING vs. DICK SLATER & THE GREAT MUTA (w/Gary Hart)- 8.25/10
An awesome brawl with a super-hot crowd that just plain loved their babyfaces. Funk choking Flair out with a plastic bag was a great way to escalate the violence in a feud with an extremely high level of violence already. Sting looked like a star here, kicking out of some great false finishes.

Overall, a pretty good show from WCW. A decent undercard and an awesome main event. It's a bit of a one-match show, but that's fine for free TV. The only real failing of this show is the lack of build to Halloween Havoc. The purpose of the Clashes was to build up the next PPV but only the main event did that here. It was still a pretty good show on it's own, though. Not a bad way to spend two hours (especially with Jim Ross and Jim Cornette calling the action).