WCW Clash of the Champion VII: Guts & Glory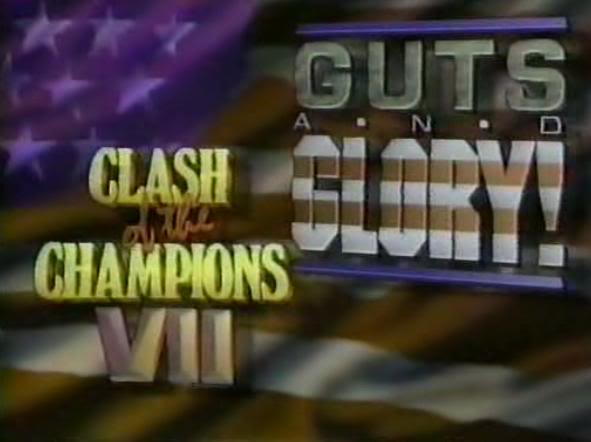 By Big Red Machine
From June 14, 1989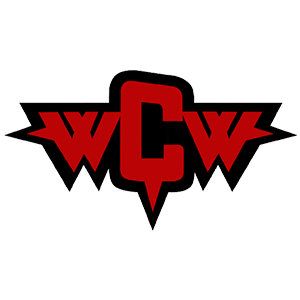 WCW Clash of the Champions VII: Guts & Glory (6/14/1989)- Fort Bragg, NC

WORLD TAG TEAM TITLE TOURNAMENT SEMIFINAL MATCH: The Dynamic Dudes vs. The Fabulous Freebirds (Michael "P.S." Hayes & Jimmy Garvin) (w/"Dr. Death" Steve Williams)- 6/10
THOSE DAMN FREEBIRDS! I am so behind the Dynamic Dudes right now! Someone puts some tag belts on them! You can call the gimmick goofy if you want, but they are SO F*CKING OVER as babyfaces… which, in hindsight, is pretty ironic, considering that both guy are much more famous for their work as heels in the 90's.

WRESTLING HOTLINE AD WITH PAUL E. DANGEROUSLY- HILARIOUS!

RANGER ROSS vs. THE TERRORIST- no rating, GREAT segment.
A show in Fort Bragg, and you have an eight year Army veteran on your roster… so you put him in a match where he pretty much squashes a guy called "the terrorist." This was a great little piece of fluff that meant a lot to the crowd.

GARY HART PROMO ON BEHALF OF THE GREAT MUTA- GREAT! Gary Hart cuts a great foreign heel promo, then Eddie Gilbert jumps Muta, looking for revenge for Muta hitting Missy with the mist. Eddie tries to burn Muta with a fireball, but pulls some other guy in the way. Great stuff here, and Gary Hart calling out Sting would set up Sting's TV Title match with Muta at the Great American Bash.

THE DING DONGS vs. COUGAR JAY & GEORGE SOUTH- squash
From the mind of Jim Herd, ladies and gentlemen. The worst part is that the guys in the costumes, Jim Evans and Richard Sartain, don't seem to be too shabby.

WORLD TAG TEAM TITLE TOURNAMENT SEMIFINAL MATCH: The Midnight Express (Bobby Eaton & Stan Lane) (w/Jim Cornette) vs. The Samoan Swat Team (w/Paul E. Dangerously)- 5/10
The Warriors get the Samoans back for screwing them in the first round.

TERRY "BAM BAM" GORDY vs. "DR. DEATH" STEVE WILLIAMS- 2/10
I'm really not sure why they did the double count-out here, as this didn't build to anything at the Great American Bash. If it is going to be finish that will piss the crowd off and it doesn't build at all to the PPV, why do it at all?

BRIAN PILLMAN VIDEO PACKAGE- okay

MIKE JUSTICE vs. NORMAN THE LUNATIC (w/Theodore Long)- squash
I liked the aftermath, too as it got over that Teddy Long was the only one who could control him (via the threat of having him locked up in an asylum again)

FREEBIRDS PROMO- okay

AUSTRALIAN RULES TAG TEAM MATCH: Kevin Sullivan & Mike Rotunda vs. The Steiner Brothers (w/Missy Hyatt)- 6/10
I have no idea what makes "Australian Rules" different from standard tag team rules.

JIM CORNETTE PROMO- great

NWA TV TITLE MATCH: Sting(c) vs. "Wild" Bill Irwin- 2.25/10
I know that Irwin was distracted because the ref was trying to get the whip away from him, but Sting still jumped a distracted opponent. Not a very babyface thing to do.

SCOTT HALL VIDEO PACKAGE- this alternates between shots of Hall hitting Jerry Lawler with a dropkick and poking alligators with a stick

JIM ROSS INTERVIEWS RIC FLAIR- explains why the thirty days rule wasn't applied, and hypes up a big announcement from Flair for July 1st, and Flair's message to Funk was GREAT!

NWA WORLD TAG TEAM TITLE TOURNAMENT FINALS: The Midnight Express (w/Jim Cornette) vs. The Fabulous Freebirds (Michael P.S." Hayes & Jimmy Garvin) (w/Terry "Bam Bam" Gordy)- 6/10
Before the match started, Paul E. jumped Cornette and knocked him out with a loaded tennis racket of his own, playing off of their confrontation at the beginning of the semifinal match and building up to their match at the Great American Bash.
This really felt like a waste of a first-time ever match, although the finish did a good job of playing into Corny's promo from earlier, and sets up a rematch with Cornette at ringside to combat the third Freebird. Putting the belts on the new Freebirds on their first night together, combined with the dirty finish of having Bam Bam interfere did a good job of putting them over as a unit.

TERRY FUNK vs. RICKY "THE DRAGON" STEAMBOAT- 7.5/10
At one point they were on the outside for WAY too long with no count-out (for some reason Steamboat decided to carry Funk the entire way around the ring before hitting him with a body slam).
They spent the whole match talking Steamboat up as the #1 contender, but if Funk is going to be the one getting the title shot at the next PPV, why not have Funk get the win here. This would make Funk look better going into the Bash as he was coming out of a retirement, and Steamboat would still be in line for a title shot.

AFTERMATH- Funk continues to beat Steamboat down, but Luger comes out and makes the save. Luger then cuts a short promo and turns on Steamboat, attacking him and putting him in the Torture Rack.

At this point, the purpose of the Clashes was to build up t the next PPV, and this show does that very well. On it's own, however, this show really isn't that good. Only watch it if you are planning on watching the 89 Bash soon afterwards.