CHIKARA The Mint Condition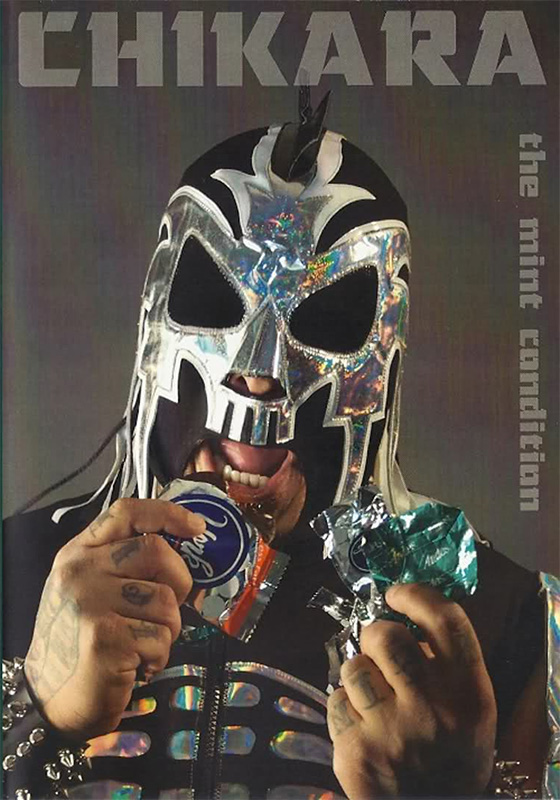 By Big Red Machine
From February 27, 2010
Discussion
COLONY PROMO - good, but a little intense. Green Ant said they were going to KILL the BDK. I was not expecting that.


THE COLONY vs. DIE BRUDERSCHAFT DES KREUZES (Pinkie Sanchez, Daizee Haze, & Lincé Dorado) (w/Sara Del Rey) - 6.5/10

Bryce Remsburg and UltraMantis Black were on commentary for this match. Bryce asked UMB if he would have CHIKARA's back against the BDK, but UMB said that all he cared about was the Order of the Neo-Solar Temple.

The BDK jumped the bell on the Colony. We got some good heat and then a good comeback in a nice, long opener, that was then all wasted when Sara Del Rey ran in for a DQ when Pinkie was caught in the CHIKARA Special. I just don't understand the booking here. Why have the BDK lose? What does this DQ set up that could have been set up better by having the referee not see Sara's run-in and having Pinkie get the pin on Solider Ant instead (or, if you don't want one of the Campeonatos de Parejas to get pinned, just put Green Ant in Solider Ant's spot).

ULTRAMANTIS BLACK PROMO ON BEHALF OF DELIRIOUS - Great. This was the standard entertaining, over the top UMB stuff, and Delirious was great at sanding there and looking crazy and possessed. UMB said that they would win the Campeonatos de Parejas tomorrow night, and then go on to win King of Trios in April. He said that he would prepare for this by spending tonight meditating, but that Delirious would prepare for it by killing Player Dos, so we're now 2/2 on promos having murder threats.


DELIRIOUS vs. PLAYER DOS - 6.5/10

Despite having just told us that he'll be off meditating, UMB is back out on commentary. Odd.
This was a solid match with a very exciting last few minutes.


THE BADD BOYS & TEAM F.I.S.T. (Gran Akuma & Icarus) vs. OSIRIAN PORTAL & INCOHERENCE (Hallowicked & Frightmare) - 7/10

Great atmoicos action, though obviously I would have preferred to not have an interruption for dancing.

THROWBACKS PROMO - AWESOME! Sugar Dunkerton did all of the talking, and he passionately let us know why the Throwbacks needed to beat the BDK so badly tonight.


THE THROWBACKS vs. DIE BRUDERSCHAFT DES KREUZES (Claudio Castagnoli & Ares) - 6.5/10

The BDK jumped the bell on the Throwbacks. The Throwbacks put up a lot more of a fight than I was expecting, considering that Ares and Claudio (and the BDK as a whole) are at the beginning of a monster push. After the match, Dasher was VERY unhappy about a tag that referee Bryce Remsburg missed.

TOM DONST PROMO - Good.


CHIKARA YOUNG LIONS CUP MATCH:
Tim Donst (c) vs. Player Uno - 5.75/10


EDDIE KINGSTON PROMO - Great!


EDDIE KINGSTON vs. TURSAS (w/Claudio Castagnoli) - 3/10

Kingston had vowed to make Tursas "move" when he hit him tonight, and he kind of accomplished that, but not really any more than we saw at the previous show. The match was very short (under four minutes), with Kingston losing due to interference from Claudio. This builds well to another Kingston vs. Claudio match and keeps the idea of Kingston vs. Tursas alive by protecting Kingston, but at the same time, I did feel a little cheated out of this big match I was so hyped for after the previous show.


MIKE QUACKENBUSH & THE FUTURE IS NOW vs. BRODIE LEE & THE UnSTABLE - 8/10

GREAT teamwork in this match, and an awesome main event.

Final Thoughts
This was another good show from CHIKARA, although two of the top three matches not delivering is definitely a big strike against it. The BDK felt a lot less dominant this time, needing to cheat to beat Kingston and needing to get DQed in the opener. I suppose the dominance we saw on the first show was sustainable in the long term, but I was hoping to see it extend a little more. As I said earlier, they easily could have won the opener and I don't see how it would have screwed up anything for the future. The crowd is definitely into the BDK angle, though, and that's the most important thing in a storyline-driven promotion like CHIKARA.
LATEST REVIEWS