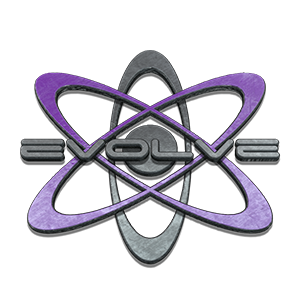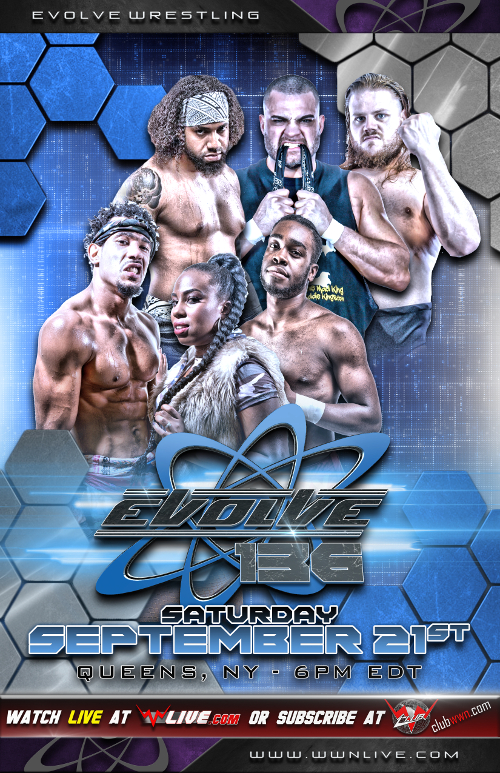 By Big Red Machine
From September 21, 2019
Discussion
OPENING SEGMENT - Bad! J.D. Drake calls out Anthony Henry and tells him that they "don't have to do this" and can "work this out" and go back to being a tag team and kicking everyone's butt. Dude… HE SCREWED YOU OUT OF THE EVOLVE TITLE, THEN STOMPED A CHAIR INTO YOUR FACE! That is SOOOOOO far past the point where "talking this out" should be possible!

Henry refuses, saying that to do so would mean stepping back in Drake's shadow. Drake says that they've talked about this several times, and if Henry had wanted a WWN Title match while Drake was champion, all he had to do was ask. Drake says that he can see that Henry has something he needs to work out of his system, so he is going to "take one for the team" and give Henry a free shot at him "because I trust you." Again… HE STOMPED A CHAIR INTO YOUR FACE! If that didn't get whatever he needed to get out of his system out then what makes you think that punch will?
Drake stands there with his hands behind his back and Henry says that he's not going to punch Drake in the face. Instead he's going to treat Drake "the way you've treated me for all of these years," and cue kick in the nuts. Henry then drove Drake's head into a chair with a diving double-stomp. I'm sorry, but I have no sympathy for Drake right now.

A referee came out to check on Drake, but both Drake and Henry insisted that the referee ring the bell to start off…


ANTHONY HENRY vs. J.D. DRAKE - 6.75/10

This was a great, hard-hitting match that played into the storyline well and I would have given it a 7/10 except that aside from the very opening spot it felt like they wrestled the match having totally forgotten that Drake had his head double-stomped into a chair less than a minute before the bell rang.

POST-MATCH SEGMENT - Bad. J.D. was dumb enough to fall for a show of respect from a man who kicked him in the nuts less than twelve minutes ago… and so he got kicked in the nuts again. At this point I have no sympathy for him whatsoever.


BRANDAN TAGGART vs. WEATHERMAN JOSH - no rating, fine squash

Nice to see Taggart finally win, but this "weatherman" idiot has no business being in an EVOLVE ring. Your gimmick that you have an umbrella with you? F*ck off. This is EVOLVE. Leave that bullsh*t at the door and just wrestle under some random name.


IF HARLEM BRAVADO DOES NOT WIN, HE LOSES HIS REGULAR SPOT ON THE ROSTER:
Harlem Bravado vs. Daniel Garcia - 6/10

Bravado won with a sneaky roll-up, but Garcia again looked very strong in defeat. The fans were very behind Garcia, and between that and his showings this weekend, he definitely deserves another look.


SHOTZI BLACKHEART vs. KRIS STADTLANDER - 7/10

This was a great match and Stadtlander definitely lived up to the hype. She's a great wrestler… which has me baffled as to why she is walking around telling everyone she's a space alien.


ANTHONY GUTIERREZ vs. ARTURO RUAS - 6/10

This was very reminiscent of early EVOLVE. A short, action-packed match of mostly grappling. It was fantastic for the mere five minutes it got, and the finish (Gutierrez had Ruas caught in a triangle but Ruas managed to roll him onto his shoulders and get the pin) all but promises a rematch at some point. Ruas' gave Gutierrez an uncharacteristic show of respect after the match, which was a marked difference from his reaction to him last night in the little segment that set this match up.


EVOLUTION'S EDGE TOURNAMENT FINAL:
Curt Stallion vs. Anthony Greene (w/Brandi Lauren) - 8/10

Greene meets Stallion at ringside to start brawling right away, which is how this needed to start, given how much EVOLVE officials have been trying to keep these two apart aside from when they're wrestling each other. They had an awesome back-and-forth match with the story being Stallion needing to overcome Brandi's interference and Greene's other cheating. The match was everything it needed to be to really elevate these two and make these little mini-tournament feel important.

And then we learned what the prize for winning the tournament is. An Evolve Title match? More money? A guaranteed spot in one of the top three matches on every show? Nope. It's a match against Kassius Ohno on the next weekend of shows. Lenny Leonard said that the winner of this tournament would be "the face of the class of 2019" (signees)… and now we're immediately going to send that person to job to a WWE-contracted guest.


2 OUT OF 3 FALLS MATCH:
The Unwanted (Eddie Kingston, Joe Gacy, Sean Maluta, Donovan, & Karam) vs. A.R. FOX & THE SKULK (Leon Ruff, Adrian Alanis, Liam Gray, & Bobby Flaco) (w/Ayla Fox) - 7.5/10

When did Karam join The Unwanted?

This began with a brawl on the floor. Eventually all five members of The Unwanted got Flaco alone in the ring and destroyed him to win a quick first fall. Flaco had to be taken to the back, meaning the babyfaces were down both a fall and a teammate. They made a comeback to win the second fall, but Kingston fulfilled his promise and injured each of Fox's students, leaving Fox all alone for the final fall… until Ayla revealed that they had a back-up plan and out came Babatunde and he got into the ring and attacked The Unwanted. HOW THE HELL IS THIS LEGAL?! You can't just replace an injured wrestler in the middle of the match, and if you could, then why didn't Babatunde come out at the beginning when Flaco was injured?
This was followed by the predictable period of Babatunde fighting off the entire heel team on his own until they eventually took him down by working as a team. At some point the apparently less-injured Leon Ruff and Liam Gray made it back to ringside for a spot or two each. Things eventually turned into total chaos with a great action segment that had the crowd chanting "THIS IS AWESOME!" but the whole Babatunde thing requires you to turn your brain off, so I've marked the match down for that.

Joe Gacy got the pin on A.R. Fox, which Lenny Leonard did a good job of putting over as a big step up for him. This would lead directly into the…

POST-MATCH SEGMENT - Interesting. Trevin Adams shows up and he's got a contract in his hands for Joe Gacy, who has apparently been impressing EVOLVE officials recently, and this win has clinched the deal for him. I was very eager to see how Eddie Kingston would respond to this situation, but I certainly wasn't expecting him to say what he said here. He put Gacy over for his hard work and told him to take the contract. He then made an announcement to all wrestlers looking to get into EVOLVE, telling them they can get one of three ways: Kissing the office's ass, the "mark tryout camps," or by joining The Unwanted and following Eddie's leadership. This whole thing made The Unwanted feel like babyfaces, which they decidedly aren't… and yet I can't help but feel that there is a tinge of truth to what Eddie says.


WALTER vs. KASSIUS OHNO (w/Harlem Bravado) - 8.75/10

FANTASTIC! These two beat the crap out of each other and did a great job building to a finish. This was one hell of a hoss fight.


EVOLVE TITLE MATCH:
Austin Theory(c) vs. Josh Briggs - 7/10

They had a very good video package before this match to bring people up to speed on Briggs' story. This was an exciting twelve minutes telling the story of both guys chasing their finishers. Theory won after Kassius Ohno interfered booted Briggs in the head. Yes, this works with last night's segment to set up a three-way, but did we really need a run-in finish in a world title match when everyone knows Theory is going to have to drop the belt sooner rather than later because he has signed with WWE (this has even been acknowledged on commentary). Plus all of the likely contenders to the title at the moment other than Briggs (Ohno, Henry) are heels, wo shy would you keep a heel champion?

Final Thoughts
This was a pretty darn great show in the ring from EVOLVE, although I thought the storylines and general logic definitely had some big problems. Not a good sign for a promotion that has historically relied on its approach to storylines to set it apart from others. On the bright side, though, the newer talent definitely continue to shine and I am eager to see them given more time to show what they can do.
LATEST REVIEWS