APW King of the Indies 2001: Night 2
By Big Red Machine
From October 27, 2001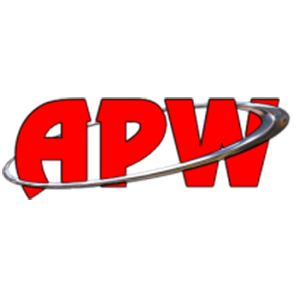 LEGENDS CEREMONY - Skippable


KING OF THE INDIES QUARTERFINAL MATCH:
Bison Smith vs. Donovan Morgan - no rating

Bison Smith's neck got hurt very early on when something happened in the ropes. Morgan quickly rolled him up for the pin. Bison had to be carried out.


KING OF THE INDIES QUARTERFINAL MATCH:
American Dragon vs. Doug Williams - 7/10
KING OF THE INDIES QUARTERFINAL MATCH:
Low Ki vs. Samoa Joe - 7/10

An excellent mix of wrestling and a slugfest.


KING OF THE INDIES QUARTERFINAL MATCH:
AJ Styles vs. Christopher Daniels - 8.5/10

An awesome display of just how wonderfully these two work together. Lots of great false finishes and athletic action. The only real blemish on it was AJ losing his balance on the ropes twice on the same spot, though at that point, I'd blame the ropes.


19-MAN BATTLE ROYALE - 5/10

It was a battle royale that randomly turned into an elimination match at the end. Robert Thompson won.


KING OF THE INDIES SEMIFINAL MATCH:
American Dragon vs. Donovan Morgan - 5/10

This was more of a brawl than you might expect. Danielson sold his knee from the earlier Doug Williams match. Knowing the backstory here (Morgan was originally booked to win the tournament but after seeing last night's Danielson vs. Spanky match, Nick Bockwinkel went backstage and told promoter Roland Alexander he'd be crazy not to put Danielson over in this tournament, and based off of Bockwinkel's praise, Roland changed the booking), this finish (Morgan rolled Danielson up with a bridge but Danielson got his shoulder up while Morgan didn't) seemed designed to protect Morgan as much as possible while still giving us a clean finish.


KING OF THE INDIES SEMIFINAL MATCH:
Low Ki vs. Christopher Daniels - 7.25/10

Daniels worked over Ki's midsection while Ki worked over Daniels' head and neck with kicks and Dragon Sleeper variations. Ki's selling was excellent.

Apparently there was a dark eight-man tag with the guys eliminated from the tournament in the first round.


KING OF THE INDIES TOURNAMENT FINALS:
American Dragon vs. Low Ki - 9/10

They told a relatively complicated story here, and one you can't fully appreciate if you only watch this match. Basically the idea was that while they each worked the body part of the opponent's that played into their signature submission (so Dragon working the arms and Ki working the head and neck), they were hampered in their ability to follow up on their own moves by their injuries from their previous matches tonight (Ki's midsection, Dragon's knee). This damage then began work together with the damage the opponent was doing to them in this match to make their big moves even harder to hit and/or less effective (Ki had trouble getting Dragon up for the Ki Krusher and sold his arm afterwards, and Dragon had to give up the bridge on the pin after a Dragon Suplex or on a Cattle Mutilation several times, and this damage weakening his ability to bridge made the Cattle Mutilation less effective than usual, hence why Ki was able to survive in it for so long). This match also had that wonderful rawness to it that most of these guys' matches in this tournament had that made it feel just a little more real. Their faith in themselves to tell such a complex story and their ability to garner such a great response from the crowd while pulling it off showed exactly why these two belonged in the finals of a tournament to crown the King of the Indies.

Final Thoughts
This was a pretty awesome show, especially when you consider that the guys in the main event had to wrestle three times, and didn't take it easy during any of them. This was a great night of action, capping off an awesome tournament that truly changed wrestling history. It's not hard to see why this tournament alone was enough to convince Rob, Gabe, and Doug that there was more than enough talent available to start up their own wrestling promotion. Even watching it seventeen years later, the show carries with it an air of real excitement about the future, and while it's fun to use hindsight and compare the wrestlers in the tournament and where their careers took them (or didn't take them), this show still manages to catch the feeling of excitement and potential that this show brought, and freeze it in time so that it is always fresh when you pull it out of the box.