RevPro Live in Southampton 4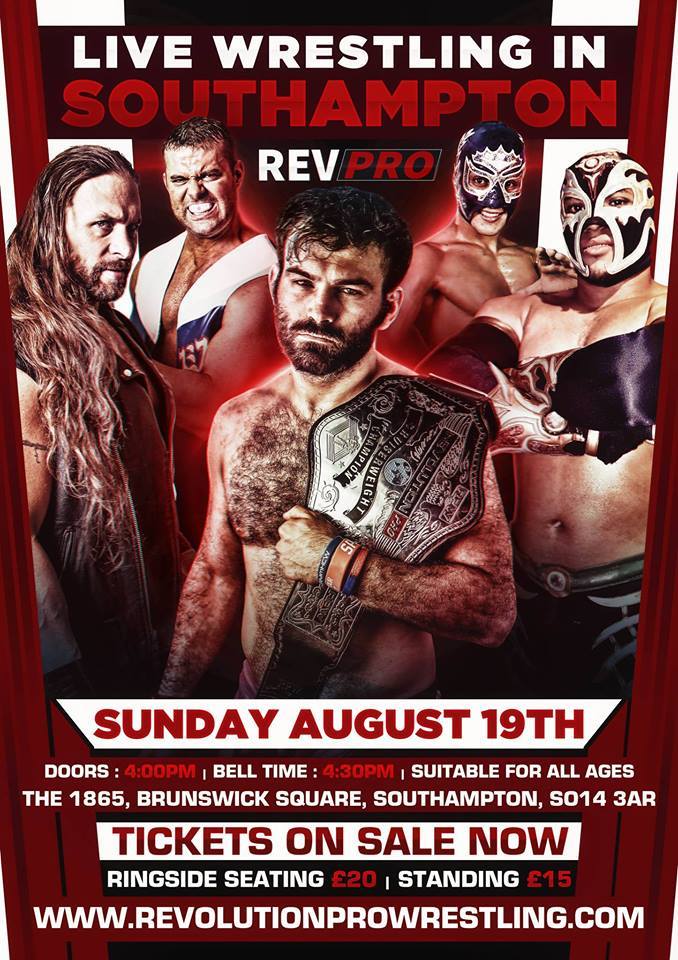 By Big Red Machine
From August 19, 2018

SUGAR DUNKERTON vs. LORD GIDEON GREY - 4.5/10

Good comedy to start off, then a good (but short) babyface vs. heel match.


PSYCHO PHILLIPS vs. THE GREAT O-KHARN - 6/10

Lord Gideon Grey sat down to watch this match from the stage. He saw The Great O-Kharn win.


CHRIS RIDGEWAY vs. KURTIS CHAPMAN - 5.5/10

Solid.


THE ARROWS OF HUNGARY vs. HxC (Dan Head & James Castle) - 5.75/10

I'd like to see more of the Arrows of Hungary and less of HxC.


ADAM BROOKS vs. TITAN - 7.5/10

This was a really great athletic match, but Brooks no longer feels like a big player the way he did earlier in the year.

POST-MATCH SEGMENT - Good. Brooks is very annoyed at losing. An interviewer asks for an interview and mentions that Brooks has now lost twice in one weekend after going unpinned and unsubmitted all year before this. He then told Brooks that RevPro officials and Will Ospreay have finally come up with a time to give Brooks the one-on-one match he has been demanding, which will be at Live in Leamington 2 on September 1st. The announcer reminds Brooks that he was undefeated when he made this challenge and asks him if this weekend's losses have changed his mindset any. Brooks responded by saying it is BS that Ospreay has been running from him for months, and tells him "consider your challenge not accepted." I thought this was a great bit of booking because the heel announcer can reasonably follow Brooks' stated line of thinking while the babyface announcer can also reasonably claim that Brooks now doesn't want the match because his confidence has been broken and he doesn't want to be embarrassed by a loss in a challenge he has been demanding for so long.


JURN SIMMONS vs. LANCE ARCHER vs. DAN MAGEE - 6.75/10

A good three-way with Magee getting over as the smaller babyface in there with two giants. Unfortunately, the post-match stuff with Archer made Magee look like an idiot (though I did get to see a chokeslam, so it wasn't all bad. I love chokeslams).

DAVID STARR PROMO - The usual stuff claiming that RevPro is trying to screw him out of the title, but he did at least inform everyone that his "independent official" Shane Perser was injured by El Phantasmo two nights ago at Summer Sizzler 2018. He also insisted that El Soberano Jr. did not deserve a title shot and thus wouldn't be getting one tonight... and apparently RevPro officials are okay with this. At this point, why should anyone believe RevPro when they advertise a Cruiserweight Title match for as long as Starr is champion?


EL SOBERANO JR. vs. DAVID STARR - 8/10

FINALLY we get a David Starr match in RevPro that delivers to the level that Starr usually delivers to in every other promotion.

Final Thoughts
This was pretty much a placeholder show from RevPro, with very few of the regulars who have any sort of name, but the few names they had mixed well with the Lucha imports to give us some great matches. That stuff plus the newsworthy post-match segments in the Brooks vs. Titan match and the three-way make this show not feel like a total waste of time (though this is also helped by the relatively short 2:12:47 run-time meaning that it doesn't take up quite as much of your time).