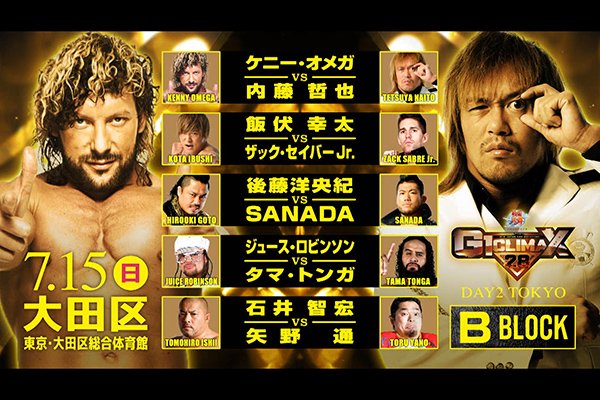 By Big Red Machine
From July 15, 2018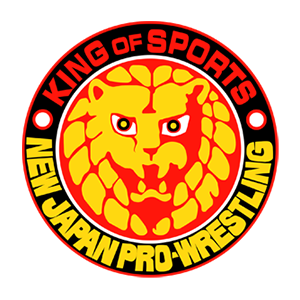 MICHAEL ELGIN & SHOTA UMINO vs. BULLET CLUB (Adam Page & Chase Owens) - 6/10
LOS INGOBERNBALES DE JAPON (EVIL & BUSHI) vs. CHAOS (Sho & YOSHI-HASHI) - 4.5/10
TOGI MAKABE & TOA HENARE vs. SUZUKI-GUN (Minoru Suzuki & El Desperado) - 5.5/10

Standard Suzuki-Gun stuff. Suzuki and Makabe had a very abnormal pull-apart/stare-down after the match.


BULLET CLUB FIRING SQUAD (Bad Luck Fale & Tanga Loa) vs. CHAOS (Kazuchika Okada & Gedo) - 5/10

Tanga Loa pinned Gedo with the Rikishi Driver, which is apparently his finisher. While this was happening, Fale had Okada up for the Bad Luck Fall. Being a heel, when he heard the bell ring, he figured "well... I've already got him up, so I might was well do it anyway" and tried to cripple Okada via Bad Luck Fall onto a guardrail but thankfully Okada managed to slip free.


HIROSHI TANAHASHI & DAVID FINLAY vs. vs. CHAOS (Jay White & Yoh) - 6/10

The Jay White heel turn continues. First he teased not wrestling at all to save himself for tomorrow night, but then decided to wrestle so he could soften Tanahashi up. He worked on Tanahashi's injured knee a bit but Tanahashi just stopped selling it at one point. White grabbed a chair and I was thinking he would get himself intentionally DQed, which would have served both of his above stated goals, but instead he hit Tanahashi with it (behind the ref's back, we'll pretend, as we couldn't see the ref seeing it), then gave it to Yoh and ordered Yoh to use the chair on Finlay. Yoh considered it for a moment, then threw the chair away... and was immediately hit with Prima Nocta by Finlay. Finlay made the cover and White considered coming in to break it up but instead stopped and just watched his team lose, uncaring.


BLOCK B MATCH:
Tomohiro Ishii vs. Toru Yano - 7/10

So the idea with Yano now is that he's full of sh*t when he vows to stop cheating, right? Because he kept going for low blows and he took the turnbuckle pad off with the intention of whipping his opponent into the exposed steel. Whatever the deal with it is, I much prefer this Yano. Who would have thought that building your match around action and a story instead of doing the same stupid comedy spots in every single match would make your match better?
This match was great! And that's coming from ME, who has been far from the biggest fan of these two men. They build around Yano's stuff and his "new leaf" to tell a good story about Ishii's head getting worked over and making Yano feel truly credible, while also building Yano's attempts at hitting Ishii in the nuts to the point that I could believe that between his inability to keep Yano down and Yano's own attempts to go below the belt, Ishii would just hit Yano in the nuts when the referee's back was turned and roll him up for the pin like Yano has done to so many others before. Despite that, though, I think I would have booked Yano to win cleanly here, just to really establish him as a credible threat instead of a goofball cheater who only gets wins because Gedo loves to book his tournaments so evenly.


BLOCK B MATCH:
Juice Robinson vs. Tama Tonga (w/Tanga Loa) - 7/10

Another great match that built well and told a few different stories about guys trying for certain moves or working on certain body parts, but I really didn't like Tama Tonga needing a distraction in order to win. It doesn't make him look like the legitimate threat he needs to look like in order have a feud with guys like Omega or (G-d help me for saying this) Cody, who New Japan has obviously positioned him to feud with.


BLOCK B MATCH:
Hirooki Goto vs. Sanada - 7.25/10

Sanada worked over Goto's neck and dominated him for the majority of the first ten minutes before he made my new pet peeve mistake of letting go of a clearly effective submission hold (and his own finisher, no less!) to go for a different move (in this case a moonsault) which was, of course, reversed. Goto then made his comeback and did this stuff (all targeting Sanada's head) and got the win. The match was pretty great, but I was disappointed by the finish, as Goto vs. Sanada would be an excellent NEVER Openweight Title match, and a Sanada win would have set that up very well (as well as preserved Sanada's streak of winning in his first block match in the G1 every year, which is something that could have had some cache in the future which has now been thrown away).


BLOCK B MATCH:
Kota Ibushi vs. Zack Sabre Jr. (w/TAKA Michinoku) - 9/10

The very first time that both men's shoulders were down at the same time, Kevin Kelly informed us that if there were to be a double-pinfall, it would count as a draw. I highly doubt there will be one at any point during this tournament, but the very fact that Kevin Kelly knew what would happen if such a rare event should occur set New Japan apart from promotions like WWE or ROH where some clearly predictable possibility will be brought up and the announcers will fumble around before flat-out admitting that they have no idea what would occur in that case, making the company look stupid because they did not prepare for an obvious potential outcome.

This match can best be described as "peak Zack Sabre Jr." Yeah, obviously Kota was important, doing his athletic stuff and building up his knee strikes and selling well, but the majority of this match was basically exhibit A for what makes Zack such a unique talent in the wrestling business right now.


BLOCK B MATCH:
Kenny Omega vs. Tetsuya Naito - 9.5/10

An insane match with lots of good callbacks to previous matches, without feeling too reliant on them. Both guys worked the head and neck, and really felt like they went all out in doing so. Their false finishes were convincing, they had quite a few sequences of awesome reversals, and an extremely hot crowd that was into both their match and their clash of personalities. Make sure you don't miss this one.

Final Thoughts
A FANTASTIC show from New Japan, with everything delivering... and I don't just mean the top matches or even just all of the G1 matches. Even the undercard matches managed to all succeed in getting me excited for tomorrow's Block A match-ups, and using the undercard matches to do things like continue to build up Jay White's heel turn makes them not feel like the waste of time they usually are. If every G1 show could be like this, I would be a very happy wrestling fan.