RevPro/NJPW Strong Style Evolved UK: Night 1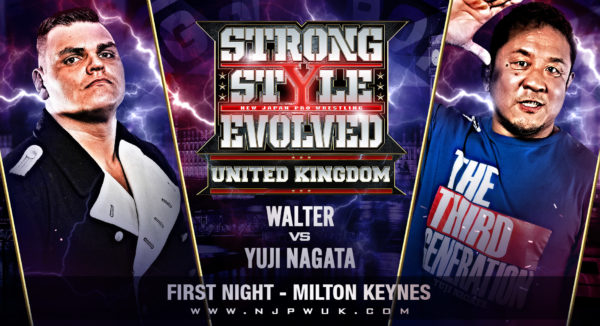 By Big Red Machine
From June 30, 2018

SHOTA UMINO vs. THE GREAT O-KAHN - 5/10

The Great O-Kahn is Tomoyuki Oka doing a bit.


AUSSIE OPEN vs. BULLET CLUB (Taiji Ishimori & Yujiro Takahashi) - 5.5/10
DAVID STARR vs. TIGER MASK IV - 6/10

This was announced as a match for Starr's RPW Undisputed British Cruiserweight Title but Starr cut a promo before the match saying Tiger Mask IV didn't deserve a shot. In RevPro he theoretically has the stroke to do this due to the conspiracy angle and having the title, but in New Japan? You'd think this would cause some sort of international diplomatic kerfuffle between the two companies. They had a good babyface vs. heel match, with Tiger Mask picking up the win to set up a future title match. Starr attacked him after the match.


CHAOS (Jay White, Toru Yano, & Gedo) vs. SUZUKI-GUN (Takashi Iizuka, El Desperado, & Taichi) - 5.5/10

Suzuki-Gun jumped the bell on their opponents. Shockingly, they managed to keep the usual sh*t to an extreme minimum, which made the match much better than you would expect upon seeing it on paper.


YUJI NAGATA vs. WALTER - 8/10

I can't say this was everything I dreamed it would be because there wasn't any grapplef*ck and it was only twelve and a half minutes, but it was still awesome. Kevin Kelly called the strike that ended the match by saying "murders him with that one."


YOSHI-HASHI vs. CHRIS BROOKES (w/Kid Lykos) -6/10

They had a solid nine-minute match. Brookes almost immediately established himself as the heel, which seems to run completely counter to the promo he cut on the last RevPro show I watched, which took place earlier this month. YOSHI-HASHI got the win on Brookes, in what really feels like a New Japan undercard guy beating a relatively higher-up name in RevPro.


WILL OSPREAY vs. YOSHINOBU KANEMARU - 7.5/10

Kanemaru jumped the bell on Ospreay to start things off. This match apparently doesn't have disqualifications in it, as Kanemaru was allowed to hit Ospreay with a chair with impunity. Kevin Kelly- the babyface lead announcer for New Japan- justified this with the ridiculous claim that being self-defense against a dropkick makes it somehow not illegal.

Kanemaru worked over Ospreay's neck, including a DDT on the stage which, unfortunately for Ospreay, took place just as the count-out rule was going into effect so now he had to make it back into the ring before a count of twenty, even though they had already been fighting on the outside for a while. They continued the neck story and had a really great match.


RPW UNDISPUTED BRITISH TAG TEAM TITLE MATCH:
Suzuki-Gun (Minoru Suzuki & Zack Sabre Jr.)(c) vs. CHAOS (Tomohiro Ishii & Kazuchika Okada) - 9.5/10

This match was INSANE! The heat was one of the best absolutely dismantlings I have ever seen in my life, the strong-style strike-fests between Ishii and Suzuki were placed perfectly, and the fans were going nuts for everything. WATCH THIS MATCH NOW.

Final Thoughts
A GREAT show from New Japan, with solid to decent wrestling in the random matches and the featured matches delivering all that was promised. This main event is one of the best straight tag team matches I've ever seen, and the crowd was hot all night. This show is one you really should check out.