PWG Guerre Sans Frontieres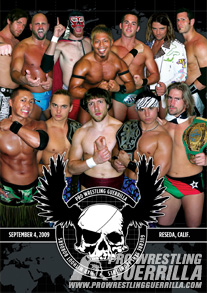 By Big Red Machine
From September 04, 2009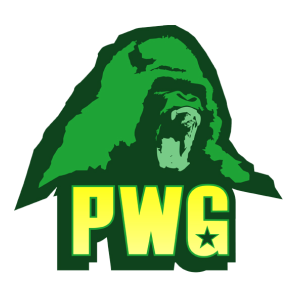 CHARLES MERCURY & THE CUTLER BROTHERS vs. MALACHAI JACKSON & LOS LUCHA vs. JOHNNY GOODTIME, SHANE HASTE, & JEROME "LTP" ROBINSON - 7.5/10

It's hard to have a match with as many minutes assigned to it as there are participants in the match without it being a spotfest, and that's what this was... but while I have no doubt that every single moment of it was choreographed in the back, it managed to retain a rawness to it that allowed it to retain a more natural feel than these types of matches usually have. This was a wonderful way to open the show.


CANDICE LERAE vs. CHRISTINA VON EERIE - 6/10

This was good large heel vs. plucky underdog babyface match. Would it have been better if they had started working the leg earlier on? Yes. But Candice was a good enough babyface to still make this good even without a focused story. CVE was also great in her role as a heel, which I don't think I've ever seen her in before. I also don't remember ever seeing her do a Pedigree before. In this match she gave Candice one ON THE APRON.


SCOTT LOST vs. HUMAN TORNADO - 6/10

Lost jumped Tornado to start things off.


RODERICK STRONG vs. KARL "MACHINE GUN" ANDERSON -7.75/10

A GREAT, hard-hitting match, like you'd expect from these two, but it did drag a bit in the middle.


NARUKI DOI vs. JOEY RYAN - 6.75/10
EL GENERICO vs. SHINGO TAKAGI - 8/10

They started out with Shingo working Generico's back while Generico worked Shingo's head but then Shingo switched over to the head, too, and it just became about trying your hardest to put the other guy down. Generico's selling was excellent, as always. They had one spot that I really didn't like, which saw Generico connect with the Helluva Kick and then a half-nelson suplex only for Shingo to fighting spirit out of it and hit Generico with a brainbuster, only for Generico to fighting spirit up from that and hit another Helluva Kick followed by a brainbuster for a nearfall. I understand why they did it (doing the sequence that way did an excellent job of making it feel like it was the finish, thus making it an extremely effective false finish), but I think that people would have just bought Helluva Kick into a half-nelson suplex into a brainbuster as just as much of a false finish. Other than that one spot, though, this match was awesome.


MOTOR CITY MACHINE GUNS & CIMA vs. BRIAN KENDRICK & THE YOUNG BUCKS - 8.5/10

Remember when the antics in matches used to make sense within the story rather than being done just for the sake of doing them? Those were the good old days. The Young Bucks were much more tolerable before they went to Japan and became parodies of themselves.


PWG WORLD TITLE MATCH:
Chris Hero(c) vs. Bryan Danielson - 9/10

This was one hell of a marathon. Hero worked the head while Bryan worked both the arm and the head. There was a lot of emotion here due to it being Bryan's final match in PWG, and because of that the title change caught pretty much everyone by surprise. A great send-off for Bryan from another promotion that he helped build.

We got a big post-match segment setting up the title being on the line at BOLA, and then a backstage promo by Dragon thanking PWG and the fans.

CHRIS HERO PROMO- awesome, as always.

Final Thoughts
A GREAT show from PWG. They threw a punch of talented wrestlers against each other and let them do their thing. Pretty much everything was at least good, and most of it was great or better, especially the top of the card. Throw in that this had both an emotional sendoff for Bryan and setting up that the world title will be on the line at BOLA, and you've got a must-see show.