RevPro Epic Encounter 2017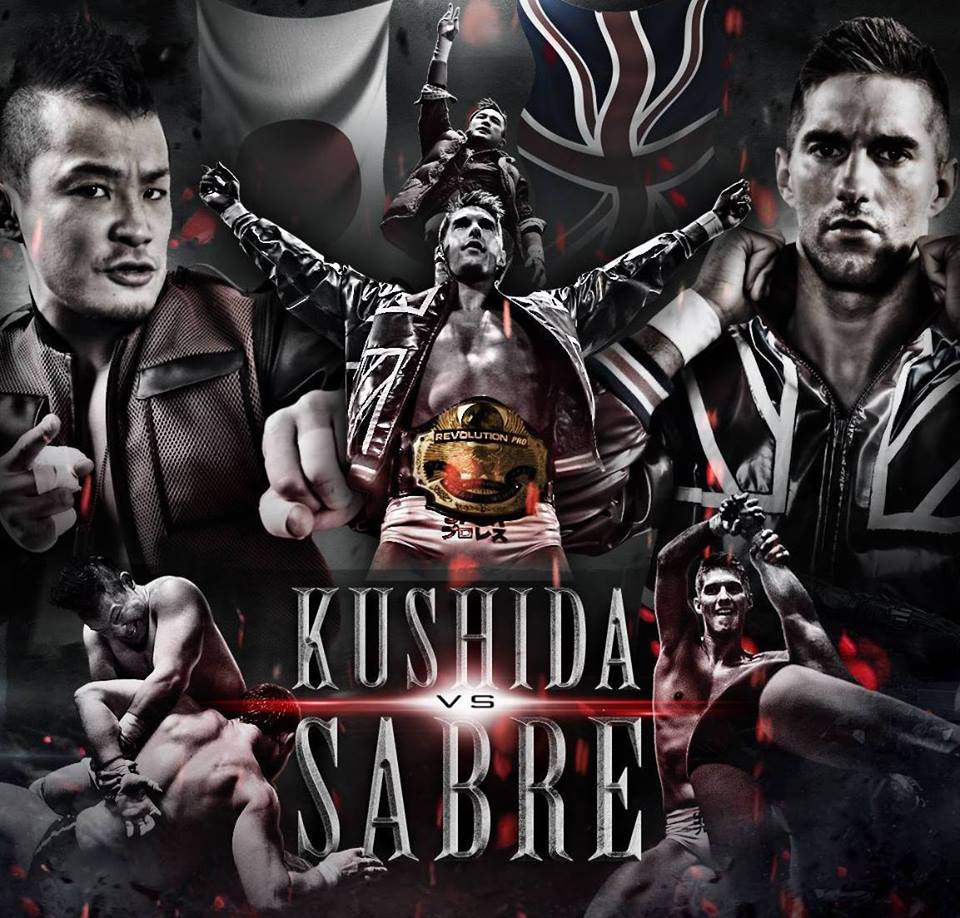 By Big Red Machine
From April 13, 2017

RPW BRITISH TAG TEAM TITLE MATCH:
CCK (Chris Brookes & Travis Banks)(c) vs. Sami Callihan & Martin Stone - 6.75/10

I really liked this match aside from the spot towards the end where Stone grabbed both of his opponents by the testicles, right in front of the referee, for no reason whatsoever, and there was no DQ. I just don't understand what possesses people to do these idiotic, logic-defying spots.

POST-MATCH SEGMENT - Fine. Martin Stone cut a big babyface promo about his history on the UK indy scene, so of course Sami Callihan attacked him when he was done. Sami then cut a promo in which I think he said that Martin Stone hasn't been the same since getting released from WWE, but I couldn't hear him very well because the audio on the mic was very bad (the announcers came through loud and clear, though, so it's not like overall audio was a major problem on this show. It was just this one time).


JAY WHITE vs. ANGELICO - 5.5/10

White wins with the Liontamer. He initially had a regular Boston Crab locked in but then put the knee down in Angelico's back and Angelico immediately tapped. If only someone had taught him this variation while he was still a young-boy in New Japan the he would have won all of his matches.


HIROOKI GOTO vs. ZACK GIBSON - 7/10

The last few minutes were very strong and the overbooking with Ospreay preventing Gibson from hitting Goto with a car stereo (yes, really) was very good.


MARTY SCURLL vs. HIROMU TAKAHASHI - 7.25/10

Before the match had started Hiromu grabbed Marty's umbrella and licked it (for those unfamiliar with Marty Scurll, there are no euphemism's here. It's a legit umbrella). This made Marty angry so he hit Hiromu in the face with the umbrella. The referee turned around and immediately called for the bell and I assumed that he was disqualifying Marry Scurll for using a foreign object. I mean... technically the match hadn't started yet but both competitors were standing there, ready for it to start, and Marty took a clearly illegal action. A DQ doesn't seem like an unreasonable response to me, but apparently the referee was ordering the bell to be rung to START THE MATCH. If you don't want to call a DQ for something that happened before the match technically started, then at least give the man time to recover after a blatantly illegal maneuver! What the referee did here is ENCOURAGING PEOPLE TO CHEAT. Hiromu was up soon afterwards like he hadn't just been hit in the head with a metal pole, so what was even the point?

They had a lot more of a brawl than I was hoping for (though the action was still solid), and I didn't think that the parts of the match flowed together particularly well, but the last few minutes were quite great.


RPW BRITISH CRUISERWEIGHT TITLE MATCH:
Will Ospreay(c) vs. Josh Bodom - 9.75/10

Ospreay's back is taped up, so Bodom started the match off by jumping him from behind and started pounding away at the back and he didn't let up for the whole match. Almost every single thing he did targeted Ospreay's back from start until... well... pretty much everything but the finish. This all meant that Ospreay had to find way to fight back without resorting to his signature high-flying offense because most of that stuff entails landing on your back. Ospreay did so with kicks to the head and submissions targeting the knee. They did an OUTSTANDING job of telling their story, to the point that when Zack Gibson came out to distract the referee when Bodom was about to tap out, I was actually happy because I so badly wanted this match to continue. The finish looked quite brutal, but, as I said above, didn't target the back, and as that was the focus of the whole story of the match. It was a believable finish, but it just didn't feel like the right finish or this story so I didn't give this the full ten, but it's pretty darn close. GO WATCH THIS MATCH RIGHT NOW.


NO DISQUALIFICATIONS MATCH:
Sha Samuels vs. James Castle - 3/10

Samuels is the fat guy. Dan Magee gets wiped out while acting as a young-boy for the second match in a row. This time it was while he was trying to stop James Castle from using a saw. Yes, you read that correctly: a saw. Like what you cut wood with.

I really didn't like this match. It felt very overbooked, which is an amazing thing to say about a six-minute match in which no one interfered. It felt like they spent too much time finding bad reasons to be distracted (such as the aforementioned saw spot or Samuels getting into an argument with the referee) in order to do their transitions, and the ref bump felt equally unnecessary. What I did like, however, was the...

POST-MATCH SEGMENT - Castle won the match but Samuels attacked him afterwards, then used a pair of scissors (that Castle had actually brought to the ring with the intent of using as a weapon) to cut off Castle's trademark green Mohawk. A GREAT angle.


RPW BRITISH HEAVYWEIGHT TITLE MATCH:
Zack Sabre Jr.(c) vs. KUSHIDA - 9.25/10

A gritty clash of two technically-minded wrestlers, both of whom REALLY did not want to lose. They spent nearly half an hour trading hard strikes and armlocks, and it was absolutely wonderful.


BULLET CLUB ELITE vs. SHANE STRICKLAND, LIO RUSH, & RYAN SMILE - 8.75/10

Exactly the sort of fast-paced, athletic, flippy insanity you'd expect from these guy.

Final Thoughts
I know it's only May as I post this, but I'm pretty sure this going to be the 2017 Show of the Year. GO WATCH IT RIGHT NOW!