NJPW New Beginning in Osaka 2017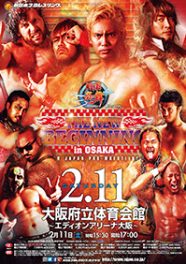 By Big Red Machine
From February 11, 2017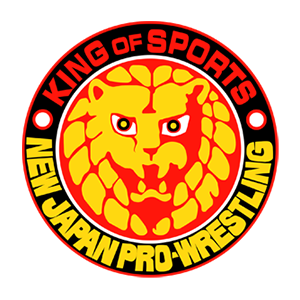 HENARE vs. TAKA MICHINOKU - 4/10

I might be overrating this a bit, but that's only because I loved the super-duper alligator clutch type of move that TAKA used to get the pin.


HIROYOSHI TENZAN & SATOSHI KOJIMA vs. YOSHITATSU & KUSHIDA - 4.75/10
YUJI NAGATA, JUSHIN "THUNDER" LIGER, TIGER MASK IV, & JUICE ROBINSON vs. CHAOS (Jado, Gedo, YOSHI-HASHI, & Hirooki Goto) - 5/10

Robinson pins Jado, then makes challenging gestures towards Goto, because apparently we're going to get that match again even though Goto just beat him clean last week.


CHAOS (Roppongi Vice & Kazuchika Okada vs. SUZUKI-GUN (Minoru Suzuki, Yoshinobu Kanemaru, & Taichi) (w/TAKA Michinoku) - 6/10

Rocky Romero now has what appears to be the Roppongi Vice version of Sasha Banks' "boss" bling. It does not work for him. Taichi & Kanemaru hit a big double-team move for the pin on Rocky while Suzuki restrains Okada in the corner to set up what already feels like the last viable match in this Suzuki-Gun vs. Chaos feud. They beat Rocky down after the match. Beretta tries to make the save but gets laid out with his own championship belt. Okada and Suzuki brawl on the outside but Okada kind of wins the brawl. Once again, now we've had the big, epic Suzuki vs. Okada match for the title with Okada winning clean, the whole Suzuki-Gun thing feels like it's over already.


NEVER OPENWEIGHT SIX-MAN TAG TEAM TITLE MATCH:
Hiroshi Tanahashi, Ryusuke Taguchi, & Manabu Nakanishi(c) vs. Los Ingobernables de Japon (BUSHI, Sanada, & EVIL) - 6.25/10

The babyfaces making fun of LIJ's costumes and weapons and stuff was HILARIOUS! The heels jumped the babyfaces to start off the match, which now makes two in a row. LIJ regain the belts that they lost to Tanahashi & Friends in their first defense last month, but not only do they have to cheat to do so but we also have to have the babyfaces get the visual pinfall first, just to make sure that these belts mean as little as humanly possible. Fighting continues after the match to in order to lead to yet another match between these teams in which I'm sure the babyfaces will win the belts right back. Between the match and the post-match brawl, Taguchi- a babyface- got tied in the Nudo. TWICE. What a loser! Remember last year's Best of the Super Juniors when he was putting on all of these great matches and everyone was saying that New Japan could actually do something with Taguchi instead of make him another comedy dork? So much for that. It's nice to see how his hard work in the big tournament was rewarded.


RPW BRITISH HEAVYWEIGHT TITLE MATCH:
Katsuyori Shibata(c) vs. Will Ospreay - 7.5/10

Dear Lord this Ospreay kid can do some impressive stuff. Shibata kept his no-selling bullsh*t to an absolute minimum and instead they focused on the story of vicious, stiff-kicking Shibata taking on the fast but undersized and young Ospreay and it worked great. Shibata just beat the sh*t out of Ospreay while Ospreay tried to use his athleticism to avoid it. Shibata retained the title, but he showed Ospreay an uncharacteristic amount of respect after the match. In a few years we could well be looking back on this as a major moment for Ospreay's career in Japan.


IWGP HEAVYWEIGHT TAG TEAM TITLE MATCH:
CHAOS (Tomohiro Ishii & Toru Yano)(c) vs. Tomoaki Honma & Togi Makabe vs. Suzuki-Gun (Davey Boy Smith Jr. & Takashi Iizuka) - 4.5/10

Lance Archer is injured, so instead I have to watch f*cking Iizuka. And in the same match as Yano. It feels like I was promised ice cream with chocolate syrup but when I got to the front of the line there was no chocolate syrup left... and I understand that. But instead of perhaps offering me caramel syrup in place of the chocolate or even just offering me the ice cream without the chocolate syrup, they decided they had promised me ice cream with something brown on it and therefore it was better to give me ice cream with something brown on it than to give me ice cream with nothing brown on it, so they took a sh*t on my ice cream.

This match was a HUGE mess. It's not like there were botches or anything and you could always follow what was going on, but it felt like everyone was trying to do their own thing rather than work together to have a match. When Yano or Iizuka was involved the match was frustrating but everyone else was fine. Ishii got hit with the Iron Fingers, and I honestly wasn't sure whether or not he would sell it. Thankfully he did. CHAOS retain when Yano used low blows to get the win, but I guess they felt that they also had to protect this pathetic shell of Suzuki-Gun by having not only the blow blows but by having Iizuka also accidentally hit Davey Boy Smith Jr. with the Iron Fingers. Hopefully this miscommunication leads to him being kicked out of the group and thus also no longer working for New Japan.


IWGP JR. HEAVYWEIGHT TITLE MATCH:
Hiromu Takahashi(c) vs. Dragon Lee- 8.5/10

This was two men trying to paralyze each other. There were a lot of spectacular bumps and insane displays of athleticism, but it's kind of hard to enjoy a match when just about every bump makes you worry that the wrestling in question won't be able to get up.

RYUSUKE TAGUCHI CHALLENGES THE WINNER - remember when this guy got tied into a human knot TWICE earlier tonight? Well apparently now I'm supposed to take him seriously. Sorry... not happening. Takahashi tried to hit Taguchi from behind with the belt but he ducked it and locked Takahashi in the ankle lock.


IWGP INTERCONTINENTAL TITLE MATCH:
Tetsuya Naito(c) vs. Michael Elgin - 9/10

Does New Japan have the best main events this year or what? This was a fantastic combination of great storytelling (Naito worked the knee and also the eye a bit and Elgin worked the head) and some really big spots, some of which are not exactly the type of thing I expected to see out of these guys (although that's mainly because I had totally forgotten that Naito's excursion was to CMLL). Also that ELGIN BOMB IN THE BARRICADE! Excellent match!

A mostly ho-hum show from New Japan until we got to the top two matches, which I advise everyone to go out of their way to check out. New Japan continues to deliver in major main events this year, even when Okada isn't involved.