NJPW New Beginning in Sapporo 2017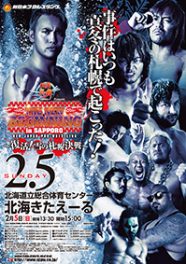 By Big Red Machine
From February 05, 2017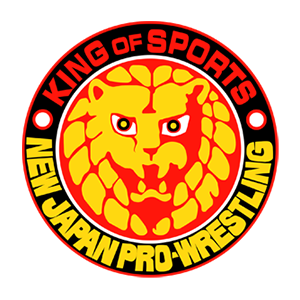 HIRAI KAWATO & KUSHIDA vs. SUZUKI-GUN (El Desperado & Yoshinobu Kanemaru) - 4.75/10

Kevin Kelly and Cyrus are wondering whether Suzuki-Gun had "inside help" in getting access to the building, essentially implying that there is a traitor in New Japan's midst. I hate to pre-judge something, but anything that makes me think of the Aces & Eights will do that. Also, I just assumed that they got into the building by just buying tickets.
This was a fun little match and Suzuki-Gun winning was obviously the right way to start off the night. After the match Kanemaru came back and gave the babyfaces a couple of more shots.


YOSHITATSU, HENARE, & DAVID FINLAY JR. vs. SATOSHI KOJIMA, HIROYOSHI TENZAN, & YUJI NAGATA - 4/10
JUSHIN "THUNDER" LIGER, TIGER MASK IV & KATSUYORI SHIBATA vs. CHAOS (Will Ospreay, Jado, & Gedo) - 4.75/10

CHAOS wins when Ospreay gets the pin. Shiabta attacked him right afterwards because SHIBATA is a dick. Thankfully Ospreay fought him off and laid him out with the Os-cutter.


YOSHI-HASHI vs. TAKASHI IIZUKA (w/El Desperado) - 0.5/10

I removed all sharp objects from the room before this match, just in case Iizuka drives me to attempt self-harm. He didn't, but it was close. I don't understand why New Japan (or anyone in wrestling) continues to employs this loser.


LOS INGOBERNABLES DE JAPON vs. HIROSHI TANAHASHI, MICHAEL ELGIN, RYUSUKE TAGUCHI, DRAGON LEE, & MANABU NAKANISHI - 6.75/10

Lots of stuff to build Elgin up for his IWGP Intercontinental Title shot against Naito next weekend. Also, the stuff to build up Takahashi vs. Dragon Lee was pretty sweet, too.


IWGP JR. HEAVYWEIGHT TAG TEAM TITLE MATCH:
Roppongi Vice(c) vs. Suzuki-Gun (TAKA Michinoku & Taichi) (w/Suzuki-Gun) - 6.5/10

There were some rocky moments in here (no pun intended) but they pulled things together by the end. The finish was kind of shocking, but I think it served its purpose as being that curveball in the beginning to keep you off balance for the rest of the matches where the finish seems obvious going in.


NEVER OPENWEIGHT TTLE MATCH:
Hirooki Goto(c) vs. Juice Robinson - 7/10

Juice was GREAT in this match as the young babyface out to prove himself against the grizzled veteran. His big fighting spirit spot was great.


IWGP HEAVYWEIGHT TAG TEAM TITLE MATCH:
CHAOS (Tomohiro Ishii & Toru Yano)(c) vs. Togi Makabe & Tomoako Honma vs. Killer Elite Squad - 3.75/10

Cyrus made a MATRATS reference! Yano's whole f*cking ENTRANCE VIDEO is clips of him cheating. Someone please give me a kayfabe explanation for why New Japan allows this.

Those despicable f*cking cheaters won. And when I say this I don't mean Suzuki-Gun. I mean CHAOS. You know... the guys who are theoretically the babyfaces.


IWGP HEAVYWEIGHT TITLE MATCH:
Kazuchika Okada(c) (w/Gedo) vs. Minoru Suzuki (w/Taichi) - 9.75/10

Yeah, I know, it's YET ANOTHER Okada match this year that everyone else loves but I couldn't quite give the full 10/10 to. Suzuki had already damaged Okada's knee at a press conference and he spent the first thirty to thirty-five minutes of this one working it over for lots of good false finishes which all culminated in one that was... well... too good. Okada was in the knee-bar for what had to be five straight minutes without tapping, and it felt like too much. I know that sounds a little strange because I'm sure I've seen something equivalent to this before and been fine with it but... this is MINORU SUZUKI we're talking about. How has he not gotten this f*cker to tap in five minutes of a knee-bar alone, never mind on top of everything he did before? I also wasn't thrilled with Okada running around on it afterwards, either, even if it was only for a few seconds, because it felt like he had just taken too much. It felt like Okada should, like, need to take a few months off (like, say, until Invasion Attack) to heal his knee, but that's not going to happen. Don't get me wrong, the match was still excellent and there was more going on in it than that (Okada worked over Suzuki's neck pretty consistently as well), but it really feels like the right finish here should have been Gedo throwing in the towel.

They hit the point where you figured that they were going to go to a one-hour Broadway, but then Suzuki just lost... like the rest of his stable did. It was quite odd for some big invaders who just spent a long time laying waste to Pro Wrestling NOAH.

This was an... interesting show from New Japan. Suzuki-Gun lost every single one of their matches aside from the opener. It almost seems like this entire Suzuki-Gun invasion was a swerve to make us think something bigger was going on. At the very least the goal here seems to have been to say "this is not the Suzuki-Gun vs. NOAH feud all over again." Meanwhile, Bullet Club was off the show entirely, which felt fresh, but also makes you think that Suzuki-Gun was just brought in as place-holders for Bullet Club for a month or two (or perhaps that they would have gotten a bigger push if Omega hadn't re-signed, and now that appears to have done so New Japan sees Suzuki-Gun as expendable). This was a one-match show, but that match is certainly a match that you MUST watch. If we don't ever get another Suzuki vs. Okada match, this one was good enough that I will be fine with never getting another.