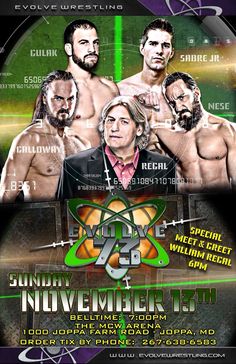 By Big Red Machine
From November 13, 2016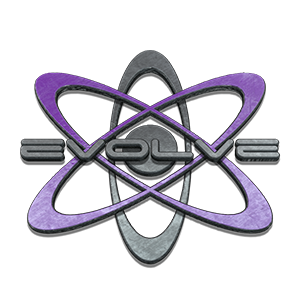 STOKELY HATHAWAY PROMO - A good kayfabe explanation for a disappointing situation.
He comes out wearing Timothy Thatcher's Evolve World Title belt. He says that Thatcher isn't here tonight, and the reason for that is that due to the nature of last night's BRUTAL match against Drew Gulak, he has advised Thatcher to take the night off. He justifies his wearing the title belt around as an attempt (albeit clearly a sarcastic one) to lessens the fans' disappointment because at least they get to see the championship if not the actual champion. Still Stokely was a little brazen in his doing so, and it will be very interesting to see how Thatcher responds to this, given what he has done to people in the past for even touching his title belt- including Stokely.

DARBY ALLIN PROMO - he is sad that he lost to Chris Dickingson and Jaka last night after the comments Dickinson made about him (telling him he didn't deserve the Evolve contract he earned last month after working so hard for it), so now he wants a rematch against the man who pinned him last night: Jaka.


JAKA vs. DARBY ALLIN- 4/10

Jaka wins, which means yet another loss for Darby in which he yet again got his ass kicked for most of the match. I like the direction this is going in for him. We could end up with a desperate cheating heel or a mega-tough underdog babyface, or any number of things in between.


ICARUS vs. JASON KINCAID- 5/10

Pretty much just a showcase for Kincaid, with even Icarus' offensive spots being designed to get Kincaid over in one way or another. CRAZY finish, though.


CHRIS DICKINSON (w/Jaka) vs. ETHAN PAGE (w/the Gatekeepers)- 6.5/10

The fact that Page was able to make Dickinson, who usually comes off like a total ass-hat, into a babyface I wanted to cheer for speaks volumes about Ethan's talent as a heel.


ZACK SABRE JR. vs. DREW GULAK- 8.5/10

Wrrrrrrrrestling! YAY!
A long grappling contest that ended with one of those wonderful, uniquely Evolve finishes.


CHRIS HERO vs. MATT RIDDLE- 6.75/10

Well... that was short. I mean... it was great for the time it got and I was definitely going to be unhappy if Riddle kicked out after three straight piledrivers so they were definitely looking for a finish that would still feel like a finish in such a short main event but... a ten minute main event is pretty underwhelming, and especially in Evolve. Now that I think about it, this is the second time recently that Hero has beaten Riddle relatively quickly (I think he beat him in fifteen minute or so last month), so maybe there is something to that.

POST-MATCH SEGMENT - good
Drew Galloway & DUSTIN come out. Drew puts over Hero (trying to smooth things over after his diplomatic failure last month) and says that now that Hero beat Riddle and Gulak declared Catchpoint to be a "failure" (after last night's main event) that the war was over and he and his group had finally "saved Evolve from itself."

Tracy Wlliams and Fred Yehi of Catchpoint came out and Williams said that it didn't matter what anyone- even their leader Drew Gulak- says: Catchpoint is not a failure. He notes that Catchpoint still owed a rematch for the tag titles, so he wants it right now. He also notes that he beat Hero last night. Drew tries to convince Hero to defend the titles in his place. Hero makes it clear that he isn't part of Galloway's group anymore, but he will defend the belts because he is unhappy that Williams is bragging about beating him.

Then Drew Gulak came out and told Williams and Yehi that Catchpoint is a failure, but as long as there is going to be a title match, he wants in on it... and he brought his "partner from Monday Night Raw" Tony Nese out to team with him. Then Ethan Page comes out with his Gatekeepers and say that they are so dominant that they could eliminate all of these guys, and before you know it we have a new main event and it's a...


FOUR WAY ELIMINATION MATCH FOR THE EVOLVE TAG TEAM TITLES:
DUSTIN & Chris Hero (subbing for Drew Galloway)(c) (w/Drew Galloway) vs. Catchpoint (Fred Yehi & Tracy Williams) vs. Drew Gulak & Tony Nese vs. The Gatekeepers (w/Ethan Page)- 7.5/10

The first ones out were the Gatekeepers, after Darby Allin came out and clipped the white one's knee, resulting in someone pinning him. Next out were DUSTIN and Hero, with Williams making DUSTIN tap (which ensures that at least it was one of the rightful champions who got beaten). Dustin had just accidentally been elbowed by Hero, and after Nese took Hero out with a dive, all three (former?) members of Catchpoint helped wear him down. This also set up a great stare-down between Williams and Gulak.

On the outside, Galloway got angry and punched the referee, which should earn him a nice, long suspension (read as: be a storyline reason for him not to show up again until he is fully healed from his injury). Yehi & Williams went on to win when Yehi made Nese tap out. After the match Williams & Yehi offered Gulak the special Catchpoint handshake but Gulak snubbed them.

A very good show from Evolve... which is makes this the first Evolve show that hasn't been "great" or better in a very long time. Even so, the Sabre Jr. vs. Gulak match is worth going out of your way to see if you like that style and there a number of newsworthy events on this show, so it was still well worth the money.