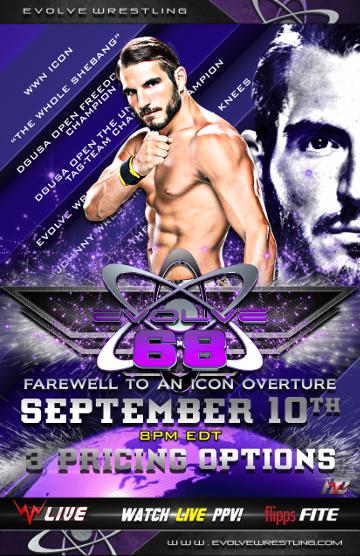 By Big Red Machine
From September 10, 2016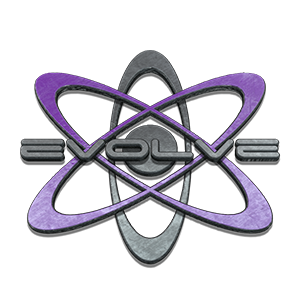 Evolve 68 (9/10/2016)- Deer Park, NY

FRED YEHI vs. JIGSAW- 7/10
Since the last show, Yehi seems to have developed an angry, quirky personality to go along with his angry, quirky facial expressions and angry, quirky in-ring style. Gulak said Yehi needed a win and Yehi got one. Jigsaw has been such a great pick-up for Evolve. He's a veteran presence and a jack of all trades in the ring, and his great showings here in Evolve have made every other company (but I'll say particularly ROH and TNA) look rather silly for not picking him up in the two years since he left CHIKARA.

DAN BARRY vs. ETHAN PAGE- 3.25/10
They did comedy. In EVOLVE. I didn't like it. Lenny Leonard tried to inject some artistic meaning into it (it showed that Page wasn't letting Gargano not accepting his repeated apologies affect him), but I still didn't like it. After the comedy was over they did some stuff that was fine, but I spent most of the match just waiting for Page to crush Barry like he has his last four scheduled opponents, all of whom were also guys trying to earn their way onto the roster. Page plays the total babyface after the match, raising his hand afterwards, holding the ropes open for him and even helping him to the back.

IF DARBY ALLIN WINS, HE GETS AN EVOLVE CONTRACT: Darby Allin vs. TJ Perkins (w/Stokely Hathaway)- 4.5/10
Once again a crazy high-risk move of Allin's goes wrong, allowing his opponent to capitalize on the injury.

TRACY WILLIAMS vs. DUSTIN- no rating, interesting segment.
Gulak also said that Tracy Williams needed a win, and Tracy got one… but it was by DQ when Galloway came out and hit him in the back with a chair barely a minute in. Williams' Catchpoint stablemates Fred Yehi and Drew Gulak came out to make the save. Matt Riddle was once again notably absent. Joey Styles came out and announced that the match would be restarted, and if anyone else comes out to interfere in this match, that person will forfeit his pay for tonight's show. Also, he decided to make this match "extreme." The "forfeit your pay" punishment is a good way to keep independent wrestlers from interfering in a match without being as melodramatic as threatening to fire anyone who interferes. It also leaves open the possibility of Drew interfering and claiming his TNA pay will cover it, which would probably get some pretty good heat. Joey randomly making this an ECW rules match is kind of odd for Evolve, but with Chuck Taylor in there, it will probably help the match, as well as differentiate it from the other matches on tonight's card.

NO DISQUALIFICATIONS MATCH IN WHICH ANYONE WHO INTERFERES WILL FORFEIT TONIGHT'S PAY: Tracy Williams vs. DUSTIN- 5/10
The match was short but they punished each other quite a bit, and I'll give them a lot of credit for managing to come up with a clever thumbtacks spot that I've never seen before.

MATT RIDDLE vs. TONY NESE vs. RICOCHET- 6.25/10
Before the match, Johnny Gargano came out to put all three guys over on the mic. In doing this, he revealed to the world that Ricochet's real first name is "Trevor," dashing the hopes of those of us who want to believe that "Ricochet: is the name on his birth certificate. After this verbal compliments, he gave Ricochet a hug and offered the other two the physical complement of a handshake. Both accepted, but Riddle did so in a slightly douchy way, because he's Matt Riddle, and there are very few things he does that he doesn't do in slightly douchy way.

This was your standard three-way story. The match was shorter than expected, but the finish opens up some rather interesting possibilities for Riddle. Basically, this match was changed to a three-way just a few days before the show when Evolve learned that Ricochet would be able to make it to the show. I'm certain that this was Riddle's first match in Evolve that wasn't a singles match or a regular tag team match, and it might well be his first three-way anywhere. The finish was that Riddle had Ricochet about to tap to the Bro-mission, but he saw Nese on the top rope about to hit the 450 so he let Ricochet out of the hold so he could avoid the 450, but he wasn't quick enough to get out of the way, so Nese hit him with the 450 and pinned him. This sets Riddle up for rematches against both Nese and Ricochet now, and they could have Riddle complain about being booked in a three-way and thus put at a disadvantage because he couldn't prepare for it, which seems like the kind of thing Matt Riddle's character would do in order to get the chance to erase a loss. Also, it's a big win for Nese.

POST-MATCH SEGMENT- good
Drew Galloway came out and tried to recruit Matt Riddle into his anti-WWE/Evolve partnership alliance. Drw Gulak came out and shoved Drew down from behind. Riddle and Gulak had a brief stare-down (Gulak is obviously unhappy with Riddle once again not being there for his teammates earlier tonight), but Gulak figured he had bigger fish to fry right now and dove onto Galloway to start…

DREW GULAK vs. DREW GALLOWAY- 7.25/10
Very intense match.

ZACK SABRE JR. vs. JOHNNY GARGANO- 9/10
Joey Styles has once again joined Lenny Leonard on commentary for the main event. This time Lenny did most of the play-by-play while Joey did color commentary and I think it worked better.
The match itself was fantastic. Lots of great mat wrestling and submission work, plus some hard strikes, good storytelling, and close nearfalls. A match worthy of being Johnny Gargano's final singles match in Evolve.

After the match both Zack and Ricochet put Johnny over and Ricochet cut a good promo on Zack to set up for their match tomorrow night.


This was very much a one-match show from Evolve, but that match is definitely worth going out of your way to see, and the rest of the card was enjoyable aside from the comedy match.