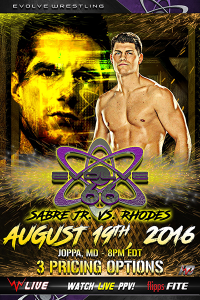 By Big Red Machine
From August 19, 2016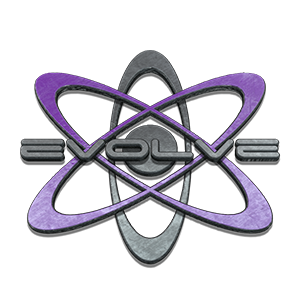 Evolve 66 (8/19/2016)- Joppa, MD

CRUISERWEIGHT CLASSIC SPOTLIGHT: Cedric Alexander vs. TJP (w/Stokely Hathaway)- 7/10
A very EVOLVE opener. TJP works the ankle and knee and gets the submission victory. After the match Stokely cut a promo directed to Steph and Foley trying to get them to sign TJP.

PETER KAASA & JIGSAW vs. CATCHPOINT (Tracy Williams & Fred Yehi)- 7/10
Jigsaw pinned Yehi to get the win. After the match Williams helped Yehi up… but then slapped him in the face. This then caused Yahi to go nail Jigsaw with a rolling elbow. He then did the same to Williams, but Williams seemed happy with this, and he and Yehi did the Catchpoint salute. It was VERY odd.

ETHAN PAGE vs. DUSTIN- 6.5/10
This was a slow-paced brawl. Dustin worked over Page's neck, including some beautiful piledrivers and one absolutely terrible-looking Gargano escape.

CRUISERWEIGHT CLASSIC SPOTLIGHT: Tony Nese vs. Drew Gulak- 8/10
A very EVOLVE match, with lots of mat wrestling and submissions, moves that all feel like they have impact, and a very EVOLVE finish that probably wouldn't work as well in any other promotion, which is a testament to the effort Gabe has put into retraining the audience to accept the "back to real sports" concepts that EVOLVE has been built on.

POST-MATCH SEGMENT- Gulak cut a GREAT promo on Thatcher which, for once, brought Thatcher out in a timely manner instead of sitting in the back letting Catchpoint insult him… and the one time Thatcher actually does this, he gets jumped from behind by Matt Riddle. This turns into the start of the…

NO HOLDS BARRED EVOLVE WORLD TITLE MATCH: Timothy Thatcher(c) vs. Matt Riddle- 8.25/10
There was a lot to love here. First was the way they made the "No Holds Barred" name feel like it meant something more unique than just another synonym for "No Disqualifications" or "Street Fight." They used no weapons. Instead, they focused on submissions and the fact that the ropes could not be used to break them… and that using the ropes for a submission would not result in a disqualification. That bit played beautifully into the angle that set up this match, which was back at Evolve 58 when Riddle had Thatcher in an armbar but Thatcher got to the ropes, and before the five count Riddle yanked back on Thatcher's arm, causing him to be unable to continue, but because Thatcher was in the ropes at the time and thus the maneuver was theoretically illegal, it would not be right to award Riddle a victory for this, either.
Thatcher won using an armbar with Riddle in the ropes. Thatcher refused to break the hold after five, trying to fulfill his vow to hurt everyone who had put their hands on his EVOLVE World Title undeservingly, of whom Riddle was by far the chief culprit. Riddle's Catchpoint stablemate Drew Gulak, who is currently keeping hold the belt- and who Thatcher defends against tomorrow night, had to come in and stomp on Thatcher to get him to break the hold.
Thatcher and Gulak went forehead-to-forehead, but when Thatcher reared back for a headbutt, Gulak floored him with a spinning backfist. Gulak then picked up the EVOLVE World Title belt and the mic, then told Gulak "when I win this from you tomorrow night, I expect you to hand this to me, and then laid the belt on Thatcher's stomach. Thatcher got up very angry, but left the belt in the ring per his vow to not reclaim the physical belt until he had dealt with every member of Catchpoint who had wronged him. Tremendous segment. One interesting note about this is between the match and the post-match segment, the fans seem to have completely turned on Thatcher, even chanting "PAPER CHAMP!" at him at the end.

ZACK SABRE JR. vs. CODY RHODES- 8/10
Professional wrestling at its purest. Two guys in there working over bodyparts with submissions and wrestling moves and trying to win a sporting contest. No bullsh*t of any sort, be it comedy, or no-selling or anything that looked hokey. I don't think anyone ever did anything of even questionable legality like use a closed fist in the entire almost twenty minutes. Cody got a fantastic reaction, and the fans were into everything. This is the sort of match that justifies everything Cody has said about himself and everything that fans have said about how badly WWE squandered his potential.

CODY RHODES PROMO- first he cut an awesome, heartfelt promo about his career and his current situation, and then he beautifully transitioned that into a message to Drew Galloway: Cody is not part of his anti-WWE crusade.

Another awesome show from EVOLVE, with the typically strong EVOLVE undercard with some very awesome wrestling, an awesome angle, and an awesome (and significant) promo on top. The main event won't be one of the absolute best matches of the year, but it will probably be one of my favorites.