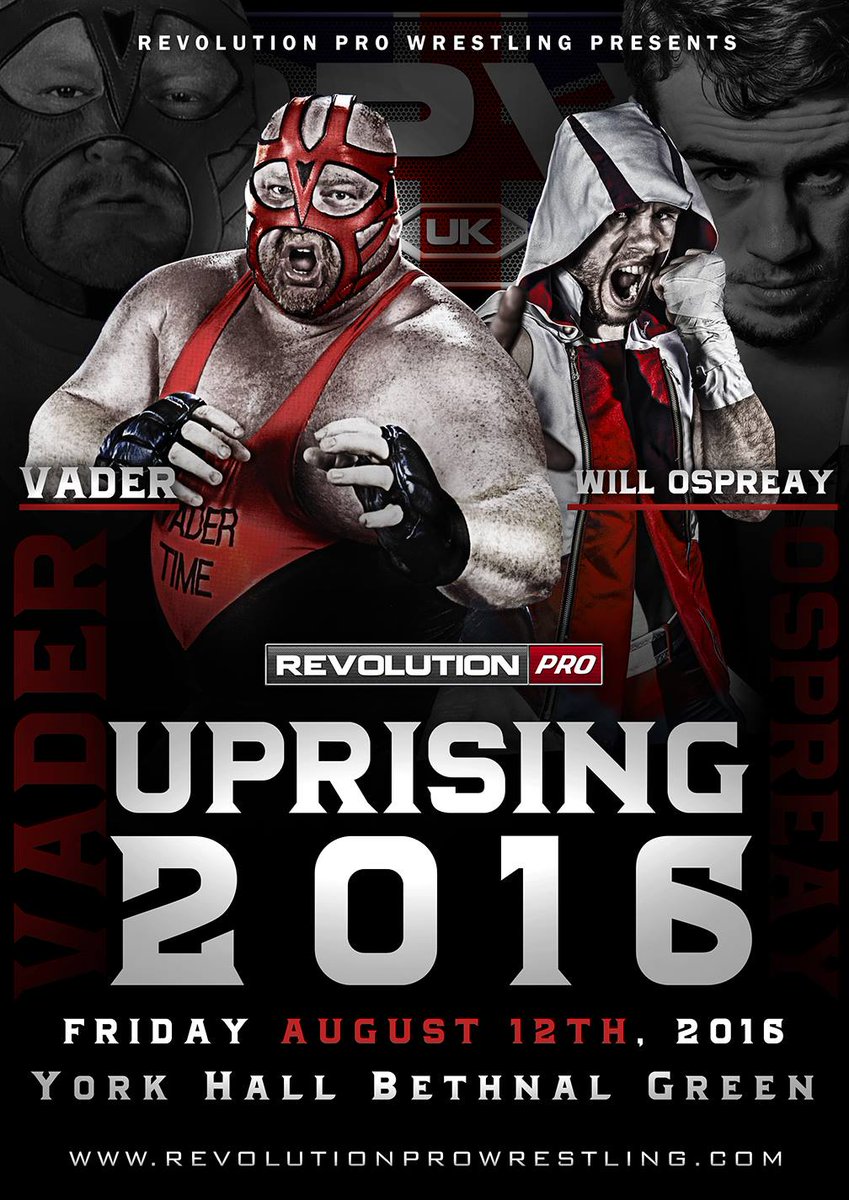 By Big Red Machine
From August 12, 2016

RPW Uprising 2016 (8/12/2016)- Bethnal Green, Greater London


JOSH BODOM vs. JAY WHITE- 7/10
Well… we're off to a pretty great start. The story of this match was Bodom not respecting White and White proving himself here in his first RevPro match. I'd say mission accomplished.

BIG DAMO vs. SHA SAMUELS- 6.75/10
Damo was looking for revenge for being jumped from behind by Samuels at the last show. They had a great hoss fight, which ended when Samuels stole the victory by choking Damo out with a scarf. I can only imagine that Damo will be even more pissed at the next show. This feud is going to ROCK!

P.J. BLACK & RYAN SMILES vs. THE BRITISH YOUNG BLOODS- 6/10
This was a standard babyface-in-peril story but Smiles totally failed to get me behind him. Once he made the hot tag things improved. They also had a bit of a story with the British Young Bloods going for their finisher a bunch of times before finally being able to hit it for the win.

CHRIS HERO vs. MARTY SCURLL- 9.5/10
This was a match between two men who really wanted to knock the other one out. Also, it was a match between two men who seem determined to catch up to Will Ospreay for Best Worker of the Year. LOTS of focus on the head, with tons of hard strikes, some sick piledrivers, some work on the arm from Scurll, and who tough mother*ckers who didn't want to stay down.

PETE DUNNE vs. RICOCHET- 7.5/10
Flips and head-drops, but with enough psychology and it was certainly entertaining. Ricochet won clean but Dunne laid him out after the match and signaled that he was coming for the British Cruiserweight Title that he lost to Will Ospreay last month.

REVPRO BRITISH HEAVYWEIGHT TITLE MATCH: Zack Sabre Jr.(c) vs. Jeff Cobb- 6.75/10
The story here was that Cobb was not only an Olympic wrestler, but also MUCH bigger and stronger than Sabre. This meant that out-wrestling him wasn't going to work, so Zack tried to win by submission but Cobb was always able to make it to the ropes or power out. Zack finally settled on strikes and won with a whole bunch of soccer kicks. The story was great, but the match was dragged down by two things. First was the fact that Cobb got almost no near-falls in, so it felt like Zack was taking too much of the match even though he wasn't. The second was the execution of the finish. Zack just seemed to be going too slow on the soccer kicks, so when Cobb kicked out, and then Zack just put him down with another slow one it felt extremely anti-climactic. Cobb also got his shoulder up at 3.1, which annoyed me.
Also of note is the fact that the crowd seemed to turn on Sabre Jr. big time. Not sure why, but they just decided to.

WILL OSPREAY vs. VADER- 7/10 (but when you figure in what the expectations were, this should be considered a HUGE success)
I'm still completely in shock that we're getting a wrestling match that came about because one guy criticized the other guy's psychology on Twitter. As expected, Vader was the biggest heel of the night, and he did, in fact, apparently teach Mr. Ospreay a bit about old school psychology.
This started out with Ospreay being cocky, which ended when Ospreay turned his back to Vader specifically to flip Vader off in a complicated manner, so Vader just clobbered him in the back of the head. Vader clobbered Ospreay a bit and threw him around. Ospreay got one CRAZY dive in, but Vader managed to grab him, brought him up the ramp and powerbombed him through the announcers' table. We got the tease of Ospreay being stretchered off but be shoved the medics away before they could get him onto the stretcher and returned to the ring to fight.
Ospreay made a comeback with some kicks to the head and went for the OsCutter but Vader caught him and cut him off again. Ospreay made another comeback and was about to hit a 630 or some such flying move when Pete Dunne's music hit. Ospreay got down and turned to the ramp, ready to fight Dunne, but Dunne came out of the crowd from behind Ospreay and laid him out with his finisher. He then lined Ospreay up for a shot with the RPW British Cruiserweight Title belt but Ricochet came out and made the save. We got a face-off between Vader and Ricochet, and eventually Ospreay and Ricochet were able to knock Vader down, then both hit their flippiest moves on him and Ospreay went for the cover (there was a ref bump before all of this) but Dunne yanked the referee out of the ring. Dunne took Ricochet out with a belt shot while Vader hit Ospreay with a chokeslam. Ospreay kicked out at one, but Vader then put him down with a second one.
This was booked absolutely beautifully. Incorporating Ricochet was a stroke of genius, (as was the way it was set up in the previous match), and they did a good job of giving Vader some smoke and mirrors to help him while still giving him enough to do and enough focus that it didn't feel like you were getting screwed out of the advertised match.
Vader and Dunne shake hands and the crowd boos like crazy and chanted "this is bullsh*t!" but in the good way, not in the TNA way. They left, then Ospreay cut a promo that I couldn't understand because of the audio quality, but the crowd seemed to love it and he had a lot of passion.

Yet another GREAT show from RevPro. This is one you should go out of your way to see.