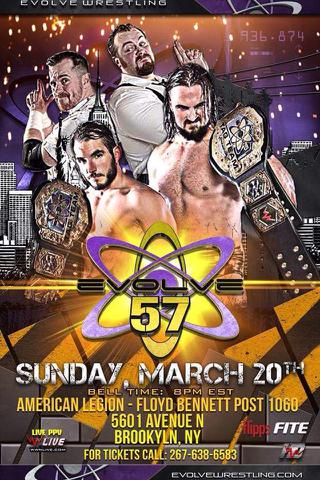 By Big Red Machine
From March 20, 2016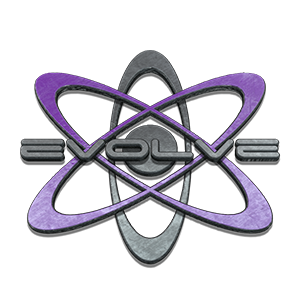 Evolve 57 (3/20/2016)- Brooklyn, NY

FRED YEHI vs. ETHAN PAGE- 4.25/10
Short match. Basic story was that Yehi was very aggressive and also wouldn't shake Page's hand. Meanwhile, Page kept going for the Spinning Dwayne but it kept getting countered so he just hit the package piledriver instead and go the win. After the match, Page offered a handshake and Yehi accepted it.

POST-MATCH SEGMENT- Anthony attacked Page from behind with a steel chair just like he did to Johnny Gargano last night… but Gargano did not return the favor and save Page. The Premier Athlete Brand cut a promo saying they would win all of the gold in EVOLVE, but they still seem to be on slightly different pages. Konley also said that they had sent Andrea home so no one could complain that his title victory tonight was tainted.

TJ PERKINS vs. TOMMASO CIAMPA- 6.25/10
The match felt very disjointed. Another big and also surprising win for TJ. Not saying that I don't like it. Just saying I'm quite surprised by the push.

MATT RIDDLE vs. CHRIS HERO- 6.5/10
Good match, but I was kind of disappointed they strayed from the "Hero works over Riddle's foot" story they were telling early on for a more standard EVOLVE "try to knock the other guy out" story. I thought it was a really interesting story to have Hero (as Lenny Leonard put it) borrowing a Catchpoint-style tactic to go after a weakness like Riddle's bare feet is a more interesting story.
Also, at this point I feel it safe to say that Chris Hero currently has the best piledriver in wrestling by miles and miles.

JOHNNY GARGANO COMES OUT TO BUY SOME TIME- Apparently the tag title defense was supposed to happen now, but as Johnny tells us, Drew Galloway's flight got delayed. The good news is that his flight is currently in the air, so they will reshuffle the card and hope Drew can make it in time.
Kaleb Conley comes out and jumps Johnny from behind, screaming about how Johnny might want more time, but he is sick and tired of waiting for his title shot. He wants Timothy Thatcher to get out here NOW, so Thatcher does… and he is immediately jumped from behind by Sami Callihan. Sami leaves and Konley tosses Thatcher into the ring to start the…

EVOLVE TITLE MATCH: Timothy Thatcher(c) vs. Caleb Konley- 6.25/10
Yeah… this didn't go so well. There was some story here with Thatcher first having to recover from the disadvantageous position he was put in by Callihan's pre-match attack and them working over Konley's arm, but the match felt way too slow- and not like the previous matches where it was slow but they kept up the submissions or the hard strikes throughout and slowed down because they were recovering. This one just felt slow. Of course you knew that Konley's earlier statement that he had sent Andrea home for the night meant that she was in the building, ready to interfere. The crowd never really got into this, either, and Konley pretty much missing his big double-jump moonsault for what was supposed to be a major nearfall didn't help matters.

POST-MATCH SEGMENT- good.
Matt Riddle came out and accused Thatcher of cheating last night and demanded a rematch in Dallas. Thatcher said okay. Then Riddle hit Thatcher with a sucker-knee and knocked him out cold.

SAMI CALLIHAN vs. TRACY WILLIAMS- 8/10
A story of two dudes who were angry at each other and neither of whom wanted to lose. They maintained a great intensity throughout and just beat the sh*t out of each other. MAJOR props are due to whoever came up with that rear naked choke spot. It perfectly combined two unrelated storylines going into this match for a brilliant nearfall (one of several very convincing ones in this match). The only thing I didn't like was that I thought Sami should have been selling his arm and shoulder more after all of the work that Williams put in on them in the first half of the match. Between this match here and last night's match against Chris Hero, hopefully this weekend becomes the beginning of a bigger role in the company for Williams.

Not aired on the iPPV, but Lenny Leonard informed us that there was a segment between Matt Riddle and William Regal where Riddle demanded a WWE contract but Regal told him he has to win the EVOLVE Title first, and then they can talk.

ZACK SABRE JR. vs. DREW GULAK- 8.25/10
A back and forth grappling battle, with Sabre Jr. working the neck while Gulak worked the knee and legs. A very EVOLVE match.

POST-MATCH SEGMENT #1- awesome!
Chris Hero came out and cut an awesome promo on Zack Sabre Jr. and his current "Best in the World" series of matches (vs. "The Icon" Gargano, "The Wrestler" Gulak, "The High Flyer" Ospreay, "The Fighter" Riddle, and finally "The Rival" Hero). Zack gave a quick response, and just like that we've got even more build for Dallas!
POST-MATCH SEGMENT #2- good
Hero goes to pick up the microphone that Sabre Jr. had dropped after his response to Hero, but Gulak stepped on the chord. Gulak cut a promo on Hero telling him he should be worrying about Catchpoint instead of worrying about Sabre Jr. Gulak also called Hero a "350lb Kung Fu turkey" which made me laugh. I believe this is also the first time anyone has made fun of Hero's weight (at least in ROH or a Gabe-booked promotion). Hero totally blew him off.

EVOLVE TAG TEAM TITLE MATCH: Drew Galloway & Johnny Gargano(c) vs. Team Tremendous- 7/10
Drew cut a quick pre-match promo that was trying to get the fans to stop chanting "f*ck TNA!", but wound up with Drew throwing a kinda-sorta sucker-kick to start off the match. Not a very babyface-ish thing to do. Gargano seemed to agree with me as he tried to calm Drew down a bit, but by that point Team Tremendous had already recovered and were quite annoyed so things broke down into a brawl. This was a fine tag team main event, but nothing special, either. Team Tremendous are fine, I guess, but I just don't see them as EVOLVE Tag Team Champions.

Between Callihan vs. Williams and Sabre Jr. vs. Gulak I can't say that this wasn't a very good show, but it definitely felt like it didn't quite deliver to the level it could have. It also has a very weak undercard when compared to what we usually get from EVOLVE. I'd recommend it, but don't go out of your way to see it if you're not already a big EVOLVE fan.