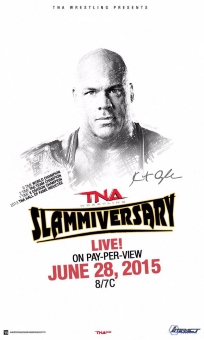 By GARZA
From June 28, 2015
Commentary is Pope, Josh Matthews, and Mike Tenay.


3-Way Elimination Match for the X-Division Title
DJZ vs Manik vs Tigre Uno (c) - 6.5/10

DJZ has a new weird entrance attire. This felt like an old school X-Division match, lots of fast paced action, lots of 3 person moves. DJZ gets eliminated first after being 'better' guy for most of the match. Nice finish offense from Uno to Manik. Great match and way to start the show, the type of match that gets the crowd hyped.

JB Segment - His wording comes off like he's saying goodbye

Robbie E Promo - I like that Robbie is still a bit of a bro in him. Good promo

Jessie Godderz Promo - not that good.


Jessie "The Man" Godderz vs Robbie E - 7/10

Great build up video. Jessie has gone full evil Chris Masters. Jessie is cutting a promo and Robbie just comes out and starts brawling. Match was so good, I don't think I've ever seen such a great match from either guy, probably their best performance ever. Jessie particularly impresses me how much he's grown from being 'Tara's Boyfriend'. Finish was bad, out of nowhere and the move wasn't that strong looking, felt like an upset.

Matt Hardy Promo - good


Bram vs Matt Morgan - 6/10

Morgan tells the crowd that they're not here to see them wrestle, but to see them fight and challenges Bram to a Street Fight. Not sure if Morgan is to stay longer after Slammiversary, but if he is, I don't like the idea that this is already a street fight, it just feels out of place, especially for Morgan. Match itself was ok, nothing special, but still good use of their time.

ECIII/Tyrus Promo - ECIII is always amazing by default. Tyrus was good, but his voice is waay to soft for his image.


Winner picks Stipulation for Match 5 of the Best of 5 Tag Team Series
Austin Aries vs Davey Richards - 8.5/10

ROH once did a show called Aries vs Richards. We get that main event here now with arguably the best two wrestlers in the TNA roster. Aaaannd it delivers. Awesome Match! Would have been 9 if not for the finish.

Dirty Heels announce the stipulation for Match 5 -Bra and Panties 30-Minute IRON TAG TEAM MATCH!!!

Eric Young Promo - good promo

Knockouts Build-up video - Taryn Terrel is the best woman gimmick in televised wrestling today.


Handicap match for the Knockouts Title
Awesome Kong and Brooke Tessmacher vs The Dollhouse (C) - 6.5/10

Great match, they had a good long babyface in peril run with Brooke. Taryn on the apron is the greatest thing ever, but she never really got into the match, so it set ups perfectly for the 3-way title match, but this being the PPV, that shouldn't be the case. Brooke wins with a sick looking X-Factor from the top rope.

Magnus Promo - good babyface promo. He pretty much said that both of them are leaving the promotion, which makes me wonder why they didn't just do a loser leaves town or something to write them off.

Storm/Magnus build up video - AWESOME recap


Unsanctioned Match
James Storm vs Magnus - 9/10

Generico and Steen killed of all my unsanctioned matches, now it feels wrong to have unsanctioned matches mid way the show. This was a great all out brawl, exactly what you would want to cap off this feud. At one point Magnus and Storm are brawling around the back with all the electrical equipment and suddenly the lights and screens go off in the arena as like the brawl fucked something up in the back, this was an awesome touch, i'm going to assume this was planned. Magnus took a sick bump on a table, arm first. There was also an interesting take on the ref bump that led to some good near falls, plus it's worth mentioning that they went like 10 minutes of brawl before the first pin attempt. The finish strike was awesome, but the pin itself wasn't, especially if both men are leaving, because now it feels like we need one final match.

Drew Galloway Promo - Great promo that made me realize this is indeed his first PPV main event. Waste talent.

Announcers table is having audio problems and they have the perfect excuse to blame it on. ROH should do those spots on every PPV just in case.


ECIII and Tyrus vs Lashley and Ken Anderson - 7.5/10

There is a sign that says "Tyrus is pretty cool too", that made my day and Tyrus i'm guessing. Decent tag match, crowd was super hot for ECIII. ECIII pins Lashley to win the match, which is good build up for him for his title match, but I was surprised they didn't pin Anderson instead.

Jeff and Karen Jarrett promo - Karen has gone full Valkyrie, Jeff was great!


King of the Mountain Match for the KOTM Title
Jeff Jarrett vs Eric Young vs Drew Galloway vs Matt Hardy vs Bobby Roode - 7/10

I'm not gonna lie, i marked out for watching JJ's entrance once again, I've always loved his song. There is a great story that JJ is out of the game and just can't catch a break in the match either by getting pinned, stolen pins, or getting taken out. Team Canada reunion!! The match itself was good, lots of spots and use of the ladder, there's not much more you can ask for this match. Jeff Jarrett takes the win and celebrates with his family while Josh Matthews is going crazy on commentary over what this means for TNA.


OVERALL THOUGHTS:

A really good show for TNA, surely it has it's faults when looking at the grand scheme of things, but the overall product was good. Great matches from start to finish with Storm/Magnus and Aries/Richards really standing out. I've never liked that a PPV builds for a tv show, but given the circumstances TNA is at right now, it's understandable.