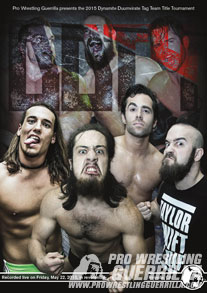 By GARZA
From May 22, 2015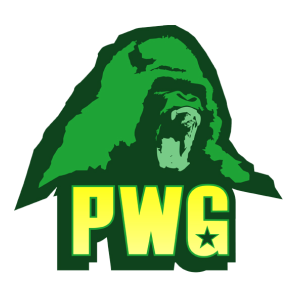 The Beaver Boys (Alex Reynolds & John Silver) vs Team Tremendous (Dan Barry & Bill Carr) - 6/10
The gimmick of Team Tremendous is that they're detectives solving cases through their wrestling, they push you to the corner and interrogate you while they chop you. The gimmick of the Beaver Boys is that I fucking hate them. Match was fun and the crowd was hot, but the worst team in history won. I'll never stop saying it, Reynolds is Alex Riley and Roderick Strong's son.

Inner City Machine Guns vs Drew Gulak and Biff Busick - 7/10
Match was a nice clash of styles, since Richochet and Swann are more aerial quick style, Gulak is super technical, and Busick is super brawler. The match felt really long at a point, especially because it was somewhat obvious that the ICMGs were likely winning. Good wrestling nonetheless.

Treverett (Trevor Lee & Andrew Everett) vs LOVE-ball (Matt Sydal & "Speedball" Mike Bailey) - 8/10
Well, this is kinda like a high flying jamboree. Great match with great crazy spots with everyone. Bailey keeps impressing me every time, but some of his work looks so stiff.

PWG World Tag Title Match
World's Cutest Tag Team (C) vs Monster Mafia - 6.5/10
WCTT is dressed up as R2-D2 and C-3PO tonight, which makes Candice quite cute. In the typical WCTT match, they make fun of Candice in the first minutes, but Ethan Page took it to another level as he pulled his trunks down exposing his butt and give Candice a stink face. The match was good, but at this point you start to feel that WCTT is an old gimmick now, fans now hate Joey and Candice has surely lost all the momentum she had at PWG ELEVEN, that's what dating Gargano does to you. Roderick Strong for some reason attacked WCTT and costs them the title pretty much. I perfectly agree with this title change, especially to Monster Mafia who are the best tag team PWG has rolling.

PWG World Tag Title Match and DDT4 Semifinals
The Beaver Boys vs Monster Mafia (C) - 5/10
This was a quick match, but it was a full out brawl around the ring and the crowd. Beaver Boys are so hated they made Monster Mafia instant babyfaces. Beaver Boys cheat to win and take the titles from Monster Mafia and suddenly, a dark cloud is over me, i look up to the sky, it's a plane? it's a bird? no, it's just the void, infinite and indifferent.

DDT4 Semifinals
Inner City Machine Guns vs Treverett - 8/10
Well, and here I thought that LOVE-ball vs Treverett was a high flying jamboree, this is a high flying utopia. Just another great and fun showing of wrestling agility. I kinda felt during the night that the ICMGs were doing a heelish game, this match more than the previous one.

TJ Perkins v Johnny Gargano - 8/10
This is the match I never knew I wanted soo bad. TJ Perkins is super misused in every promotion in the world, I just don't know why he isn't a multiple world champ by now.

PWG World Title Match
Roderick Strong (C) vs Brian Cage vs Chris Hero - 7.5/10
The Roddy streak continues. The story is pretty much Cage and Hero just want to kill Roddy and Roddy himself is playing a smart game getting them to fight and attacking when he can. What I liked the most is that regardless, Roddy looked strong against these two giants and his win wasn't because of shenanigans, but he legit overcame the odds. Roddy is Awesome.

PWG World Tag Title Match and DDT4 Finals
The Beaver Boys (C) vs Treverett - 9/10
I'm usually not so huge on DDT4 finals since by this time teams are tired and they usually rush the matches, but this was awesome, a perfect clinic on selling injuries from Everett and super babyface fire from Lee. The right team wins and everything is right in the world again.

OVERALL THOUGHTS
The streak is over. After years and years, PWG just had a really lacklusting show with some booking decisions I don't like. The tournament itself was really lacking on star power, to a point where PPRay or RockNES Monsters would have felt like a bigger deal. I was not a fan at all of Beaver Boys going so far, and especially they winning the titles. I'm glad to see that The Wolves and Los Gueros del Cielo are coming to PWG for the anniversary show, and hopefully they stay for more shows. I recommend the show for PWG support, but it wasn't that awesome.