PWG Don't Sweat the Technique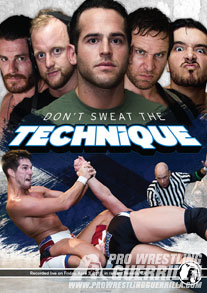 By GARZA
From April 03, 2015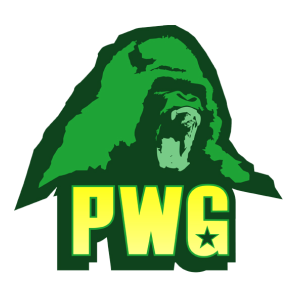 Brian Cage vs Biff Busick - 5
The match wasn't bad, but it failed to get me hyped or anything for the rest of the show. Cage wasn't as good as he has been lately in other shows and promotions, so I want to believe that he may not work that well with Busick. Likewise, Busick was good, but his style just wasn't working with someone like Cage.

"Speedball" Mike Bailey vs Trevor Lee - 7.5
Bailey is such an amazing rookie, this just being his second match in PWG, he's already one of the most exiting guys to check out. There were several sick looking spots during the match, including a reverse huracanrana on the apron that almost missed all the way to the floor, and a shooting star knee-drop from the apron to the floor that just killed Lee. Trevor Lee wins with a nice looking small package driver, which not only plays on his small package gimmick that took him to the top, but it's an impact move credible enough to pin people that are below him.

Non-title Match
Beaver Boys vs World's Cutest Tag Team (c) - 6.5
I'm still not into the Beaver Boys, I just think the whole 'Jerking off' spot is dumb, disgusting, and not even funny for a PWG crowd. Match was good, probably the worst that WCTT has had for a long while. Joey did a great job as the babyface in peril and Candice is the hottest and most over she's been, like ever. Excalibur explains why this is not a title match saying Beaver Boys and Monster Mafia lost their debuting match, The Bucks are in Japan, and LOVE-GUN are only in their second match ever, so no one is deserving of a title match from the WCTT. Reynolds is Alex Riley and Roderick Strong's love child.

Chris Hero vs Tommy End - 8.5
Holy fuck, these guys just killed each other. This was a really really hard hitting match, we actually got to see someone manhandle Hero himself. Tommy End was super over with the Reseda crowd, and he would surely be a top guy if he can keep coming, yet I don't see him coming back for lesser shows. Definitely a match worth checking out.

ACH vs Tomasso Ciampa - 7
Usual comedy stuff that ACH and Ciampa do. Wrestling was spot on as always with these two guys, but nothing to call home about. It may be just that i'm coming off from End vs Hero, but this just felt like a lot of shenanigans. Still great match.

LOVE-GUN vs Monster Mafia - 8
Monster Mafia may be slowly taking the 'Best Heels' award that The Young Bucks have had for years, these guys are just sooo easy to hate, but at the same time, they're just soo good wrestling-wise and so dominant. Chris Sabin was the babyface in peril for most part of the match, and the crowd was super hot by when Sydal got the hot tag in. This match just gets me super excited for DDT4 next month.

Ricochet vs Andrew Everett - 8
This was just an impressive performance of high flying ability. Hero and Excalibur made a reference that this match was like the old young Ricochet vs established PAC, to which I point out that I've been saying that Everett is like a second coming of PAC since he debuted in PWG. At one point Everett failed to land a double rotation somersault, it was sick and amazing at the same time.

PWG World Title Match
Roderick Strong (C) vs Zack Sabre, Jr. - 9.5
An amazing match with a great story. Roderick worked Sabre's back, while Sabre worked Roddy's arm. This match had some of the closest near falls I've seen in wrestling, two of them particularly felt like botches because of how close they were. Once again I say it, Roddy continues his streak of amazing matches, go watch this now.

OVERALL THOUGHTS:
While the show itself was great, particularly the second half of the show, some stuff does feel like they're still in some rebuilding stage. There are a lot of big recognizable names missing from the show, and while they're filling out those spots with some great talent, the new talent does make it feel like no one is ready to contend for the title, kinda like how Excalibur explained the tag titles situation. Great show still worth checking out.