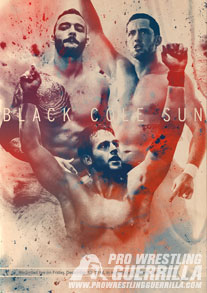 By Big Red Machine
From December 12, 2014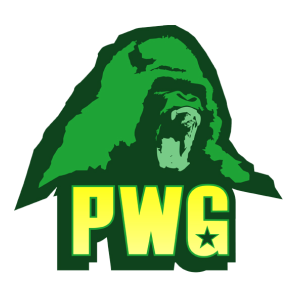 PWG Black Cole Sun (12/12/2014)- Reseda, CA

BOBBY FISH, CHUCK TAYLOR, & JOHNNY GARGANO vs. ACH, RICH SWANN, & A.R. FOX- 7/10
Chuck Taylor has a stupid haircut that makes him look oddly like Tim Donst's younger self. He also apparently hates Christmas, which is about as surprising as someone telling that the sky is blue.
This was a very PWG opener. Lots antics, lots of action, lots of fun.

ADAM COLE vs. CEDRIC ALEXANDER- 6.5/10
Cole's shoulder was badly injured, but they did a good job of protecting the injury. I really didn't like the "Cole Train" spot. If you are spending the entire match doing heel antics, why would you randomly go and do a babyface one? And also along those lines, why have Cole be an obnoxious douchebag heel all match if he is going to give a babyface speech afterwards?
Maybe it's the crotchety old man in me coming out, but what's the point of kicking out of a f*cking diving flip piledriver in the second match on the card?

CHRIS HERO vs. TREVOR LEE- 6.75/10
A VERY hard-hitting match that did a fantastic job of getting you behind Lee as the hard-hitting babyface. This was a Tomohiro Ishii match done right.

PWG WORLD TAG TEAM TITLE MATCH: Wrestling's Cutest Tag Team(c) vs. The Addiction- 5.5/10
"We want Candice?" No, PWG crowd. Not with that ugly metallic purple hair we don't.
Well… that whole series of lollipop spots certainly wasn't sanitary.
Ah. Here we go. Some wrestling.
No, wait, back to the lollipop comedy stuff.
Daniel and Kaz are getting their heat doing Los Ice Creams comedy spots. I'm not liking it.
Ah. Okay. Now it's getting good.
Candice gave Kazarian a mustache ride, and the execution looked about as ugly as… well… Candice Lerae would look if she had a mustache.
The match was okay. They spent too much time on comedy in the beginning and not enough time on actual wrestling.

TOMMASO CIAMPA vs. BIFF BUSICK vs. BRIAN CAGE vs. UHAA NATION- 5.75/10
Okay, what the f*ck is up with Ciampa hugging people? First he's a psycho killer forearming the hell out of Biff and now they're just hugging three seconds later? Do we have to have f*cking comedy in every f*cking match? Hero vs. Lee has been my favorite match so far tonight, because that was just an actual WRESTLING MATCH.
Ciampa and nation were waiting in position for that 619 for WAY too f*cking long, to the point where them not countering it felt actively stupid.
Ciampa hit the worst-looking project Ciampa I've ever seen. The whole match was just ten-minutes of non-stop spots, which isn't necessarily bad in a four-way (so long as guys are actually selling while other guys take turns doing spots), but there were a few times here where rather than doing moves in a wrestling match, it felt like they were trying to show us the cool spots that they could choreograph.

THE YOUNG BUCKS vs. MATT SYDAL & CHRIS SABIN- 8.25/10
The last two matches had gotten me into one of those moods where it felt like I was just slogging through the show to finish it during that sitting, but this match got me back into everything. Sydal and Sabin worked surprisingly well together as a team and had the Bucks scouted very well, which caught the Bucks off guard. The Bucks managed to take over, and their antics really got under the skin of Sydal, who I believe is only facing them for the second time ever and thus wasn't used to putting up with them (and the Bucks antics are usually toned down in ROH, where the previous meeting was, as the Bucks are more tweeners than heels there). An AWESOME match!

PWG WORLD TITLE MATCH: Kyle O'Reilly(c) vs. Ricochet- 8/10
Both guys were great in the ring (aside from one sequence of fighting spirit which I didn't like), and Ricochet did a great job of being the defiant challenger.
And that's it. The show is over. Kyle starts to give what seems like the standard goodbye, but instead says he will "address some rumors" which I assume was the whole "ROH pulling guys from indy dates" deal… BUT RODDY JUMPS HIM FROM BEHIND!
We then got a great little segment to set up a…

GUERRILLA WARFARE MATCH FOR THE PWG WORLD TITLE: Kyle O'Reilly(c) vs. Roderick Strong- a PERFECT 10/10!
These guys put each other through twenty minutes of absolute hell. They did some interesting new twists on some of their regular moves as well as some cool new reversals. Roddy was an excellent heel and Kyle was an outstanding babyface. Roddy, as usual, worked over Kyle's back, which played into Ricochet working over Kyle's midsection during the previous match. These guys showed that they were two tough mother*ckers, but by the end, they still had me cringing at every bump. They even got me to bite on Death By Roderick as a false finish, and when was the last time Roddy even went for a pin after hitting that move. A perfect match, a perfect end to Kyle's title reign, and a perfect match for Roderick Strong, a man who has spent the past decade putting on fantastic matches in basically every major indy, to finally get his big title win in PWG.


An absolutely great show from PWG, and the Roddy vs. Kyle match is must-see.