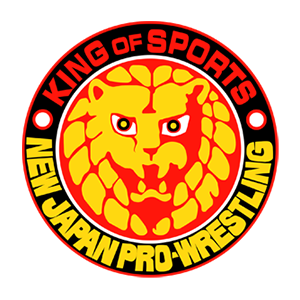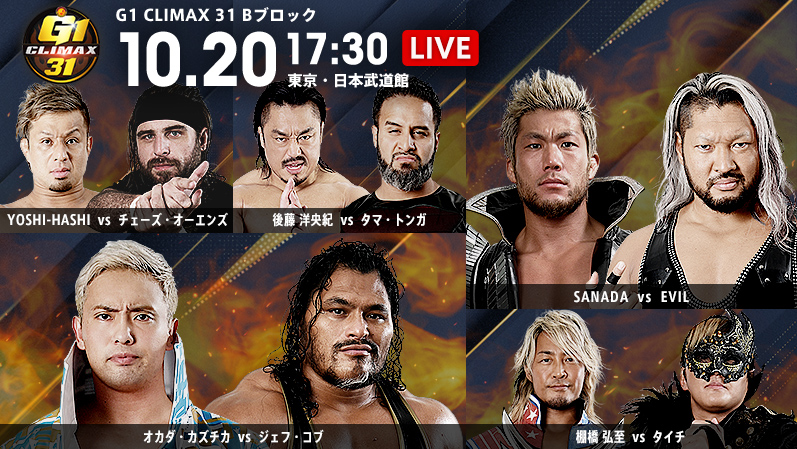 By GARZA
From October 20, 2021
Discussion
Los Ingobernables de Japon (BUSHI & Hiromu Takahashi) vs. Kosei Fujita & Ryohei Oiwa - 6.5/10

Good short match, similar to the other ones between these men, with a lot of striking, the Young Lions making a small comeback, but getting cut off and submitted with a Crab.

JAM Project Performance - JAM Project, the bad responsible for this year's G1 theme sang to open the show.


G1 Climax 2021 Block B Match
YOSHI-HASHI [4] vs. Chase Owens [4] - 7/10

Good short little match, not much happened, both guys had some time on top before YH won with Karma. With everyone eliminated, most of tonight's matches are going to be about giving guys wins so they end with the same points as others.


G1 Climax 2021 Block B Match
Hirooki Goto [4] vs. Tama Tonga [6] - 8/10

This was really good, in a way, this was a speed vs power match, but with both guys being the same size, it was a slightly different dynamic where the wrestling was more back and forth, since Goto wasn't big enough to simply cut off Tama Tonga. Tama got a lot of offense in like this, by dodging, attacking, and reversing, and then he'd get caught by Goto. At the end,


G1 Climax 2021 Block B Match
Hiroshi Tanahashi [8] vs. Taichi [4] - 9/10

Not like he worked heelish, but Tanahashi going after the injured ribs made it really hard to not root for Taichi and his valiant effort to wrestle Tanahashi and not give in. Even commentary was going crazy for him when he dodged a second High Fly Flow and Gedo Clutched Tana for the win.

This match played out fantastically, it started with a hot and desperate Taichi trying to get the win in the first minute, hitting a backdrop, a bomber, and trying to hit Mephisto. He even took his pants off in the first minute. Tanahashi relied to attacking the ribs to cut off Taichi and work over him for a while until Taichi made a comeback. The match went on like that, with Taichi trying to come back, but Tana going after the ribs to keep him down.


G1 Climax 2021 Block B Match
SANADA [8] vs. EVIL [12] - 7.5/10

This had a heated start, but they didn't allow it to simmer, EVIL cut off SANADA way earlier than he should. I'd say this was one of EVIL better matches of the tournament, but I have no idea why they would consider it important that EVIL reaches 14 points while SANADA is at 8. The match was mostly SANADA countering and overcoming everything EVIL threw at him, and SANADA did managed to give EVIL a lot of trouble, but at the end, EVIL caught SANADA with a chair and an Everything is EVIL for the win. For what it's worth, the finish wasn't as badly executed as most EVIL finishes.

This gave me really bad vibes that we're getting another EVIL v Shingo match, rumors have it that Togo keeps pushing for it.


G1 Climax 2021 Block B Match
Kazuchika Okada [14] vs. Jeff Cobb [16] - 9/10

This was great, it's like they picked up on their rivalry a couple of months ago, except that Cobb was now coming in with a full tournament worth of built and it showed in the way he treated Okada, which in return also helped Okada's G1 build reach a higher level by overcoming the one monster we saw in the last 18 days.

The match had a fast pace from the get go, Cobb went for the Tour of the Islands within a minute of starting. Cobb would dominate most of the early part of the match until Okada made a comeback. The final minutes were great, kinda similar to some of their previous matches, where Cobb is going for both the Cobbmaker and the Tour, while Okada is mostly chasing the Tombstone and the Rainmaker, which he eventually landed for the win.

It will be Okada vs Ibushi for the finals. Okada is still my pick, he was my pick from the beginning, and it just feels like it's time to come back to a main eventing Okada.


OVERALL THOUGHTS

This was arguably a one-match show since everyone in the block had been eliminated, but it was still an enjoyable show for the most part. It may not have been as strong as many other block finals in history, but I'd still say it was worth the watch.
LATEST REVIEWS