CHIKARA From Zero to Hero (& Castagnoli)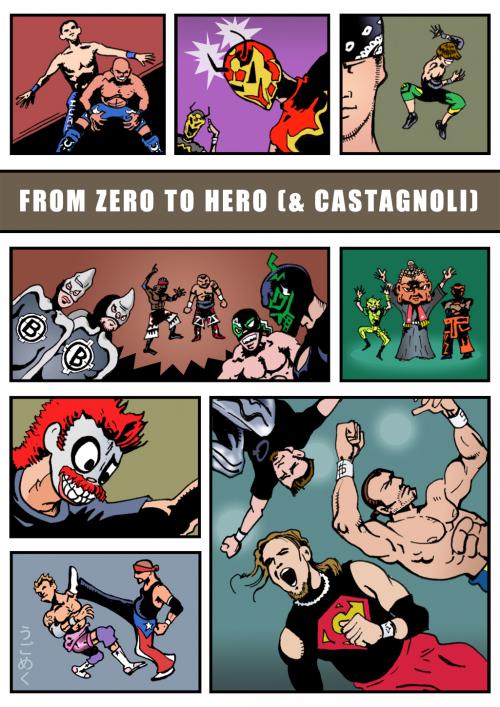 By Big Red Machine
From November 12, 2006

Welcome back to BRM's Monthly "This Day in Wrestling History" Review Series. Last month I promised "one of the biggest stars in the world today in a place you're probably not expecting to see him," and here we are in the year 2006 in CHIKARA, which really doesn't limit the possibilities very much, so I'll keep you all in the dark until we get to that match. In the meantime, hopefully my review of this one-night tag team tournament will hold you over until we discover the one person on this card who truly did go From Zero to Hero (& Castagnoli). Okay. Maybe not that last part. I don't know if he has married into Claudio's family.

OLSEN TWINS PROMO - Too goofy to describe.


ONE-NIGHT TAG TEAM #1 CONTENDERSHIP TOURNAMENT FIRST ROUND MATCH:
Cheech & Cloudy vs. the Olsen Twins - 5.5/10

This was the Olsen Twins' CHIKARA debut. They did stuff. Cheech was the babyface in peril. Cheech and Cloudy got the win. The Olsens would not show them respect after the match.

Okay… I was not expecting to hear someone go into the details of Dino Bravo's murder on a CHIKARA show, but Larry Sweeney did so on commentary.

INCOHERENCE PROMO - Something else I was not expecting to hear in CHIKARA is "Chris Hero, Claudio Castagnoli: we comin' for you, N-word." This show is proving to be full of surprises.


ONE-NIGHT TAG TEAM #1 CONTENDERSHIP TOURNAMENT FIRST ROUND MATCH:
Incoherence vs. The Colony (Fire Ant & Soldier Ant) - 6.75/10

This was pretty good, considering how green Fire Ant was at this point. The negative Larry Sweeney's commentary. It wasn't really even his fault so much as what just naturally happens when you have one person doing CHIKARA-style commentary without anyone else to bounce off of. It was the kind of stuff where you would feel embarrassed if someone else walked into the room and heard the commentary and saw how small-time the building looks. All of that in combination just comes off as low rent and ratty.

SILVER BULLETS PROMO - Utterly atrocious. There had zero charisma and I couldn't even understand what they were saying because they weren't talking loudly enough.


ONE-NIGHT TAG TEAM #1 CONTENDERSHIP TOURNAMENT FIRST ROUND MATCH:
F.I.S.T. (Gran Akuma & Icarus) vs. the Silver Bullets (Silver Bullet I & Silver Bullet II) - 5/10

Bryce Remsburg joined Sweeney on commentary for this match, drastically improving things. They dropped hints that F.I.S.T. might resent being in Hero in Claudio's shadows and being seen as the junior team in the Kings of Wrestling. The match was fine. Akuma appeared to pretty much kill whichever Silver Bullet he pinned with his 450, landing knees-first on the Bullet's stomach.

IRISH AIRBORNE PROMO - Their words were good but the charisma was… well… pretty much nonexistent.


ONE-NIGHT TAG TEAM #1 CONTENDERSHIP TOURNAMENT FIRST ROUND MATCH:
Irish Airborne vs. BLKOUT (Joker & Sabian) - 6/10

Sweeney was replaced on commentary by Chris Hero. The match was solid but nothing particularly good, either.

ORDER OF THE NEO-SOLAR TEMPLE PROMO - Didn't care for it. UltraMantis Black makes Crossbones apologize for calling them by the old "Dark Breed" moniker last week. Crossbones proceeded to accidentally call them "the Order of the Neo-Nazi Temple," for which UMB yelled at him. That's yet another thing I didn't expect to hear on a CHIKARA DVD (Nazis, I mean. UMB yelling at Crossbones is pretty normal). Then Hydra showed up, having pulled all of the tape out of an audio cassette. Hydra's stupidity and constant growling are instant go-away heat with me.


EQUINOX, RETAIL DRAGON, & TRIK DAVIS vs. ORDER OF THE NEO-SOLAR TEMPLE (UltraMantis Black, Hydra, & Crossbones) - 3.75/10

This was not good. It dragged, a lot of their stuff looked weak, and Hydra got on my nerves immediately. We get it: You're a sea monster and therefore don't speak English. That doesn't mean you have to growl in sea monster language every five seconds!


ONE-NIGHT TAG TEAM #1 CONTENDERSHIP TOURNAMENT SEMIFINAL MATCH:
Incoherence vs. F.I.S.T. (Gran Akuma & Icarus) - 7/10

Finally something worth watching on this show!


ONE-NIGHT TAG TEAM #1 CONTENDERSHIP TOURNAMENT SEMIFINAL MATCH:
Irish Airborne vs. Cheech & Cloudy - 6.5/10
OSIRIS vs. KAZUCHIKA OKADA - 4.75/10

Yeah. That guy. Before he dyed his hair, before he became the Rainmaker, and even before his atrocious run in TNA, Kazuchika Okada came to the United States to wrestle a match in CHIKARA in 2006. You can barely even tell it's the same guy. The fluidity of movement is there, though, even at this early stage in his career. He won, despite getting scarily dropped on his head.

KINGS OF WRESTLING PROMO - Good.


EDDIE KINGSTON, MIKE QUACKENBUSH, & SHANE STORM vs. THE KINGS OF WRESTLING (Larry Sweeney, Chris Hero, & Claudio Castagnoli) - 8/10

At the risk of sounding obvious, this was the best match on the card, and the best thing we'd seen so far by miles. And after everything I'd seen so far tonight, it was great to see workers who looked so… polished. This was the six-man tag team action CHIKARA would become known for in the next few years.

POST-MATCH SEGMENT - Good. Claudio, who got pinned, walked right out of the building. Hero and Sweeney conferred before Hero followed after Claudio. After Quack and Storm left, Joker and Sabian came out to give Kingston a BLKOUT salute and they all left together.


ONE-NIGHT TAG TEAM #1 CONTENDERSHIP TOURNAMENT FINALS:
Cheech & Cloudy vs. Team F.I.S.T. (Gran Akuma & Icarus) - 7.75/10

F.I.S.T. jump the bell on Cheech & Cloudy. This was a great chaotic match with excellent babyface vs. heel dynamics. It was good for a while but built well and got quite great towards the end. F.I.S.T. got the win, setting them up for a tag title match against their own stablemates in six days. That's an interesting enough hook to get me to check out the next show.

Final Thoughts
This was an okay show from CHIKARA. It was pretty much all focused on setting up next week's show, but you can put on a darn good wrestling show while still doing that. This show was not that. The final two matches saved it from being one of the most dull slogs through a show I can remember sitting through in quite a while. I guess you can call it a success because their hook for the next show has me interested enough to check it out, but for me as a viewer, just looking for a fun show to watch, I think BRM's Monthly "This Day in Wrestling History" Review Series has once again taken a gamble and wound up disappointed. Because of that, I'm going to hedge my bets for next month and do the same thing I did last December when I found a fantastic hidden gem of a show: PWG holiday-themed fun!