RevPro Live in Southampton 9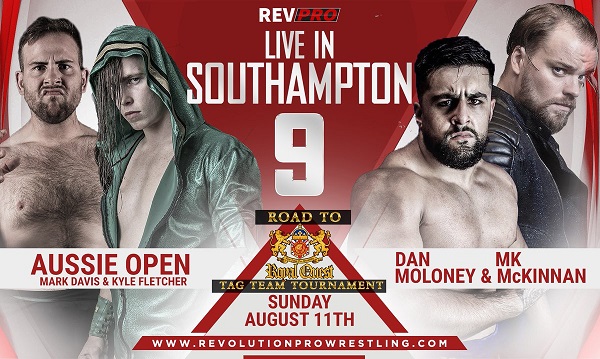 By Big Red Machine
From August 11, 2019
Discussion
OPENING SEGMENT - Great. Michael Oku comes out and talks about his career in RevPro so far and how important Southampton has been to it. He tells us that while he is unfortunately injured due to the post-match attack by Bullet Club after his big upset victory over El Phantasmo at the last show. This promo was excellent.

He is interrupted by Hikuleo (who did much of the damage to him) who complains about his scheduled opponent once again being injured, and says that pulling out of a match due to injury makes Oku "not a real professional wrestler." He insists that their match will happen right now, whether Oku is cleared or not. Contender JJ Gale (who had a good showing against Hikuleo in defeat at the previous show and was attacked afterwards) came out to make the save and challenged Hikuleo to a match tonight.


BRENDAN WHITE vs. KEITH HALFPENNY- 6/10

Andy Boy Simonz is "taking a personal day" so he's not here tonight, but Lord Gideon Grey has replaced him on commentary to do some scouting. The storytelling here was great. White in particular impressed me with his selling.


ROAD TO ROYAL QUEST TAG TEAM TOURNAMENT SEMIFINAL MATCH:
Sha Samuels & Josh Bodom vs. Gabriel Kidd & Shaun Jackson- 5.25/10

The same Bodom & Samuels vs. Contenders match we see on every single show.

POST-MATCH SEGMENT - Pretty much the same segment where Samuels cuts a bullying promo and they beat up the Contenders while no one comes out to B.A. Star and stop the bullies. Kidd eventually made his own comeback and hit Samuels with a German suplex to send the heels running, so at least that was new.


DAN MAGEE vs. CHRIS BROOKES (w/Kid Lykos)- 5.5/10

Brookes wins by cheating, but they let Magee get a visual pinfall in first so they're probably building to a rematch.

CHRIS BROOKES & KID LYKOS PROMO - Meh. They're upset because Brookes isn't getting big matches against big name opponents even though he keeps winning. The fans all cheered, even though the storyline is that Brookes only wins because he keeps cheating. He also vowed to take over RevPro, which is the same angle David Starr is currently doing, but with no build at all and just a few shows before the big Starr vs. Ospreay match for control of the company.

DAVID STARR PROMO - Good heel stuff, both in terms of build for his match with Ospreay and for his match with Carlos Romo tonight.


CARLOS ROMO vs. DAVID STARR- 7/10

Good action. Starr wins with his feet on the ropes. I like Romo losing here to prolong his misery after getting turned on by his partner, but I'd much rather have had him lose clean, both to make Starr look like more of a threat going into his match with Ospreay and to give A-Kid some more ammunition to justify his turning on Romo without doing the stereotypical willfully blind heel crap.


HIKULEO vs. JJ GALE- 5.5/10

This was fine, but it definitely didn't live up to the promise they seemed to show in their previous match.

POST-MATCH SEGMENT - Fine. Hikuleo taunted Gale after the match with false shows of respect, then attacked him. Michael Oku make the save with a chair, then laid out a challenge for next week's show: Hikuleo & El Phantasmo vs. himself & Jushin "Thunder" Liger.


A-KID vs. KURTIS CHAPMAN- 7.75/10

So many of the usual names weren't around for this show, so RevPro did the right thing and gave some up-and-comers time to deliver so that their stocks will be raised when the big names come back.


ROAD TO ROYAL QUEST TAG TEAM TOURNAMENT SEMIFINAL MATCH:
Aussie Open vs. Dan Moloney & MK McKinnan- 7/10

A solid main event match, but definitely one that was hurt by the out come never being in doubt.

Final Thoughts
Another decent show from RevPro and once again with minimal storyline advancement, but not a show that makes me keen to keep my subscription going, especially if I'm forgoing PROGRESS for it.
LATEST REVIEWS