RevPro Live at the Cockpit 44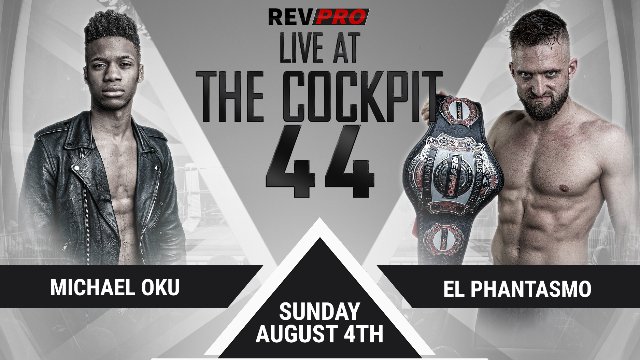 By Big Red Machine
From August 04, 2019
Discussion
We open the show with the announcement that this will be referee Chris Roberts' last show. That's very good news because he's terrible at his job.


RICKEY SHANE PAGE vs. CHRIS BROOKES (w/Kid Lykos) - 4/10

An otherwise good match overbooked to hell with ref shenanigans and other crap. On a related note, I really don't need to see Kid Lykos interfering to help Chris Brookes win matches anymore. I just don't. It's been YEARS of this same crap at this point, and at this point Lykos' presence feels like it drags Brookes down rather than raises him up. Brookes picks up his third straight win here and the announcers noted that he is on a winning streak, so hopefully something will actually come of this, instead of the go-nowhere bullsh*t that he spent the first five months of the year doing.


ROAD TO ROYAL QUEST TAG TEAM TOURNAMENT QUARTERFINAL MATCH:
Brendan White & Kenneth Halfpenny vs. Shaun Jackson & Gabriel Kidd - 6.5/10

Solid showings by everyone.

ROB LIAS JUMPS T.K. COOPER BEFORE HIS MATCH - AWESOME! Lias shows up and hits Cooper with half of the jacket that T.K. ripped up at the previous show… and then revealed that under that jacket he was hiding a BRICK. Lias went on to cut a VICIOUS promo on T.K., saying that everyone in T.K.'s life, including Travis Banks (who Lias was sure to point out that he had defeated via submission) and Dahlia Black (who was left unnamed) leave T.K. the moment they find something- "or someone"- better. He then went on to allege that Dahlia had been cheating on T.K. with some guy in the back and that watching other people beat T.K. up got her hotter than anything T.K. ever did. Showing that he is truly the consummate heel, Lias followed this up by saying that he didn't even understand why T.K. was so disappointed that Dahlia broke up with him because "she looked like sh*t, anyway." This got TREMEDOUS heat, and the T.K. Dahlia wound still felt fresh for the crowd because (at least to my knowledge) neither one of them has addressed their break-up in public, so this is the first time fans have really been confronted with the reality of it in kayfabe. Lias then said he would see T.K. at Summer Sizzler, reminded T.K. that T.K. still has a match to wrestle tonight, and then left.


HIKULEO vs. T.K. COOPER - no rating, fine continuation of the previous segment

Hikuleo pinned T.K. with a foot on the chest.

HIKULEO PROMO - He demands better competition, saying, "I didn't come all the way from Japan to clean up other people's sh*t." He then began challenging fans to fights. The fans didn't seem scared (and, in fact, chanted for him to fight a small child), but Andy Boy Simonz covered things up well by noting that despite their bravado, none of the fans were making any moves towards the ring to actual take Hikuleo up on his challenge. Hikuleo eventually goaded Contender JJ Gale to fight him with the promise of a Bullet Club shirt, which was a mistake because the crowd fixed on that and started laughing at everything.


HIKULEO vs. JJ GALE- 5/10

This was a GREAT six-minute underdog babyface vs. monster heel match. The fact that they have a rematch on the next show is definitely an argument against me not skipping it.


ROAD TO ROYAL QUEST TAG TEAM TOURNAMENT QUARTERFINAL MATCH:
Aussie Open vs. RASCALZ (Zachary Wentz & Dezmond Xavier) - 7.5/10
ROAD TO ROYAL QUEST TAG TEAM TOURNAMENT QUARTERFINAL MATCH:
Team White Wolf vs. Dan Moloney & MK McKinnan - 7.75/10

They did a spot where Romo hit a Canadian Destroyer but they fell so that McKinnan landed on Romo in a pin for a nearfall. Way to kill the move. Other than that spot and Moloney's overuse of the defiant middle fingers no-selling spot, I loved this match. It was an absolutely BRUTAL hard-hitting tag team affair. Moloney and McKinnan have clicked wonderfully in a short period of time. As for Team White Wolf…

POST MATCH SEGMENT - Good. It happened. A-Kid turned on Carlos Romo after the "lull you into a false sense of security" swerve. Props to them for at least coming up with a new way to execute this.


DAVID STARR vs. SENZA VOTLO - 6.75/10

I appreciated their attempt to use their gaga to build the intensity level, but it still came off to me as gaga, and I didn't like it very much. I would very much like to see a rematch between these two without it.

DAVID STARR PROMO - David Starr cut a promo in which he made legitimate points in favor of wrestlers unionizing, so he got cheered. The problem is that Starr is supposed to be the corrupt heel in this angle.


ROAD TO ROYAL QUEST TAG TEAM TOURNAMENT QUARTERFINAL MATCH:
Dan Magee & Kurtis Chapman vs. Josh Bodom & Sha Samuels - 6/10

This started off as a good brawl but ended when our babyfaces attempted an incredibly stupid plan that predictably backfired on them.

POST-MATCH SEGMENT - Meh. Bodom & Samuels' semifinal match is against the winners of the Kidd/Jackson vs. Halfpenny/White match, so they intimidated the Contenders standing at ringside. Samuels then cut a promo complaining about not just being handed the title shot they will have to earn in this tournament and also not getting "big fat money" NJPW contracts.


MICHAEL OKU vs. EL PHANTASMO - 8.25/10

The story is that El Phantasmo doesn't take Oku seriously, but instead of getting angry on Oku's behalf, the fans are laughing along with El Phantasmo. This right here is why we don't push comedy so hard: Because the more you push comedy in what should be serious situations, the less likely the fans are to recognize it when they're supposed to be angry at the heel mocking the babyface, not enjoying it!

This was a great rendition of the cocky heel vs. the never say die underdog babyface. Thankfully the fans got their sh*t together in time to not spoil the biggest victory of Michael Oku's career (and his long-awaited first victory in RevPro). Instead it was Hikuleo who spoiled that, attack Oku after the match, and then holding him up so El Phantasmo could knock him out with the RPW Undisputed British Cruiserweight Title.

Final Thoughts
This was a great show from RevPro. Almost everything delivered well for the time it got, as well as giving us advancement in the ongoing tournament storyline and major developments in the Lias vs. Cooper feud, the Team White Wolf breakup and Michael Oku's first win. Why can't all of the other RevPro shows be like this, where the results of the matches actually feel relevant?<
LATEST REVIEWS