RevPro British J Cup 2018: Day 1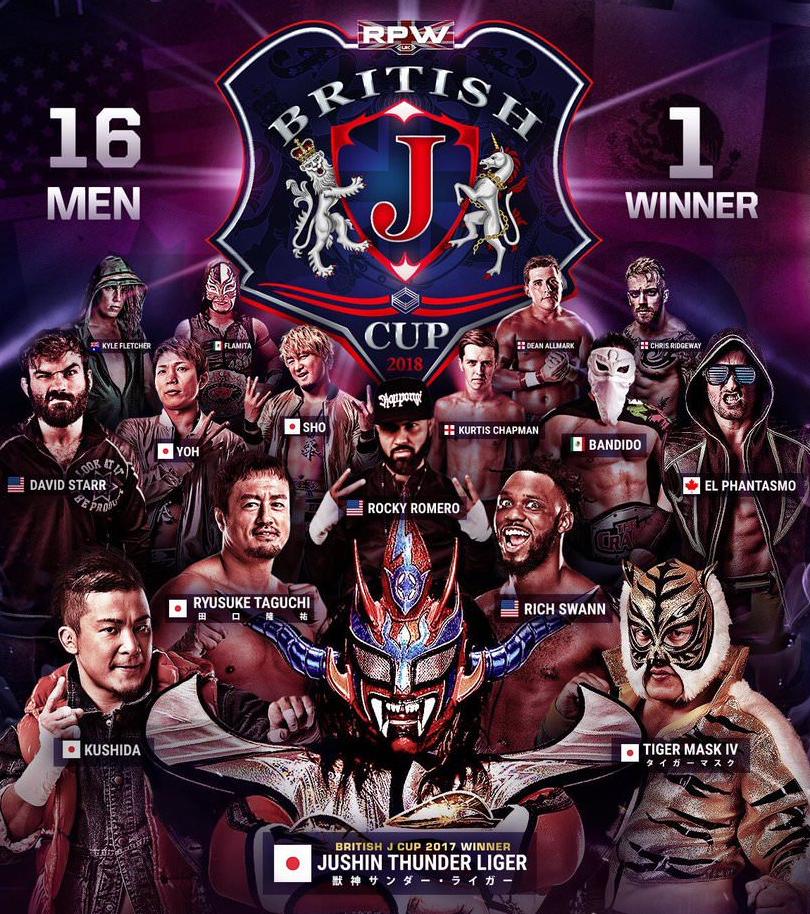 By Big Red Machine
From September 08, 2018

BRITISH J CUP 2018 FIRST ROUND MATCH:
Jushin "Thunder" Liger vs. Kyle Fletcher - 5.5/10
BRITISH J CUP 2018 FIRST ROUND MATCH:
El Phantasmo vs. Bandido - 4.5/10

This was okay for a while but then descended into pointless flippage. By the end it felt like they were bumping because they were dizzy rather than because they had just been dropped on their heads.


BRITISH J CUP 2018 FIRST ROUND MATCH:
Kip Sabian vs. Rocky Romero - 6/10
BRITISH J CUP 2018 FIRST ROUND MATCH:
Dean Allmark vs. Sho - 6.5/10

Allmark did a Styles Clash into a sit-out powerbomb that looked really cool. Sho did a lot of stuff that looked great. I know this isn't news to anyone, but Sho is really good at his job.


MARK DAVIS vs. THE GREAT O-KHARN (w/Lord Gideon Grey) - 4.75/10
BRITISH J CUP 2018 FIRST ROUND MATCH:
Tiger Mask IV vs. David Starr - 6.5/10

Starr cheats to beat Tiger Mask IV via his feet on the ropes. Haven't I seen this already in this feud?


BRITISH J CUP 2018 FIRST ROUND MATCH:
Chris Ridgeway vs. KUSHIDA - 7.5/10

Lots of great submissions and limb-work. Methinks I need to look up some more Chris Ridgeway matches. Anyone have any recommendations?


BRITISH J CUP 2018 FIRST ROUND MATCH:
Ryusuke Taguchi vs. Yoh - 3/10

Very disappointing. Mostly comedy, and not even good comedy, either.


BRITISH J CUP 2018 FIRST ROUND MATCH:
Rich Swann vs. Flamita - 5/10

Flips and kicks.


RINGKAMPF vs. CALAMARI CATCH KINGS (Chris Brookes & Jonathan Gresham) - 6.75/10

This was another rather disappointing match. They actually started out really well, doing some great stuff with the size differential between Gresham and WALTER, but then they really kind of lost that story along the way and didn't replace it with a new one.

The other big problem I had in this match was the spot based around WALTER being on the receiving end of a series of low blows. WALTER's selling of the nut-shots was awkward, and RingKampf came out of that series of spots with the advantage anyway because WALTER was able to knock Gresham down and tag out, allowing Thatcher to immediately go to work on Gresham, so what did the low blow spots actually accomplish?
Brookes got the pin on WALTER with a roll-up. The finish felt a little abrupt, but my real issue with it is that this whole match seemed to be designed to make me want to see WALTER vs. Gresham, not WALTER vs. Brookes.

Final Thoughts
An extremely disappointing show from RevPro, continuing their extremely disappointing year. Cramming ten matches into three hours was not a good idea, and so many of the tournament matches felt the same that I felt like I was watching the same thing over and over again. Hopefully they diversify things better tomorrow night for the final night of the tournament.