PWG All-Star Weekend 14: Night 2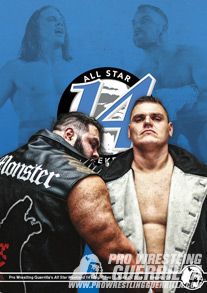 By Big Red Machine
From April 21, 2018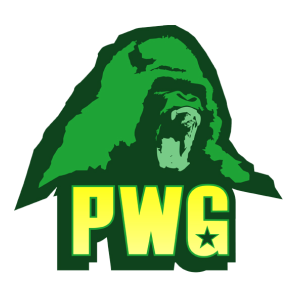 TREVOR LEE vs. "FLASH" MORGAN WEBSTER - 6/10

Lee jumped Flash from behind during his intro. He then cut a promo similar to his promo last night in which he vowed to become PWG World Champion by the end of PWG's last show in Reseda. After that this was a fine little babyface vs. heel match with some good Lucha in the beginning and cool finish.


ROBBIE EAGLES vs. JOEY JANELA - 6/10

It's a Joey Janela match: lots of flips and big spots and kick-outs, but low on psychology


SAMMY GUEVARA vs. TAIJI ISHIMORI - 6/10

More flipping without much story. Guevara is scary athletic. Guevara got great heat, and cut a great post-match promo saying he didn't need to be disrespected like this and thus he won't come back to PWG unless he is given a shot at the world title.


PWG WORLD TAG TEAM TITLE MATCH:
The Rascalz (Zachary Wentz & Dezmond Xavier)(c) vs. Violence Unlimited (Tyler Bateman & Brody King) - 7/10

Violence Unlimited getting a title shot after losing last night is odd to me, when a win would have really helped establish them as a threat, and Thatcher was perfectly expendable to take the fall. The match was a great, fast-paced tag team match.


REY HORUS vs. BANDIDO - 7/10

Lots of flipping, but pretty much everything they did targeted the head so there was some story there, and you can't possibly say that they didn't finish at the peak because that finish was nuts.


MATT RIDDLE vs. TIMOTHY THATCHER - 8/10

This was your WRESTLING encounter for the evening. It was awesome.


PWG WORLD TITLE MATCH:
Keith Lee(c) vs. Jonah Rock vs. WALTER - 8.5/10

The story here was three big dudes just beating the sh*t out of each other, with the added twist that everyone really just wanted to see Lee vs. WALTER, so Jonah Rock was this obnoxious interloper who had to be dealt with. It worked quite well, and they all hit each other very had and had an AWESOME match. This was basically the ultimate hoss fight.

POST-MATCH SEGMENT - Great! Lee gave his big speech and put over WALTER, but his... threat, I guess?... about not how WALTER had better show the belt the proper respect or else actually sets up an angle between the two of them that they can go to if Lee ever comes back from WWE, which I thought was kind of clever. Afterwards Sammy Guevara came out to be a jerk and demand a title shot, so WALTER obliterated him via chop, probably setting up for something on the next show, but whether it's a title defense or Guevara trying to get revenge after WALTER's match remains to be seen.

Final Thoughts
A very good show from PWG, but really just on the strength of the final two matches. Still, it was well worth the rather short (around an hour and three quarters) run-time, and the final two matches plus Guevara's segments are worth seeing, so check this show out.