PROGRESS Chapter 66: Mardi Graps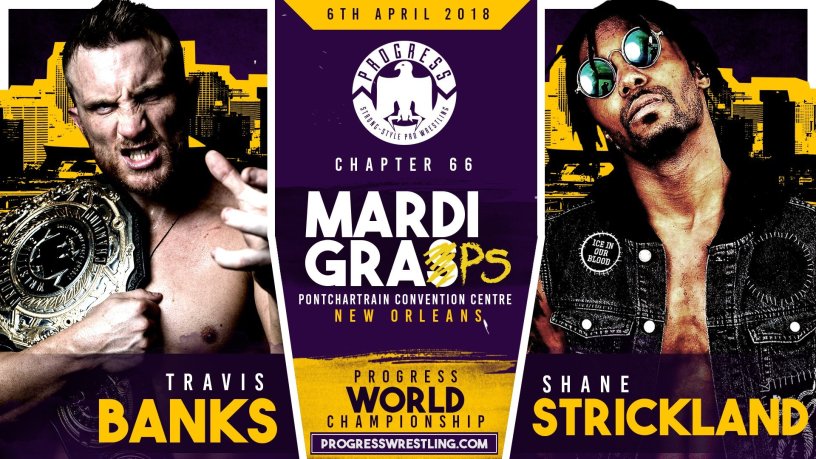 By Big Red Machine
From April 06, 2018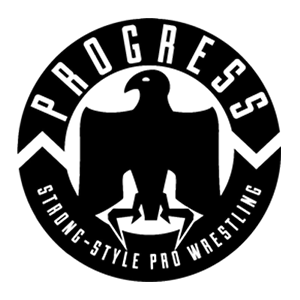 Okay... I think after this show we can just stop giving the chapters subtitles because they will never come up with a better one than this one.

PRE-MATCH TALKING - First Smallman talked. Then others took turns talking. Trent Seven- nominally the babyface- said a lot of stuff that in a normal world would have him be the heel for putting WWE over the host promotion and being patronizing to the host promotion's wrestlers about it, the mere presence of Zack Gibson somehow made him the babyface. Gibson then took a mic and heeled on the crowd for only liking goofball comedy wrestlers and guys who do flips. It truly is astounding how backwards this segment feels compared to the way the indies were even a decade ago (and certainly when you start getting back into the early and mid-2000s), where WWE and their comedy was public enemy #1. This went on for WAY too long. We were over twenty minutes in before the bell finally rang to start off the...


PROGRESS TAG TEAM TITLE MATCH:
James Drake & Zack Gibson(c) vs. Mustache Mountain - 4.5/10

There was way too much comedy from Mustache Mountain early on, especially in Trent Seven's selling, which made it very hard for me to take the rest of the match seriously. I understand that it played into the things Gibson said in his promo, but my thinking is much more in line with Gibson's so this just made me like Mustache Mountain less.


WILL OSPREAY vs. MARK HASKINS (w/Vicky Haskins) - 7.5/10

GREAT match! The story here was Haskins working over Ospreay's injured neck in order to get him down so he could try to put him away with the Star Armbar, and Ospreay's attempts to avoid this fate. The finishing sequence in particular was quite great, but I think the thing I liked the most about this match was that rather than the usual sort of peaks and valleys of excitement, this one kept going up from beginning to end, but at a perfectly manageable slow but steady pace of incline.


KEITH LEE & DAVID STARR vs. RINGKAMPF - 7/10

Starr is wearing his pro-LGBT trunks. Having seen WrestleMania, I have to say that the design of these blows Balor's away. Balor's rainbow lightning bolt on black background looks weird, and Starr's trunks look like whoever designed them actually but some f*cking effort into it. They've still got all of the signature David Starr stuff, without feeling like he just pasted an LGBT flag into the whitespace of his preexisting logo. It's an actual piece of gear with a pro-LGBT message rather than something that comes across like the whole thought process behind it was "let's make some of those pink Mother's Day breast cancer batting helmets, but for the gays."

The match was hard hitting, as you would expect, and played off of standard tag team psychology. It was excellent for the time it got, but still very disappointing because it felt like they got through maybe the first third of what could have been an all-time classic and then just stopped. Why the hell would you only give these guys ten minutes?

For those wXw fans out there, WALTER once again pinned Starr, keeping that storyline alive, which I mention here because wXw and PROGRESS seem to be working closer together this year. Even if they weren't, though, it's still nice whenever one promotion's storyline fits into another.


THUNDERBASTARD MATCH:
Chris Brookes vs. vs. Ricky Shane Page vs. Darby Allin vs. Austin Theory vs. Joey Janela vs. Parrow vs. Jeff Cobb vs. Maxwell Jacob Friedman - 6.75/10

They got an INSANE camera shot of Darby's Coffin Drop the outside. Shane caught him pretty perfectly, too. The next two times Darby tried something to the outside, he nearly killed himself. MJF stole rolled Page up when Page was about to pin Darby, then pinned Darby as well. Then both Page and Darby attacked him. Sore losers. MJF did nothing illegal or immoral here.

This match was pretty disappointing in that it just felt like a random multi-man match where everyone got their sh*t in, then it was time to go home so they started spamming out the eliminations (the first five came in a space of less than three minutes), then we got a short segment with the final three before whittling down to two then rather quickly afterwards to one. It didn't feel like there was any sort of story, and the spamming of eliminations made things feel less exciting than if they were spaced out because there was nothing that felt like a real tease of an elimination before one happened, either in terms of false finishes or guys narrowly escaping getting hit with a finisher.


TONI STORM & SHAZZA MCKENZIE vs. MERCEDES MARTINEZ & JINNY - 5/10
MATT RIDDLE vs. JIMMY HAVOC (w/Vicky Haskins) - 6.75/10

Havoc worked over Riddle's foot in what was certainly a unique manner, I'll give them that much. The match was fine for the time it got, but I didn't like Riddle basically no-selling a low blow on the finish.


MARK ANDREWS vs. PETE DUNNE vs. "FLASH" MORGAN WEBSTER (w/Vicky Haskins) - 6.5/10

Vicky Haskins came out with Webster but was immediately ejected from ringside. I liked this a lot because she just got ejected from ringside in the previous match so her being allowed to stay out there for this match would seem silly, but having her come out and then get sent to the back not only establishes some credibility for the referees and the promotion, but also reminds us that Webster had agreed to join the Havoc & Haskins stable at the end of the previous show.

This was a match that felt like a lot of random stuff to me. It's one of those situations where I think the match would have been much better if it was just a singles match between any combination of these three guys. I'm really not a big fan of Webster and Dunne has a tendency to revert to just getting his shtick in when he's not booked in a big spot. I also thought the finish made Andrews look like an idiot and was disappointed that this finish really doesn't do anything for Webster's story. Him getting pinned could have been something that reinforces his conclusion that he needs help/instructions from Havoc & the Haskins, or them interfering to help him win would have justified his decision to join them, but him not being involved in the finish at all doesn't really do anything for any sort of story, nor does Dunne pinning Andrews, so the finish felt like a guy went over because WWE wanted him to and the guy who lost got pinned just because he's not doing anything rather than having Webster lose and at least having something matter to the story.

POST-MATCH SEGMENT - Good. Eddie Dennis came out and yelled at whined at Mark Andrews. This would have worked just as well with Andrews not being involved in the decision as it did with him getting pinned. That aside, I do think that Eddie coming all the way across the ocean to get in Andrews' face here helps the angle as it shows how serious he is about his vow to follow Andrews everywhere he goes. They also seemed to ramp things up a bit here with Dennis all but beginning Andrews to punch him in the face here. It's a new wrinkle that will eventually lead to Andrews snapping and doing it, which will undoubtedly be a big moment whenever it does eventually happen.


PROGRESS WORLD TITLE MATCH:
Travis Banks(c) vs. Shane Strickland - 7.5/10

Two intense guys wrestling their style of fast-paced, hard-hitting intense match. Banks got the win, but the finish might have been rushed, as it came right after he started bleeding from around the eye moderately badly, and he didn't stay in the ring to celebrate his victory very long.

Final Thoughts
This was a pretty decent show from PROGRESS, but it left me a little disappointed because I thought it had one of the strongest lineups on paper of any show all weekend. They went almost three hours, and yet many of the matches felt like they didn't get enough time... and I think the major culprit was Jim Smallman. Does this f*cker really have to run his mouth before every single match? The wrestlers are the stars, buddy. Not you.