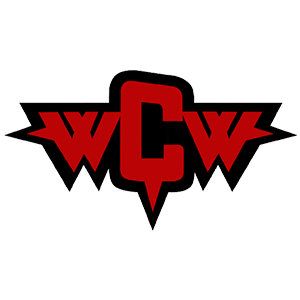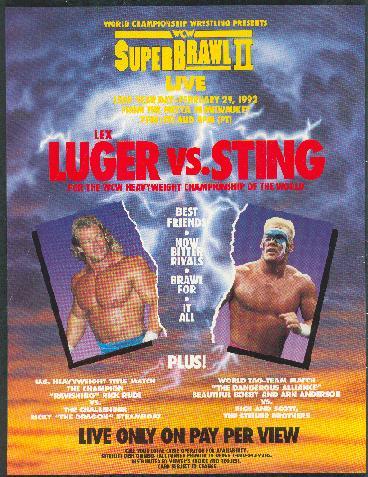 By Big Red Machine
From February 29, 1992
Discussion
WCW SuperBrawl II (2/29/1992)- Milwaukee, WI

WCW LIGHTHEAVYWEIGHT TITLE MATCH: Jushin "Thunder" Liger vs. Brian Pillman- 8/10.
AWESOME opener with great action and storytelling

THE TAYLOR-MADE MAN PROMO- good

MARCUS ALEXANDER BAGWELL vs. THE TAYLOR-MADE MAN- 5.25/10.

Good aftermath

MISSSY HYATT INTERVIEWS HARLEY RACE- eh.

CACTUS JACK vs. RON SIMMONS- 5/10
Decent brawl with good aftermath. Props to them for having JYD be way back in the stands when the beatdown started, so it took him a while to get there. A touch like that makes things feel a lot less scripted.

RICHARD MORTON & VINNIE VEGAS vs. VAN HAMMER & Z-MAN- 4.75/10

DUSTIN RHODES & BARRY WINDHAM vs. LARRY ZBYSZKO & "STUNNING" STEVE AUSTIN (w/Madusa)- 7/10

SEGMENT WITH MISSY HYATT, MADUSA, & STEAMBOAT'S NINJA FRIEND- silly, but entertaining. Madusa was trying to seduce the ninja by offering him a date on which they eat sushi could only have possibly been topped if she had said "me love you long time."

WCW WORLD TAG TEAM TITLE MATCH: Bobby Eaton & Arn Anderson(c) vs. The Steiner Brothers- 6.5/10
Decent storytelling leading up to a Dusty Finish... which then becomes pointless when Ross and Ventura tell us that it didn't matter anyway because the legal men weren't involved in the pin. Would have been higher if the right guys had been involved in the pin.

RICK RUDE PROMO- eh.

WCW UNITED STATES TITLE MATCH: Rick Rude(c) vs. Ricky Steamboat (w/the Ninja)- 7.5/10

WCW WORLD HEAVYWEIGHT TITLE MATCH: Lex Luger(c) (w/Harley Race) vs. Sting- 8/10.
Great story telling here.

Overall, a great show from WCW. Very enjoyable from top to bottom, and plain old fashioned good wrestling.
LATEST REVIEWS