RevPro Live at the Cockpit 24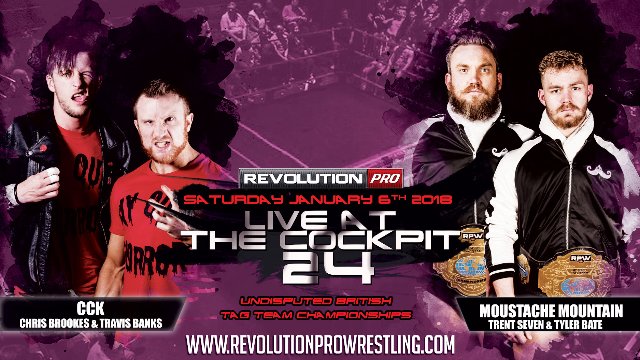 By Big Red Machine
From January 06, 2018

DAN MAGEE vs. MARTIN STONE - 7/10

This was a great, hard-fought opener, with the story basically being that this young kid put up a much better fight than expected against the grizzled veteran. They really got me believing that Magee would win this one, and the match felt like a HUGE step up for him.

POST-MATCH SEGMENT - Stone shows Magee respect after the match, which was unexpected coming from the grizzled veteran Stone. It almost felt like a babyface turn for him.


RPW BRITISH WOMEN'S TITLE TOURNAMENT FIRST-ROUND MATCH:
Zan Phoenix vs. Zoe Lucas - 4.25/10

Zan is all business, engaging in none of the crowd-pleasing shenanigans that Zoe engaged in during her entrance, and charging at Zoe as soon as she heard the opening bell. Zoe was able to overcome this onslaught and get the win and very good match for the short time it got.


RPW BRITISH WOMEN'S TITLE TOURNAMENT FIRST-ROUND MATCH:
Deonna Purrazzo vs. Sammii Jayne - 6.75/10

Deonna is really good in the ring but is just missing something in terms of her charisma. Sammii Jayne isn't quite as good in the ring, but she is certainly more charismatic.


JOSH BODOM & ZACK GIBSON vs. KURTIS CHAMPMAN & RYAN SMILE - 6.75/10

Champman held is RPW British Cruiserweight Title up in the air triumphantly at the beginning of the match, and Bodom shoved him so hard he went from the center of the ring the whole way into the corner. At someone point Bodom is going to want his belt back and he is going to just beat the sh*t out of poor Kurtis in order to do so, and it will be one hell of a babyface vs. heel encounter when it happens.
Even though the title wasn't on the line in this match, Bodom and Gibson were quite happy to beat the sh*t out of the babyfaces in this match, too. The babyfaces did their best to give it back to them, but the heels picked up the win in the end.


PETE DUNNE vs. EL PHANTASMO - 6.75/10

Another good showing for El Phantasmo, but another win for Dunne. I'm shocked that WWE hasn't just gone ahead and locked him up yet, though.


RPW BRITISH WOMEN'S TITLE TOURNAMENT FIRST-ROUND MATCH:
Nina Samuels vs. Jinny - 6/10

Both women worked the head and they had a very good match for the time it got. They actually had me convinced for a moment that Jinny's undefeated streak might be snapped.


RPW BRITISH WOMEN'S TITLE TOURNAMENT FIRST-ROUND MATCH:
Millie McKenzie vs. Charli Evans - 6/10

Another match was fine for the time it got.


RPW BRITISH TAG TEAM TITLE MATCH:
Moustache Mountain(c) vs. CCK (w/Kid Lykos) - 8/10

This was an awesome match tag match which included a really wild brawl on the outside for a good portion of it (although they were on the outside for WAY too long without a count-out), then "settled down" in a back-and-forth in-ring affair. And then, just as CCK were about to regain the titles, Bodom & Gibson ran in and attacked all four guys, causing a no contest. This is the sort of thing that works a lot better if you don't do it in the main event because if you do it in the main event, people are more likely to get angry at the promotion rather than angry at the heels.

Final Thoughts
A pretty decent show from RevPro, although I think giving the tournament matches such little time was a mistake. They were all good for the time they got, but there was nothing that got me excited for any of the matches in the next round. These were the sort of quarterfinals I'd expect from a one-night tournament rather than a two-night tournament. Throw in the disappointing non-finish in the main event and I think it would have been better to pick one of the quarterfinals to really feature and give them the main event spot (and some more time to go with it).