RevPro Live in Portsmouth 9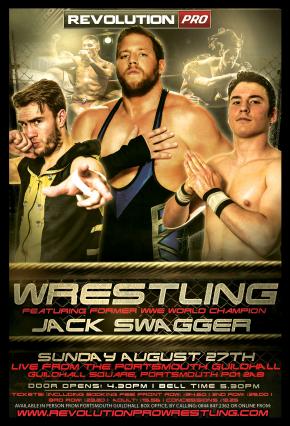 By Big Red Machine
From August 27, 2017

JOSH WALL & KURTIS CHAPMAN vs. ALL DAY SWERVE (Shane Strickland & Ryan Smile) - 6/10

The young-boys put up a good fight, but never at any point did they feel like they had a chance against everyone's favorite high-flying babyface tag team.


"SPEEDBALL" MIKE BAILEY vs. JEFF COBB - 6.25/10

Standard big-man vs. little-man stuff.


JACK SWAGGER vs. DAVE MASTIFF - 5.75/10

Are we certain Swagger's release isn't some sort of work? Because he's not only been allowed to use his WWE name, but his WWE music as well. The crowd popped huge for him, so that was good. They did a bunch of gaga in the beginning. Mastiff worked the mid-section while Swagger worked the ankle and won with the Patriot Lock.


JOSH BODOM vs. DAVID STARR vs. BUBBLEGUM - 7.25/10

This was a great three-way match, and I really do mean a "three-way" match, as they made sure to never let you forget that there was a third wrestler involved. The finish saw Starr hit Bubblegum with a brainbuster onto the knee but then Bodom rolled him up and grabbed a handful of tights for illegal leverage to steal the win.


ROB LIAS vs. SHA SAMUELS - 6/10

Whipping a guy with your suspenders ought to be a DQ, so I really don't blame Rob Lias for kicking Samuel in the balls. He got the win off of doing that, then hitting his finisher.


ZACK SABRE JR. vs. WILL OSPREAY - 8.25/10

For those- including babyface announcer Andy Quildan- who are wondering why Zack's RPW British Heavyweight Championship isn't on the line, the heel announcer (whose name I never remember) points out that Ospreay hasn't really done much in RevPro this year. The story of this match was Zack doing his best to keep Ospreay grounded, preventing him from using his trademark high flying except for one or two short bursts of offense. Ospreay managed to fight through everything Zack threw at him or locked him in, and finally found an opening to hit an Os-cutter and pin the champ clean in the middle of the ring to earn a shot at the RPW British Heavyweight Title.

Final Thoughts
A fun show from RevPro. Everything was solid, the three-way was great, and the main event was awesome. It was also very easy to sit through, and with a surprisingly short run-time (less than an hour and fifty minutes) you really have no reason not to put the time aside to watch it.