RevPro Live At The Cockpit 17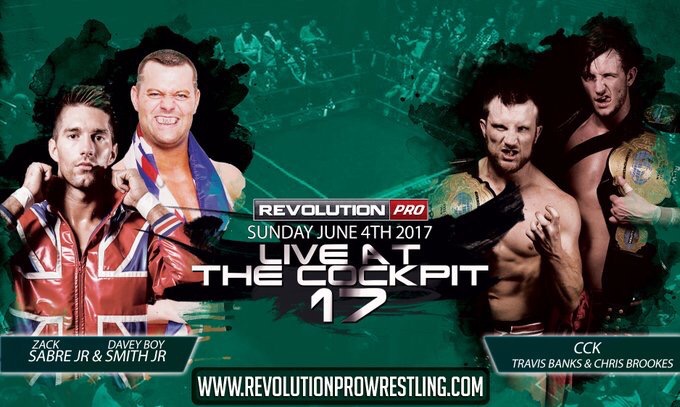 By Big Red Machine
From June 04, 2017

DAVID STARR vs. EL PHANTASMO - 7/10

El Phantasmo's entrance is a lamer version of Naomi's glow in the dark gimmick. The match, fortunately, was not lame. In fact, it was quite great. One hell of an opener.


JOSH WALL & KURTIS CHAPMAN vs. THE LONDON RIOTS - 5/10

The London Riots respond to a pre-match offer for a handshake with forearms to the face, so they're the jerk heels. Good win for the young guys, and it's always nice to see the babyfaces overcome the heels.


RPW BRITISH CRUISERWEIGHT TITLE MATCH:
Josh Bodom(c) vs. Ashley Dunn - 4.75/10

Dunn was a pretty good babyface, so it was kind of a disappointment to see him go down so quickly.


DONOVAN DIJAK vs. EDDIE DENNIS - 7/10

A great brawl that transitioned into a great battle over who could hit the first big move.

ROB LIAS PROMO - Bad. Apparently his new thing is to wear ugly, colorful vests and nothing on his feet while the fans shout that his name is "Britney." Also, he cut a promo on Sha Samuels. This was quite bad.


ANGELICO vs. ZACK GIBSON - 6.5/10

Speaking of annoying, bad promos, Zack Gibson cut his usual one before this match.


JINNY vs. NINA SAMUELS - 5.5/10

The match was mostly good but occasionally sloppy, but the important part here is Jinny, who has to be one of the best heels in wrestling right now. She comes into each match with such total disdain for her opponent. It's wonderful.


SUZUKI-GUN (Davey Boy Smith Jr. & Zack Sabre Jr.) vs. CCK (Chris Brookes & Travis Banks) - 8/10

An awesome tag team main event designed to elevate Chris Brookes, and it certainly did that in my eyes.

Final Thoughts
As usual, a fun show from RevPro at the Cockpit.