RevPro Live at the Cockpit 13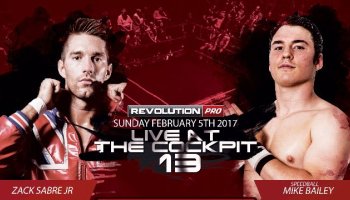 By Big Red Machine
From February 05, 2017

DAN MAGEE vs. ZACK GIBSON - 6.5/10

A good, solid showing for Magee in the ring. Magee lost when Rob Lias' tried to help him but only wound up distracting him. Lias offered Magee his hand after the match but Magee refused it twice, so Lias laid him out with a cheap shot.


TIMOTHY THATCHER vs. LORD GIDEON GREY - 4.75/10

Fun.


JOSH WALL & KURTIS CHAPMAN vs. THE LONDON RIOTS - 6.75/10

Very good "big heels vs. small babyface" match.


MARTY SCURLL vs. LUKE PHOENIX - 7.75/10

The story of this match was that Phoenix just would not stay down, no matter what Marty did to him. Marty worked on the head a lot and finally got the win via Crossface Chickenwing. If I was booking this, I would have had Phoenix pass out rather than tap. This was apparently Luke Phoenix's first match in eight years.


RYAN SMILE vs. TRAVIS BANKS - 7.25/10

Smile is doing a good job of establishing himself as a threat in the upper-card. Smile got attacked by Chris Brookes and Travis Banks after the match. Brookes then announced that CCK are getting a shot at Sterling & Redman at the next show at the Cockpit.


DAVE MASTIFF vs. EDDIE DENNIS - 6.5/10
INTERIM RPW BRITISH CRUISERWEIGHT TITLE MATCH:
Josh Bodom(c) vs. Oliver Carter- 7.5/10

Carter is a good babyface and Bodom has one of those faces that you just want to see someone punch.

JOSH BODOM PROMO - he says that he, not Will Ospreay, is the real Cruiserweight Champion. He wants a match with Ospreay. Also, he called Shibata a "bitch." He'd better hope that Shibata doesn't speak English.


ZACK SABRE JR. vs. MIKE BAILEY - 8.5/10

Last time he was in RevPro Bailey had what was looking to be a fantastic match against Marty Scurll that got completely ruined when he completely forgot to sell his leg during comeback. He has learned from that mistake. This was awesome.

ZACK SABRE JR. PROMO - he wants "his" RPW British Heavyweight Title match.

A GREAT show from RevPro, with solid matches all up and down the card topped off with an awesome main event.