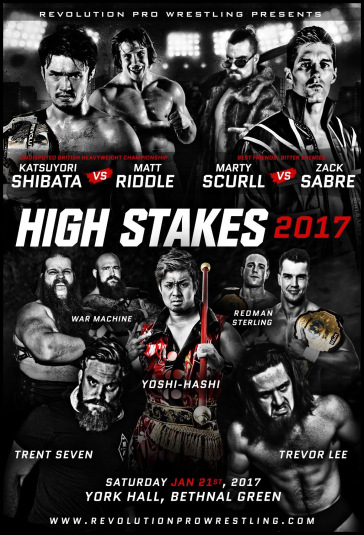 By Big Red Machine
From January 21, 2017

MATCH FOR THE VACANT RPW INTERIM CRUISERWEIGHT TITLE:
Josh Bodom vs. Ryan Smile - 6.75/10

The story of this match was that whenever he could use his speed and athleticism Smile was winning, but whenever they were exchanging strikes it was the more thickly-built Bodom who was winning. The fans were very into Smile, so between this and the main event of the last show, I'd expect him to be a regular in RevPro from now on.


RPW TAG TEAM TITLE MATCH:
Charlie Sterling & Joel Redman(c) vs. War Machine - 7.25/10

A fun slug-fest full of dudes hitting each other hard and throwing each other around.

POST-MATCH SEGMENT - good
CCK jumped the winners after the match. This is BY FAR the most interested I have ever been in RevPro's tag team division.


PETE DUNNE vs. YOSHI-HASHI - 7/10

A great strong-style encounter. Dunne needs to stop this stupid biting gimmick immediately.


ZACK SABRE JR. vs. MARTY SCURLL - 9.75/10

Marty Scurll is one crazy sick f*cker and a fantastic heel, but the man knows how to have fantastic twists and turns in his matches (not that Zack doesn't deserve the credit, but the sentence just flowed better that way). It felt like they went a good forty minutes here and I'm certain they were trying to do their own Okada vs. Omega. In my book, they missed them by a hair. They wind up at 9.75 because, like the aforementioned Omega vs. Okada match, there were spots in here that really should have been DQs but weren't, and in this one those spots were a bit more egregious.


TRENT SEVEN vs. TREVOR LEE - 5.75/10

Trevor Lee is being billed as the "Carolina Caveman" but his music is about as far away from that as you can possibly get. They did a boring dance-off that ended when Lee attacked Seven from behind. Seven eventually won.


JAY WHITE vs. MARTIN STONE - 6.75/10

A pretty great match but how is grabbing someone's nuts not a DQ?


RPW BRITISH HEAVYWEIGHT TITLE MATCH:
Katsuyori Shibata(c) vs. Matt Riddle - 8.75/10

Half grapplef*ck, half beat the sh*t out of the other guy, with Shibata actually doing his fighting spirit stuff in a way that felt organic for once. AWESOME match.

ZACK SABRE JR. WANTS A SHOT AT THE WINNER - cool.

Another excellent show from RevPro. Go out of your way to see this one.