RevPro Live at the Cockpit 11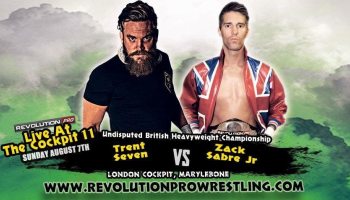 By Big Red Machine
From August 07, 2016

JOSH WALL vs. ROB LIAS- 5.75/10

This was my first exposure to both of these guys and they both had a good showing for a match that only went seven minutes.


THE BRITISH YOUNGBLOODS vs. DAN MAGEE & KURTIS CHAPMAN- 5.75/10
JINNY COUTURE vs. XIA BROOKSIDE- 5.75/10

I don't care if there are big holes cut in it; the referee should not have allowed Jinny to take a plastic bag into the ring, never mind put it over Xia's head. Xia looked fine in her RPW debut.

POST-MATCH SEGMENT - Zoe Lucas came out and got in Jinny's face so Jinny slapped her and then turned her back on Zoe, which was a mistake that resulted in Jinny being dumped on her head with a Dragon Suplex.


BIG DAMO vs. JEFF COBB- 6.25/10

Big men do big-man things. Also, Cobb flies and wrestles.


JOSH BODOM vs. RYAN SMILE- 7/10

Smile was a great high-flying babyface. I'd like to see him brought in more often.


MARTY SCURLL vs. JAY WHITE- 7.5/10

Jay White is so damn great now. Just imagine how great he'll be in a few years. Even Marty Scurll seems to realize it, as he put Jay over on the mic and accepting his handshake after the match despite refusing his offer for a handshake in the beginning.


RPW BRITISH HEAVYWEIGHT TITLE MATCH:
Zack Sabre Jr.(c) vs. Trent Seven- 8.75/10

Twenty minutes of British strong-style awesomeness.

POST-MATCH SEGMENT - good.
Zack calls out Jeff Cobb and offers to make their match this coming Friday at Uprising for the British Heavyweight Title. Cobb accepts, then gives Zack an unwanted Tour of the Islands.

A GREAT show from RevPro, with a solid undercard followed by a great top of the card, culminating in an excellent main event.