RevPro v NJPW Global Wars UK 2016: Night 2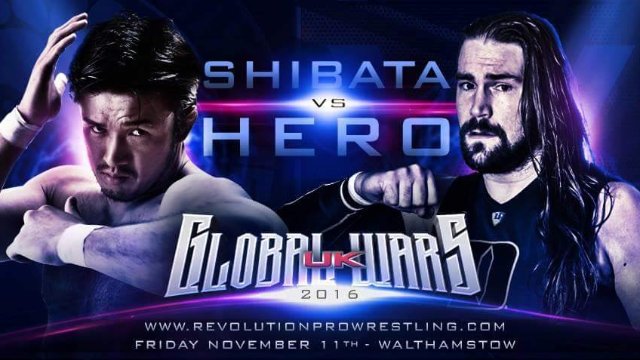 By Big Red Machine
From November 11, 2016

CHARLIE GARRETT & JOEL REDMAN vs. LOS INGOBERNABLES DE JAPON (EVIL & BUSHI)- 6.5/10

EVIL's entrance now includes laser beams coming from his fingertips. People used to make fun of Michael Elgin for wearing a "wizard's robe," but EVIL has now taken this to the next level.
This was a fun opener that ended in a DQ because New Japan didn't want their guys to lose and Redman & Garrett are the RPW Undisputed British Tag Team Champions. Los Ingobernables were unhappy that they got DQed so they went after the ref, but the babyface champions chased them off.

DREW GALLOWAY PROMO - he explains to the crowd how much he wishes he could have been able to wrestle on this show and he puts over the UK indy scene.


JOSH BODOM vs. TOMOAKI HONMA- 6.75/10
YUJI NAGATA vs. TRENT SEVEN- 6.25/10

I could have done without the comedy, but it didn't detract from the match. Once they were done with that stuff they continued the story of Nagata working over the arm, eventually getting the submission victory.

POST-MATCH SEGMENT - Dave Mastiff showed even larger than he already was and beat up Trent Seven.


JUSHIN "THUNDER" LIGER vs. WILL OSPREAY- 6.75/10

Ospreay has randomly decided to dress as mid-2000's heel CTU Liger. Props to them for actually basing the story around that so that it added to the art (as opposed to reDRagon dressed as Dalton Castle's Boys in the main event of the first night of this year's BOLA). They even based a comedy spot around it. This was a great match that was brought down by one stupid, pointless comedy spot towards the end that had nothing to do with anything.


TOMOHIRO ISHII vs. PETE DUNNE- 5/10

The match was fine, I guess, although it probably would have been better for Dunne in the long-term if they hadn't made him look completely inferior to Ishii in the striking department. The finish makes sense in that it continues the Dunne vs. Ospreay feud while protecting Dunne a bit here, but it did feel a little out of place in a match like this.


MARTY SCURLL & ZACK SABRE JR. vs. LOS INGOBERNABLES DE JAPON (Tetsuya Naito & Sanada)- 8.25/10

The match was awesome and stuff and they had a decent story going with Zack working on Naito's arm, but I 100% agree with the announcers: how many times can you possibly shove a referee around like that without getting disqualified? Referee Chris Roberts should be fired.

MARTY SCURLL GIVES A "LEAVING THE TERRITORY" SPEECH FOR BOTH HIM AND ZACK - I was a little bit surprised at this. Zack is moving to the USA but nothing is preventing him from coming to the UK to wrestle often like Chris Hero does, and I figured that Marty's ROH deal would let him work the UK when ROH's schedule permitted it (ROH contracts tend to be exclusive in the US only, and the alliance with CMLL and New Japan makes it de facto exclusive to those companies in their regions as well, but the closest thing those guys have to an official partner in the UK is RevPro, so I figured he'd still be allowed to work for RevPro when ROH is off like during the G-1 and...)

THAT PIECE OF F*CKING SH*T JUST KICKED THAT ZACK IN THE NUTS! - and Marty's speech was so well done that no one saw it coming.
Obviously I'd love to see Zack get his revenge on Marty, but seeing as how Marty is the ultimate villain, I'd actually be perfectly fine if this is he exit from the company. It will be quite interesting to see what reaction he gets when he returns to this building next weekend for ROH.


RPW BRITISH HEAVYWEIGHT TITLE MATCH:
Katsuyori Shibata(c) vs. Chris Hero- 7.5/10

Shibata worked the head over a lot, while Hero didn't get the chance to get much offense in. Also, they didn't even go fifteen minutes. Disappointing.

A very good show from RPW that could have been much more if the main event had delivered on the level people expected.