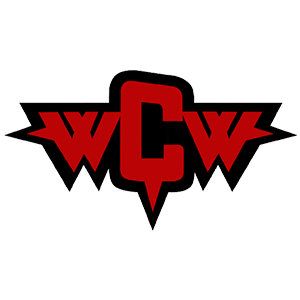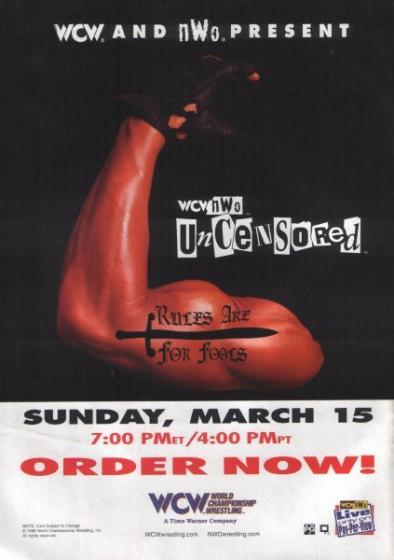 By Big Red Machine
From March 15, 1998
Discussion
WCW Uncensored 1998 (3/15/1998)- Mobile, AL

WCW TV TITLE MATCH: Booker T(c) vs. Eddie Guerrero (w/Chavo Guerrero)- 6/10. Good heel stuff from Eddie. There were times when Booker just plain forgot to sell his knee, though, which hurt the match. Still a good opener, though.

KONNAN vs. JUVENTUD GUERRERA- 6.25/10

WCW CRUISERWEIGHT TITLE MATCH: Chris Jericho(c) vs. Dean Malenko- 7/10

"MEAN" GENE OKERLUND INTERVIEWS DEAN MALENKO- good

LEX LUGER vs. SCOTT STEINER- no rating. Great segment. Build Steiner up as a heel, kept Steiner vs. Steiner hot, gave Luger a babyface win and Norton some heel heat.

NO DISQUALIFICATIONS, FALLS COUNT ANYWHERE MATCH FOR THE WCW UNITED STATES TITLE: Diamond Dallas Page vs. Chris Benoit vs. Raven (w/The Flock)- 8/10.

THE GIANT vs. KEVIN NASH- 4.75/10

BRET HART vs. CURT HENNIG (w/Rick Rude)- 8/10. Awesome match. Great selling by Bret. Good aftermath, too.

WCW WORLD HEAVYWEIGHT TITLE MATCH: Sting(c) vs. Scott Hall (w/Dusty Rhodes)-6.5/10. Very underwhelming. Wasn't given enough time. Hall and Sting hit each other, Hall falls down, then Sting falls and headbutts Hall in nuts, leading to both men being down... and Hall is the one who recovers first?

STEEL CAGE MATCH: "Hollywood" Hulk Hogan vs. "Macho Man" Randy Savage (w/Miss Elizabeth)- 6.5/10 was going fine (with the exception of the part where they were brawling on the floor. Shouldn't the match have been over? And if not, why did the ref unlock the door in the first place?), then it became a piece of overbooked crap with Savage attacking Sting, then walking away leaving us with NO FINISH to a PPV MAIN EVENT!

Overall, an awesome show from WCW brought down by disappointing top of the card.
LATEST REVIEWS