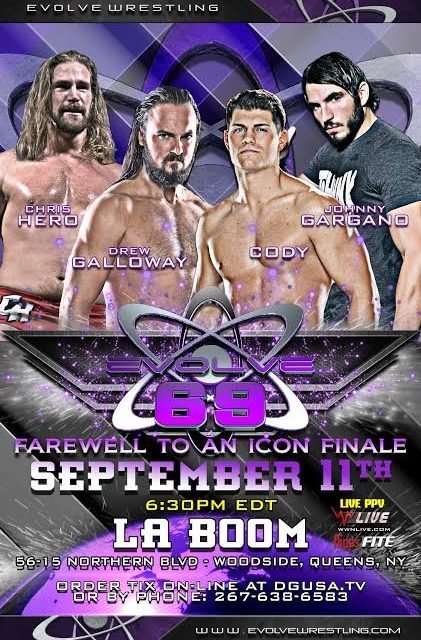 By Big Red Machine
From September 11, 2016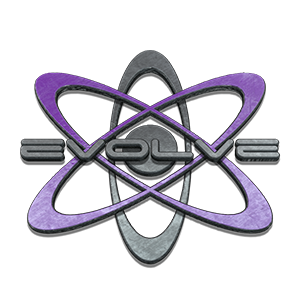 Evolve 69 (9/11/2016)- Queens, NY

IF ALLIN WINS, HE GETS AN EVOLVE CONTRACT: Darby Allin vs. Tony Nese- 4.5/10
Allin finally gets his big win via roll-up. The fans went nuts for this, which was even more amazing because it was in Nese's home market.

POST-MATCH SEGMENT- they did a good job of making these feel like a big moment for Darby Allin, then turning it into a big moment for Nese as well, who, after welcoming Allin to the roster on behalf of the Evolve locker room, declared this "this is the last time you'll get this version of me." It seems like Gabe has some big stuff brewing for Mr. Nese.

FRED YEHI vs. TRAVIS GORDON- 4.75/10
Another short match, but it was more than enough to get Gordon over. This guy is CRAZY athletic. Also, the finish to this match was F*CKING NUTS!

TRACY WILLIAMS vs. CHUCK O'NEIL- 6.5/10
Good showing for O'Neil. I'd definitely like to see him get another shot.

POST-MATCH SEGMENT- good
Drew Galloway and DUSTIN jumped Williams from behind and gave his ankle a non-top rope Pillmanizer. Williams' Catchpoint stablemates Fred Yehi and Drew Gulak came out to chase the heels away. Once again Matt Riddle did not come out. Neither did TJ Perkins, although I guess they have the excuse that they were preparing for their big match against each other later tonight.

DREW GULAK vs. DUSTIN- 6.5/10
A good brawl that ended when Drew Galloway distracted the referee, allowing DUSTIN to hit a low blow and then a DDT onto a chair for the win.

DREW GALLOWAY PROMO- a good promo, although the "Delete" stuff backfired a bit as there were way too many people who popped for it.

DAVID STARR vs. ETHAN PAGE- 5.5/10

MATT RIDDLE vs. TJ PERKINS (w/Stokely Hathaway)- 8.5/10
We got a good pre-match segment with Drew Gulak lecturing both men for not being there when Tracy Williams needed them earlier. We're definitely headed for a Riddle vs. Gulak match.
Wrrrrrrrrestling! YAY!

TJP FAREWELL CELEBRATION- excellent speech by Stokely.

ZACK SABRE JR. vs. RICOCHET- 8.25/10
A pretty technical match that at seemed to get more and more unfriendly without you noticing it. Zack bent Ricochet's arm in disturbing ways, as is his usual custom, while Ricochet was mostly stuck on the ground due to both Zack's technical work and the unusually low set-up of the lighting. Lenny Leonard did a very good job of portraying this as two guys fighting over the title of "ace" of Evolve now that Gargano is leaving.

JOHNNY GARGANO & CODY RHODES vs. DREW GALLOWAY & CHRIS HERO (w/DUSTIN)- 8/10
All of the emotion behind it gave this the big-match feel that it needed. Awesome tag team wrestling lots of REALLY stiff strikes, which, when combined with the atmosphere, helped to make this match truly feel like a physical war.

POST-MATCH SEGMENT- Ah yes, the moment we've all been waiting for: Will Gargano forgive Ethan Page? And was Page's redemption real? The answer to both of those questions turns out to be "no." Page ruined Gargano's farewell and beat him up while his two gatekeepers" (two very large bearded men) kept watch to ensure no one would interfere. Page mocked Gargano and then declared that because he had spent the last few months protecting Johnny just to set up for this, he will now let anyone who wants to do so come out and beat on the fallen Gargano. DUSTIN and Galloway came out and buried Johnny under an Evolve banner, then Drew tea-bagged him.
Then Matt Riddle came out and it seemed like he would finally accepted Galloway's wisdom and join with the anti-Evolve/WWE relationship faction but instead he turned full babyface and saved Gargano. Gargano put him over as the new top babyface and we end the show with a very nice moment and a bright outlook or the future. The only problem with this segment, as Joey Styles himself even noted, was that it was a little silly that only Darby Allin and some referees came out to help Gargano.

Another awesome show from Evolve. They spent the undercard both establishing the guys who would replace TJP and Gargano on the top of the card as well as the guys who would replace those guys in the middle and bottom of the card. And, of course, we got three awesome matches on top.