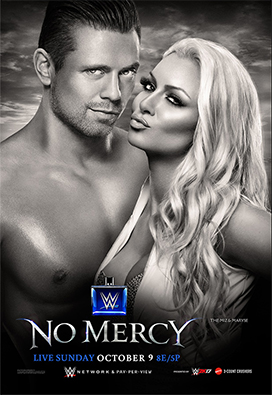 By Big Red Machine
From October 09, 2016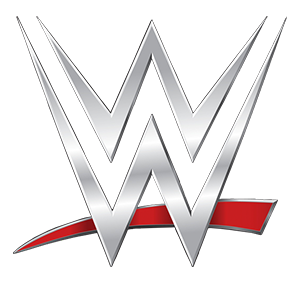 WWE No Mercy 2016 (10/9/2016)- Sacramento, CA


KICK-OFF SHOW:
Here I am, sitting in my den with my pizza, my booze, and my big banner that says "IF ALEXA LOSES, WE RIOT!" "We" is me and my sister, who has never seen Alexa Bliss! before in her life, and is barely paying any attention to the PPV.

CURT HAWKINS PROMO- Hawkins purposely screw up the name of the city. He says he promised to set foot in the ring and he has done so, so now he is leaving. Wait. No. Now he's talking again. His announcement is that he will have his first match on Smackdown. Apparently it was necessary that they do this instead of delivering a match like everyone expected. Because if you want to get your audience warmed up to the show, a bait-and-switch is always a good way to start.

BRIAN & SHANE INFORM ALEXA BLISS! OF BECKY LYNCH'S INJURY- another bait-and-switch.
Alexa says the title should be handed to her via forfeit. Bryan and Shane tell her she'll have to wait another month for her title shot (on Nov. 8 in Scotland, which means Alexa isn't winning and BRM is angry). Also, she'll be facing a mystery opponent. After Alexa walks off, Bryan and Shane comment that she is "feisty." You know. Because that is totally treating Alexa like an athlete and not demeaning at all.

TOM PHILLIPS INTERVIEWS THE USOS IN THE SOCIAL MEDIA LOUNGE- good stuff from The Usos.

F*ck this. They're giving me bait-and-switches and telling me Alexa won't win the title tonight. I'm done with this kick-off show bullsh*t. I'm just fast-forwarding to the match.

Um… apparently the "main event" is kicking off the show. Huh. This opens up some intriguing possibilities. Maybe they have some super-awesome mystery opponent for Alexa (Sara Del Rey)?

THE ASCENSION & THE VAUDEVILLAINS vs. THE HYPE BROS. & AMERICAN ALPHA- 5.5/10
The Vaudevillains are working together with The Ascension. Pro wrestling is weird. This was matches

MAIN SHOW:

WWE WORLD HEAVYWEIGHT TITLE MATCH: AJ Styles(c) vs. Dean Ambrose vs. John Cena- 8.25/10
They went into the video package AFTER all of the wrestlers had made their entrances. That was really weird. So they had a really awesome match with some fun, cool three-way spots and lots of great nearfalls, until they did that stupid "tapping out to both holds spot." Or, rather, it's not that the spot is stupid, but rather the idea of continuing the match is stupid. What should happen is that AJ should be eliminated from the match and it should be restarted with just Dean and Cena. Same with the stuff AJ did to warrant a DQ, including using the chair on Cena, which was the real finish (by the way, it's nice to see someone go down to just a chairshot instead of a chairshot plus moves). Of course, I'm sure we'll have Shane and Bryan book a rematch in the real main event spot.

NIKKI BELLA vs. CARMELLA- 4/10
The match was sloppy at times, but they told their story well (Carmella worked over Nikki's neck), had some good drama with Nikki fighting out of the Code of Silence, and Carmella was very amusing as a cowardly heel. My sister was highly amused by the concept of Nikki potato-ing Carmella with that forearm.

BRYAN, SHANE, MIZ, & MARYSE BACKSTAGE- bad.
We start with Bryan and Shane patting themselves on the back for putting on such a great show, which makes them quite unlikable. Then Miz & Maryse showed up and Miz said he would want to renegotiate his contract yet again after he wins tonight… so we're back to this same angle from before.

WWE SMACKDOWN TAG TEAM TITLE MATCH: Heath Slater & Rhyno(c) vs. The Usos- 6/10
Rhyno is wearing one of the Komen "More Than Pink" t-shirts over his gear. I will assume this is for the purposes of appealing to female voters. The match was your standard babyface in peril match. I really hate this team of Rhyno and Slater because every time they wrestle I am torn between my love for Rhyno and hatred of Heath Slater.

BRAY WYATT IS SPEAKING IN TONGUES- now he's humming, and holding out his hands. What was the purpose of this?

BARON CORBIN vs. JACK SWAGGER- 6/10
Corbin worked over Swagger's hand. They built back up the Patriot Lock to call back to the controversial finish of their match on Smackdown, but this time Corbin poked Swagger in the eye and then hit the End of Days for the win to set up for a third match.

WWE 3-COUNT CRUSHERS COMMERCIAL- I can't help but notice that this commercial involved Roman Reigns getting punched in the face, and both Roman and Cena getting pinned.

TITLE VS. CAREER MATCH FOR THE WWE INTERCONTINENTAL TITLE: The Miz(c) (w/Maryse) vs. Dolph Ziggler- 8.5/10
This was everything it needed to be. Call-backs to the entire feud, lots of drama, a good story, and great false finishes. They managed to- at least for one night, make me actually care about Dolph.

ORTON BACKSTAGE- well… considering that I was expecting us to get the hold "Warrior in the mirror" spot, I guess this technically exceeded my expectations.

WE GO TO THE PANEL- and they actually RECAPPED THE F*CKING CURT HAWKINS BULLSH*T. ON A F*CKING PPV!

ALEXA BLISS! vs. NAOMI- 4/10
Naomi rudely interrupted Alexa's promo. So instead of the title match we were promised, we're getting a match it feels like we've already seen a million times on Smackdown.

RIOT!



Okay. I'm calm now.
So Alexa is still the #1 contender, but instead of building her up with an extra month of wins, let's have her lose. Yeah. That's a good idea.

First they beat Alexa and now I've got to deal with an Orton vs. Wyatt video package? This PPV sucks now!

RANDY ORTON vs. BRAY WYATT- 6.5/10
They had a slow, boring match that started to pick up for a bit until we got a bullsh*t finish, which was Luke Harper teleporting into the ring to distract Randy, allowing Bray to hit Sister Abigail for the win. So not only did we get a f*ck finish in the main event instead of an awesome WWE World Heavyweight Title match, but we also go finish that ensures that this atrocious feud will continue. WHY?! WHAT DID I DO TO DESERVE THIS?!

A two match show that took us from awesome wrestling down to a frustrating let-down of an ending.

STUPID ANNOUNCER QUOTES:
JBL said many, many things that were factually incorrect, but after listening to Trump I was completely numb to it so I didn't record any of them.