RevPro Angle vs. Sabre Jr.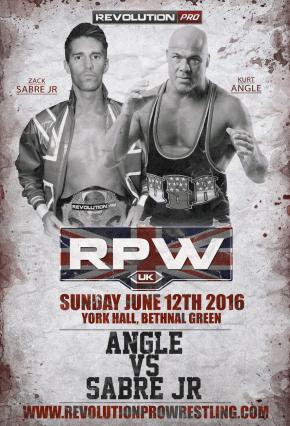 By Big Red Machine
From June 12, 2016

RPW Angle vs. Zabre Jr. (6/12/2016)- Bethnal Green, Greater London

MARTY SCURLL vs. NOAM DAR- 8/10
Lots of hard-hitting action and a great story about both men trying for their signature submissions.

MARTIN STONE vs. PETE DUNNE- 6.25/10
A good return to RPW for Stone that should set him on a path towards Dunne's Cruiserweight Title. That being said, I really didn't like him going after the fingers. Maybe it's because my first exposure to such a thing was Raven doing it to Dreamer, or maybe because it's not something that has really been incorporated into standard wrestling tactics in either North America or Japan, but going after the fingers seems like such a heel move to me, so it throws me off whenever I see a babyface do it, even in Europe where it seems to be a lot more acceptable.

BIG DAMO vs. BIG DADDY WALTER- 5.75/10
A really fun hoss fight that sputtered into an anti-climactic finish.

WILL OSPREAY vs. "SPEEDBALL" MIKE BAILEY- 9/10
This was Ospreay's return to RPW after his big victory in the Best of the Super Juniors Tournament, and to say he received a hero's welcome would be a drastic understatement. It felt like there was a giant stadium full of people chanting his name.
The match itself was a mind-blowing display of agility and hard strikes. Go watch it now!

CHRIS HERO vs. JOSH BODOM- 8.25/10
A hard hitting match that also felt like a conflict of personalities. This particular conflict of personalities made me excited to the see the Bodom vs. Ishii match that we're probably going to get because Bodom cut a promo daring Ishii to come at him.

RPW BRITISH TAG TEAM TITLE MATCH: The Revolutionists(c) vs. Charlie Garrett & Joel Redman- 7/10
A great tag team match that probably would have been even better if they hadn't given up on keeping track of who was legal.

KURT ANGLE vs. ZACK SABRE JR.- 6.25/10
This would have been a really awesome match except that it felt like someone cut fifteen minutes out of the middle. We got five or six minutes of feeling each other out and general beginning of the match exchanging of holds, then we got one German Suplex and just like that they went right into finishers. Very disappointing. Kurt cut a promo after the match explaining it was because he had a knee injury and promising to come back, but that doesn't mean this wasn't still disappointing. Also, if Kurt has a knee injury, why not shock the crowd by letting Sabre Jr. tap him out with a leg submission and then you can blame the loss on that and build up to a rematch when Sabre Jr. will have to face "Kurt Angle at 100%?"


Another GREAT show from RevPro, but it's pretty hard to overcome my disappointment at the main event.