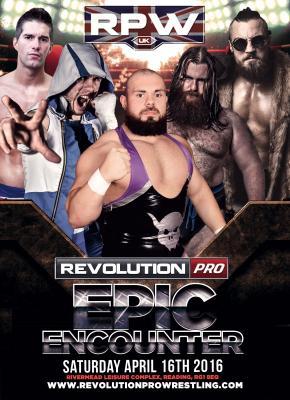 By Big Red Machine
From April 16, 2016

RPW Epic Encounter (4/16/2016)- Reading, UK

MICHAEL ELGIN vs. RICOCHET- 7.25/10
Great opener.

DONOVAN DIJAK vs. JOSH BODOM- 6.75/10
Two guys who clearly do not like each other. Bodom worked over the head. They had great intensity for the first three quarters of the match or so but it fell off a bit towards the end.

REVPRO BRITISH TAG TEAM TITLE MATCH: The Revolutionists (Sha Samuels & James Castle)(c) vs. Johnny Storm & Jody Fleisch- 4.75/10
I wasn't a fan of the comedy in the beginning, and wasn't a fan of the DQ finish, either.

RODERICK STRONG vs. BIG DAMO- 6.5/10
After the match we had a face-off between Damo Elgin. That should be a cool match.

REVPRO BRITISH CRUISERWEIGHT TITLE MATCH: Pete Dunne(c) vs. ACH- 7/10

DALTON CASTLE (w/the Boys) vs. LORD GIDEON GREY (w/Rishi Ghosh)- 6.25/10
A fund dog and pony show match that leaves you wanting to see Dalton come back and get his revenge.

MATT SYDAL & RICOCHET vs. THE LEADERS OF THE NEW SCHOOL (Marty Scurll & Zack Sabre Jr.)- 8/10
Not the fast-paced sprint I was expecting, but still enough of the stuff you expect to not be in any way disappointing. The recently reformed Leaders of the New School pick up the win when Scurll, being the villain that he is, conks Sydal the head with his umbrella, breaking up whatever Sydal was going for and allowing Zack to lock in a cross armbreaker. The catch here is that Zack didn't know what Marty did. He suspects it, though, and asks Marty, but Marty denies it. This storyline is going to be one to keep an eye on this year.


A very fun show from RevPro with, an awesome main event. Great night for Ricochet.