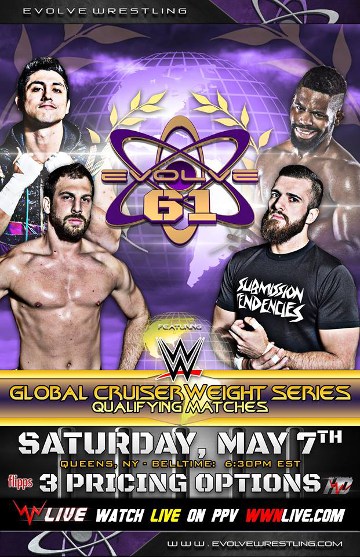 By Big Red Machine
From May 07, 2016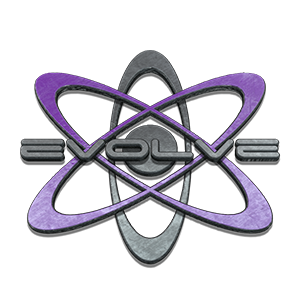 Evolve 61 (5/7/2016)- Queens, NY

LIO RUSH vs. MATT RIDDLE- 3.75/10
Extremely short, but they protected Rush a bit by having him come out with his shoulder taped up and then tap to an armbar. I assume that the quickness of this victory will be used to propel Riddle into the #1 spot in the rankings to further bolster his claim to being the rightful EVOLVE World Champion.

POST-MATCH SEGMENT- Riddle lays down the title and calls out the officially recognized EVOLVE World Champion Timothy Thatcher to come claim his belt if he dares. That doesn't come out because he's not in the building, having been suspended last month for putting his hands on an official. Instead Stokely Hathaway came out and stole the title.

ETHAN PAGE & CHRIS DICKINSON vs. THE BRAVADO BROTHERS- 5.25/10

POST-MATCH SEGMENT- Good
The Bravados cut a promo saying that it's BS that Team Tremendous got the first shot at the EVOLVE World Tag Team Titles instead of them, the longest-reigning DGUA Open the United Gate Tag Team Champions of all time.
Team Tremendous' Dan Barry came out and cut a promo on them, then challenged them to a match at a later date. The Bravados accepted, then assaulted Barry (Bill Carr is not here tonight- Barry is only here "visiting" as opposed to actually being booked).

WWE CRUISERWEIGHT CLASSIC QUALIFYING MATCH: TJP vs. Fred Yehi- 7.5/10
No Stokely Hathaway at ringside with TJP. They had a GREAT match. TJP should have sold his legs better considering how much Yehi had been working on them. I was quite surprised at how much of at how little "high-flying" there was in this match, seeing as how that is what WWE has portrayed Cruiserweights as being synonymous with (and has even retconned WCW's Cruiserweight Division to being synonymous with as well).

WWE CRUISERWEIGHT CLASSIC QUALIFYING MATCH: Drew Gulak vs. Tracy Williams- 7.75/10
Another great match. This was a GREAT showing by Williams. I was completely expecting him to win and for this to be the beginning of a "student surpassing the mentor" type of moment. It really felt like this was his night.

ZACK SABRE JR. vs. MARTY SCURLL- 8.5/10
Wonderful, wonderful, wonderful technical wrestling. Scurll won, and then Joanna Rose informed us all that she had just been informed that as a result of this victory, Scurll will challenge for the EVOLVE World Title on July 16th when EVOLVE returns to Queens.

POST-MATCH SEGMENT- decent
Scurll cut a great promo saying he was better than Sabre Jr. Then Stokely Hathaway came out not just carrying but actually WEARING the EVOLVE World Title, which just made him extra infuriating. Stokely said that TJP was the rightful uncrowned champion as well as "a wrestling god!" (didn't I just order a moratorium on this?). Drew Gulak then came out and took the belt from Stokely, who literally froze in fear of Gulak. Scurll then cut a promo saying he would win the title.

DREW GALLOWAY PROMO- he declared himself to be "the last bastion of independent wrestling" and even went so far as to say that any new fans who started paying attention to EVOLVE after hearing about it through WWE can shove off because he doesn't want them here. He said he was "willing to be a martyr" and that he was "trying to save EVOLVE from itself." Awesome promo!
Gargano got the chance to respond and he cut a good promo as well (not as good as Drew's though), basically explaining how the exposure that WWE with WWE is bringing them has been good for both the company and the talent. He said that Drew was just a "bitter douchebag."

JOHNNY GARGANO vs. DREW GALLOWAY- 8.25/10
An awesome brawl, followed by what is certainly the most shocking surprise we will see in wrestling all year (if not longer)…

ETHAN CARTER III SHOWS UP AND ATTACKS JOHNNY GARGANO!
A guy who I think everyone assumed was under an exclusive TNA contract shows up in WWE's favorite independent promotion. Not only that, but he is a former WWE developmental talent, and this comes just one month after the reports that EVOLVE was going to be focusing a lot more on guys who WWE was interested in picking up and would stop putting focus on guys WWE had already cut.
Then Ethan proceeded to cut a promo saying that when Johnny says that Drew "blew it" in WWE, that means he is saying that Ethan also blew it in WWE, and Ethan says that it wasn't them that blew it: it was WWE that blew it by not recognizing their talent.
Some officials came out to try to check on Gargano and try to get Ethan to leave, but he beat them up (Drew was clearly complicit in this, although he never directly put his hands on any of the referees. Instead he let Ethan do that because EVOLVE can't suspended Ethan for doing so because, to paraphrase Jim Ross, "he doesn't even wrestle here!"
Some undercard guys then came to try to get Ethan out of there but he and Drew took them out. Ethan kept talking the whole time, saying things like "I get it. You want to be good soldiers… but you do know what happens to good soldiers? They put them out on the front lines to take the bullet!"
Ethan then one-upped Brian Pillman as he not only threatened to whip out his dick and piss on the (brand new, thanks to WWE) turnbuckles, but also to take an "E-C-2" on the new canvas. Ethan started shooting on NXT (the old NXT show, not the developmental territory), Bill Demott, and WWE's in-ring restrictions. Drew Gulak came out to fight them but got beaten down. So did TJP. Eventually it was Ethan Page who managed to chase the heels off with a chair.
Gargano cut a promo challenging them to a match against him and a partner at the next EVOLVE show. Ethan Page said he wanted to be Gargano's partner but he knows that Gargano will never trust him, so he doesn't want Johnny to have to worry about that in this match, so he proposes that Johnny team with TJP instead because they were both on the first EVOLVE show and both now have some involvement with WWE. He also challenges to Drew Galloway to an Anything Goes match at the second show that weekend.

This whole thing was totally awesome and completely insane! This is also probably the closest we'll ever get to WWE vs. TNA with both presented on equal footing.

An AWESOME show from EVOLVE. A great undercard, two awesome main events, and a shocking and completely amazing segment to close out the show!