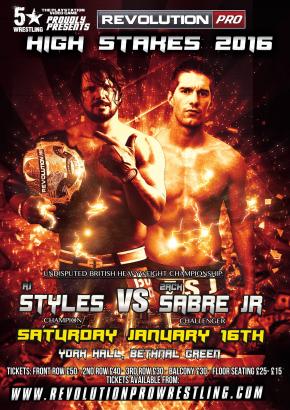 By Big Red Machine
From January 16, 2016

Bethnal Green, Greater London

RPW BRITISH CRUISERWEIGHT TITLE MATCH: Pete Dunne(c) vs. Flash Morgan Webster- 6.75/10
A good opener built around Webster going for his flippy moves but having to deal with the consequences to his ribs.

BIG DAMO vs. MIKE BAILEY- 7.5/10
GREAT big man vs. little man story, and pretty much the perfect debut for Bailey in Rev Pro.

DOUG WILLIAMS vs. COLT CABANA- 5/10
A mix of British wrestling and comedy. Exactly what you'd expect from Colt Cabana wrestling a guy trained in the British style in the third match on the card.

POST-MATCH SEGMENT- Cabana cuts a promo saying he wants to win back the British Heavyweight Title. Then he gets jumped from behind by… MATT CLASSIC?
Matt Classic reveals himself to be Gideon Grey, who cut a promo on Cabana.

RPW BRITISH HEAVYWEIGHT TITLE #1 CONTENDERSHIP MATCH: Will Ospreay vs. Marty Scurll- a PERFECT 10/10!
F*ck Match of the Year! This is a legitimate contender for Match of the DECADE!
This was the simple story of two guys who not only don't like each other but seem to make an effort to get on each other's nerves… and they both want the same exact thing REALLY F*CKING BADLY and there is no way in hell they are going to get the other guy get it instead!

ROH WORLD TITLE MATCH: Jay Lethal(c) vs. Mark Haskins- 7.25/10
There was a lot of great stuff in here, but I wasn't a fan of the stop-and-start pacing of some parts of the match and I wasn't a big fan of the fighting-spirit/no-selling bit they did. It just kind of felt out of nowhere and meaningless, as compared to the previous match where it felt like two guys willing to absorb any punishment for the prize at stake.

NO DISQUALIFICATIONS MATCH: Bram, Jimmy Havoc, & T-Bone vs. The Revolutionists (James Castle, Josh Bodom, & Sha Samuels)- 4.25/10
People hit did moves and hit each other with stuff. The crowd was into it, though.

RPW BRITISH HEAVYWEIGHT TITLE MATCH: AJ Styles(c) vs. Zack Sabre Jr.- 8/10
AJ works the leg, Zack works the arm, and they have an awesome match with one hell of a finish!

An awesome show from Revolution Pro Wrestling, well worth your time to check out, and if you can't check out the whole show, at least make sure that you watch Ospreay vs. Scurll.