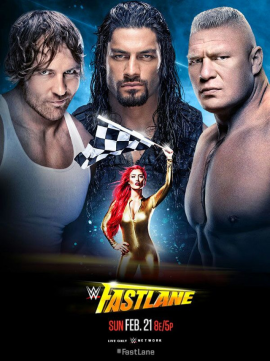 By Big Red Machine
From February 21, 2016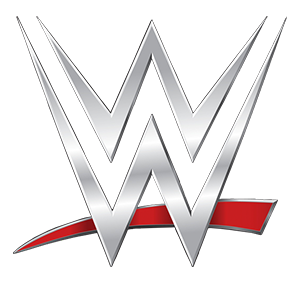 WWE Fast Lane 2016 (2/21/2016)- Cleveland, OH

PRE-SHOW:
Awwww…. Renee got all dressed up for prom. Now Dean, you'd better have her back home by midnight!

Lawler actually had a decent line when he said that "Kalisto is so short his mask smells like feet." Much less clever was the guy who had a sign declaring that "Mike Miller is a Roody Poo."

RENEEE YOUNG INTERVIEWS PAUL HEYMAN- good.
Hey, maybe one of you other so-called experts on the panel would like to do your jobs and asks Mr. Heyman a question? Ah. Thank you, Booker.

DOLPH ZIGGLER PROMO- not so good.
Ah. JBL just made his entrance, and apparently got a monstrous pop.

2 OUT OF 3 FALLS MATCH FOR THE WWE UNITED STATES TITLE: Kalisto(c) vs. Alberto Del Rio- 7.75/10
Mauro is calling the match!
Stupid commercial. This is all time in which I could be watching this big match they've been hyping up.
If this is going to be the end of this feud I would have preferred a more decisive win for Kalisto, but between the roll-up and the DQ in the first fall, they definitely left Del Rio an out to set up for one more match at WrestleMania. Other than that, a great match, playing to both men's strengths.

AJ STYLES IN THE SOCIAL MEDIA LOUNGE- he was very good, although "let me put it to you like this" is clearly his "I'm stalling for time so I can think of an answer" phrase.

MAIN SHOW:
How much money each year do you think that WWE spends on the random, pointless pyro that goes off at the beginning of the show?

NAOMI & TAMINA vs. SASHA BANKS & BECKY LYNCH- 6.25/10
They told their story well, with the fact that they weren't on the same page burning our babyfaces early and never letting Becky and Sasha be completely on the same page throughout the match, which made you wonder if someone would turn on the other after the match.

WWE INTERCONTINENTAL TITLE MATCH: Kevin Owens(c) vs. Dolph Ziggler- 8/10
Dolph can be a great babyface, and Owens is the best heel in the business right now.

KANE, BIG SHOW, & RYBACK PROMO- really unnatural, but kind of fun. Especially Kane's bit. Also, did anyone else notice that Kane has mood lighting that follows him wherever he goes?

RYBACK, KANE, & BIG SHOW vs. THE WYATT FAMILY (w/Bray Wyatt)- 5.5/10
Okay… I didn't see that result coming. Big Show even got to beat the crap out of Strowman.

JOJO INTERVIEWS ROMAN & DEAN- bad.
I love it how they pretend that Roman and Dean haven't fought each other for some sort of big prize before with no damage whatsoever to their friendship.

WWE DIVAS TITLE MATCH: Charlotte(c) (w/Ric Flair) vs. Brie Bella- 7/10
They had a quite a few great spots in here (that big forearm and the entirety of the finishing sequence in particular stand out) and Brie did a great job of getting the crowd behind her. Charlotte should have should have sold better after the match was over.

CHRIS JERICHO PROMO- good.

AJ STYLES vs. CHRIS JERICHO- 8.25/10
Within about ten seconds, JBL said "All Japan," "Baba," "Inoki," "Kobashi," "Kawada," and "Stan" (Hansen).
The match was as awesome as you would expect, but I must profess my extreme disappointment that the Styles Clash was kicked out of.

NEW DAY, EDGE, & CHRISTIAN WASTE EVERYONE'S TIME- bad.
Not that E&C weren't entertaining, but this was a complete and total Raw segment that was only on this PPV to plug their stupid E&C comedy show on the WWE Network. Is there really someone who didn't buy the Network to see this PPV, but would buy it to watch the E&C comedy show?
The end result of this appears to be a feud between the New Day and the League of Nations. That is so completely random it's not even funny.

OH COME ON! First they give me that sh*t, and now they are putting the f*cking Ministry of Dorkness on PPV?! They argued about which type of car they all were.

R-TRUTH vs. CURTIS AXEL (w/the Social Outcasts)- 0.5/10
Right. Because this match and that last segment needed to be on PPV, but the US Title match had to be on the pre-show with a commercial in the middle of it. The finish saw Goldust inadvertently cost Truth the match because he thought it would somehow help Truth if he threw Heath Slater INTO the ring. This was a crappy Raw match in a crappy Raw storyline that for some reason they decided to put on PPV. There is no reason this time couldn't have gone to either title match or to AJ vs. Jericho.

#1 CONTENDERSHIP MATCH: Dean Ambrose vs. Roman Reigns vs. Brock Lesnar (w/Paul Heyman)- 8.25/10
The story of the match was Dean and Roman realizing that the only way they could win was if they worked together to take Brock out first. I thought the match could have used a bit more time, as the finish felt very abrupt. After the match, Hunter came out to have a stare-down with the winner.

An awesome show from WWE aside from the gaping hole between AJ vs. Jericho and the main event. What the hell were they thinking?