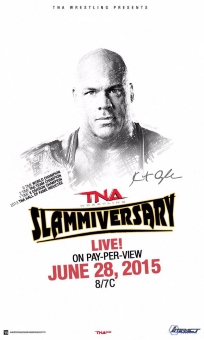 By Big Red Machine
From June 28, 2015
TNA Slammiversary XIII (6/28/2015)- Orlando, FL

TRIPLE THREAT ELIMINATION MATCH FOR THE TNA X-DIVISION TITLE: Tigre Uno(c) vs. DJ Zema Ion vs. Manik- 6/10
What the f*ck is Zema Ion wearing? Manik also has new gear that looks much stupider than his old gear. Not a good streak to start the night out on. Phew. Tigre Uno broke the streak. As for the match itself: spots. Just… spots.

JB INTERVIEWS ROBBIE E.- good, but I really could have done without the chicken noises. This was supposed to be a serious promo.

JESSE GODDERZ vs. ROBBIE E.- 7/10
Jesse now has a black robe that says "the Man" on the back. He looks like the evil duke from a low-budget TV show set in the medieval age. He cut a pre-match promo that dragged on FOREVER.
Best match of both guys' TNA careers. Jesse worked over Robbie's back he was so great that I really feel like the wrong guy went over.

MATT HARDY PROMO- good

STREET FIGHT: Matt Morgan vs. Bram- 4.75/10
They hit each other with stuff. It wasn't very entertaining. Actually, the most entertaining bit in this match involved Bram going to the outside to try to find a weapon. He looked under the apron on one side and apparently couldn't find anything even though there was a trash can lid right there. Then he looked on two other sides off the ring and still couldn't find anything so he got into the ring and picked up a steel chair… then dropped it again to go look for a weapon on a fourth side of the ring… and he STILL couldn't find what he was looking for, so he just grabbed a second chair. He looked like a complete and total idiot.
Josh Matthews claimed that Bram as 6'9". No way is that close to true.

EC III & TYRUS PROMO- eh.

WINNER GETS TO CHOSE THE STIPS FOR THE FIFTH MATCH IN THE TAG TITLE SERIES: Austin Aries vs. Davey Richards- 8/10
An awesome match that would have been even better with a clean finish. And really… why would you put Aries over in this match if he is leaving the company and it doesn't matter who wins because the stip that Aries picked, an Iron Man match (or really an Iron Team match, I guess) would make sense coming from either team?

ERIC YOUNG PROMO- eh.

TARYN PROMO- she cut a promo on PPV to hype up a match on free TV. TNA logic.

HANDICAP MATCH: The Dollhouse vs. Awesome Kong & Brooke- DUD!
Marti did this atrocious running splash in which she fell maybe a foot and wound up hitting the move on her own partner… and this apparently knocked her out. It looked so stupid. Taryn realized how dumb this looked as well because she was screaming for Marti to "get up! Get up! Get up! Get up! GET UP!" Or maybe she was just trying to warn her about Kong.
Aside from this and some other similar silliness, the heels got almost no offense in and came off like a bunch of complete and total chumps (Marti and Jade especially).

MAGNUS PROMO- bad.
First he came out and told everyone that this was his and Storm's last match in the company. Then he cut a promo about how he doesn't hate Storm even though Storm tried to first take his wife and child, and when that didn't work, he tried to murder his wife and pretended to abduct his son. And why doesn't he hate Storm? "Because I have to believe that love is stronger than hate!" WHAT?! Where did this love vs. hate, don't give in to the Dark Side of the Force crap come from?!

UNSANCTIONED MATCH: James Storm vs. Magnus- 8.25/10
If this match is "unsanctioned" then why is it happening on a TNA PPV? Of all the synonyms for "No Disqualification Match" in the world, why would you use one that makes NO SENSE? Because this is TNA. That's why.
"KILL THE COWBOY!" chants! It's like I'm back in 2006 again and AMW is fresh off of their big heel turn! I love it! And there's the slingshot into the underside of a table spot from Storm and Harris' famous match at Sacrifice 2007 that made whoever took it bleed like a stuck pig. This is turning into quite the fun trip down memory lane.
In one of the most ill-conceived spots I have ever seen in my life, they brawled over to the side of the stage and behind a bunch of big pieces of equipment while some dude frantically warned them of the "high voltage." Then they did a spot where one guy went to kick the other, but missed and instead knocked over a piece of equipment causing the big screen to go to a color test pattern. Obviously the fans, who now couldn't see the action because the big screen wasn't working, started to boo.
F*cking Hebner is yelling at Storm for using powder IN AN UNSANCTIONED FIGHT! This stupidity resulted in Storm being distracted so Magnus could knock the fistful of powder into both Storm and Hebner's eyes… because this is TNA and thus we needed to have a REF BUMP in our UNSANCTIONED FIGHT.
I utterly HATED the double beer-bottle spot as a finish, and I hated the "one guy falls on top of the other" spot for the finish because it makes the feud feel unfinished, which isn't good for both guys' last match with the company. That being said, with the exception of the few hiccups I mentioned, this was quite the awesome grudge match that really made you feel the hate. These guys knew they were wrestling in the Impact Zone for what might well be the last time, and they decided to leave everything they had out there in the ring they had fought in so many times before.

DREW GALLOWAY PROMO- he first builds up "the final battle" between the BDC and The Rising, so that feud is finally ending. Hooray!
Once he got past that part and started to talk about tonight's main event, he was totally awesome.

And now the audio is out. Now it's cutting in and out.
Now we're just watching people sweep the ring. Now there is absolutely nothing going on. Well… this is boring. That was a waste of five minutes. F*ck the audio and just get me a damn match in the ring!

ETHAN CARTER III & TYRUS vs. BOBBY LASHLEY & KEN ANDERSON- 5.25/10
Josh is talking about how the TNA officials like to "let the guys go" and be loose with the rules… and all I can think about is how no more than fifteen minutes ago, I was watching a referee yell at a man for trying to use powder in an UNSANCTIONED MATCH.
This was nothing more than a filler match in which, for some reason, they decided to pin LASHLEY instead of Ken Anderson.

JEFF & KAREN JARRETT PROMO- decent. Jeff says that if he wins the title, he'll take it to GFW.

KING OF THE MOUNTAIN MATCH TO CROWN THE FIRST EVER TNA KING OF THE MOUNTAIN TITLE: Bobby Roode vs. Drew Galloway Eric Young vs. Matt Hardy vs. Jeff Jarrett (w/Karen Jarrett)- 7.75/10
King of the Mountain 2015: Jeff Jarrett vs. The World.
The story here was that Jeff was the ultimate babyface, getting screwed and conspired against and taking the scariest looking bumps, all with his lovely wife at ringside to offer moral support. Don't get me wrong: they told the story well, but it seemed to be at odds with this "invader" narrative that the announcers were trying to play up.

Overall, a good show from TNA. In fact, this is likely TNA's best PPV in YEARS. Definitely worth checking out, especially if you skip the filler.