PWG Don't Sweat The Technique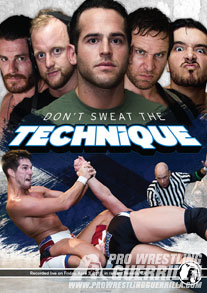 By Big Red Machine
From April 03, 2015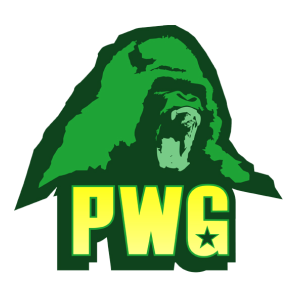 PWG Don't Sweat the Technique (4/3/2015)- Reseda, CA

BRIAN CAGE vs. BIFF BUSICK- 5/10
They tried to tell a story revolving around Cage's strength and Biff working Cage's leg, but the latter part of that is pretty hard to do when Cage doesn't sell the leg at all. Also, they had some goofy mishap kinda-sorta botch with Weapon X, and Cage totally no-sells a German Suplex at the end just because.

TREVOR LEE vs. "SPEEDBALL" MIKE BAILEY- 6.75/10
Mostly just moves, but thrown together in an order that made sense. Also, one of these moves is almost certainly going to end up as the sickest non-weapon spot of the year. I was certain that at least of these two was unconscious, if not dead.

BEAVER BOYS vs. WORLD'S CUTEST TAG TEAM- 6.75/10
Candice's hair is back to blonde. Hooray!
Good babyface in peril stuff from Candice & Joey, with Joey paying Ricky Morton this time. I'm also really starting to like John Silver's stuff. Reynolds I can take or leave. I really wish he would ejaculate in the ring less.

CHRIS HERO vs. TOMMY END- 8.5/10
The best way to describe this match was that Ishii vs. Shibata match from the 2013 G1 Climax Tournament, except they did it right, mixing showmanship in with the hard strikes to tell the story of a clash of wills, rather than just no-selling stiff strikes and suplexes, letting the other hit you, and kicking out of stuff at one because FIGHTING SPIRIT. Awesome match.

ACH vs. TOMMASO CIAMPA- 5.75/10
WAY too much cheating without the referee doing anything… and it's not the like the cheating is even serving a purpose in the match. They're just crotching each on the ring post or biting each other just because. I was also not amused by ACH's Stone Cold spots or absolutely any of the basketball stuff after the ring entrances finished. Too much random crap and not enough story.

MONSTER MAFIA vs. MATT SYDAL & CHRIS SABIN- 7.5/10
Great match old-school tag math with Sabin as the babyface in peril. Monster Mafia (and Ethan Page in particular) did a great job of getting under the crowd's collective skin.

ANDREW EVERETT vs. RICOCHET- 6.5/10
Flips.
I thought that the rana sequence or the missed double moonsault would have been much better finishes than what we actually got.

PWG WORLD TITLE MATCH: Roderick Strong(c) vs. Zack Sabre Jr.- 9.25/10
F*ck you you f*cking PWG hipster fans. Stop booing Roderick just because he's the best wrestler in the world right now.
This was one of those matches that everyone talks up as something amazing, but when you're watching it you wonder why everyone is raving about it as much as they are… and then the last five or six minutes happen and you totally get it. I really loved the idea that Sabre worked over Roddy's arm, so Roddy had to rely mostly on his feet to fight back.

A great show from PWG, but almost all on the strength of Hero vs. End and Roddy vs. Sabre Jr.